James Bond visual effects artist Steve Begg to receive groundbreaking honour
Begg, who also worked on Batman Begins, will be honoured at the inaugural UK Visual Effects Society Awards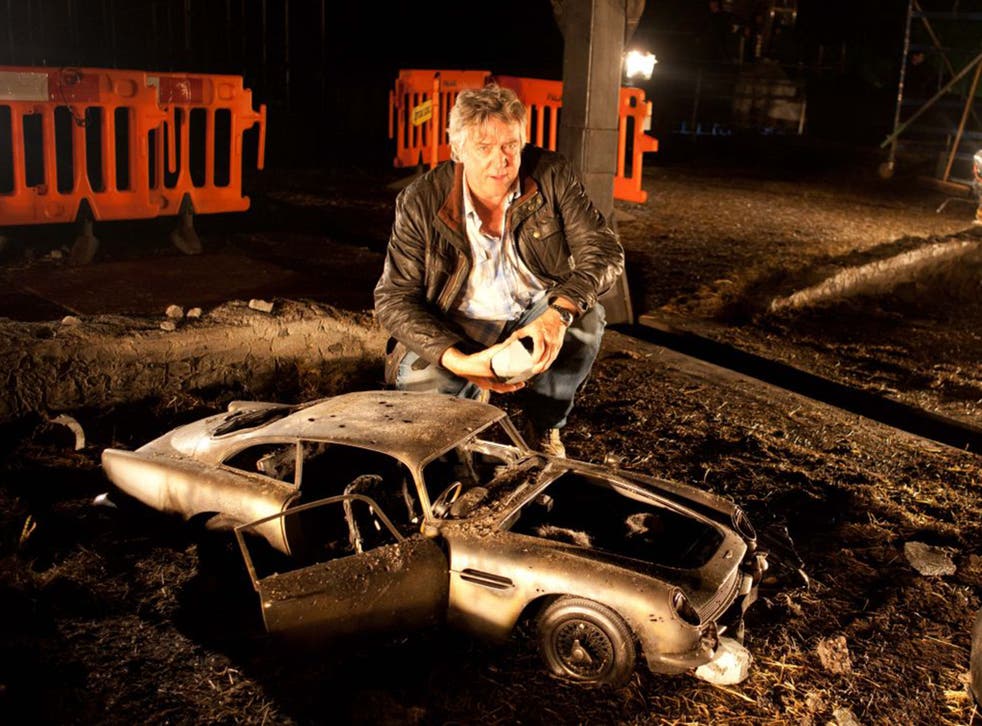 The man who blew up the MI6 headquarters in central London will receive a groundbreaking honour this week.
Steve Begg, a visual effects master whose work includes the spectacular destruction of the landmark Vauxhall Cross building in the James Bond movie Skyfall, will receive one of two awards at the inaugural UK Visual Effects Society Awards.
Begg, who has been creating magical movie effects for more than 30 years, will receive the award, for leadership and the advancement of visual effects in the UK, at a glitzy ceremony in London on Wednesday.
The other recipient is the actor Jim Broadbent, who is to be recognised for promoting awareness of visual effects through work that inlcudes The Borrowers and Paddington, and the Harry Potter franchise. While the Visual Effects Society has held awards ceremonies in Los Angeles for 14 years, this week marks its first awards event in the UK.
Begg, who is to be honoured for his work on the Bond franchise, told The Independent on Sunday: "I'm obviously flattered to receive the award. I've been in the visual effects business for a long time and I'm delighted they have decided to honour me."
Special effects are created on set during filming while visual effects are added in post-production using computers. Sophisticated computer generated imagery (CGI) allows landscapes, characters and, yes, explosions to be added after filming has finished.
The society's UK chair, Brooke Lyndon-Stanford, said the awards were designed to raise the profile of its members. Many of the biggest box office hits of recent years were driven by visual effects, he said, "yet very few know who the artists are. We want to highlight these achievements and give the stars of visual effects worldwide recognition."
The UK visual effects sector has expanded from a cottage industry to a global powerhouse. Adrian Wootton, the chief executive of the British Film Commission and Film London, said the UK industry had "grown exponentially over the last 15 years. British teams have been nominated for the Best Visual Effects Academy Award in 10 out of the last 11 years, winning six times."
Most recently, the London companies Double Negative and Milk won the visual effects Oscar last month for their work on the robotics thriller Ex Machina.
Access unlimited streaming of movies and TV shows with Amazon Prime Video Sign up now for a 30-day free trial
Sign up
During his three-decade career, said Begg, visual effects "have changed beyond recognition". As a visual effects supervisor he is involved in a movie from pre-production to delivery of the finished film: "I float around all departments."
His job includes liaising with the director before the cameras have started rolling, and working closely with the art department. He remains on set throughout the shoot, then oversees the visual trickery that starts in post-production, which can vary from 10 weeks to six months.
The best CGI practitioners should be regarded as artists, he said. "A lot of people smugly dismiss it as pushing buttons. But to get the best out of all that software you need an artist's eye – it's a very creative business."
The Thunderbirds creator Gerry Anderson gave Begg his big break working on the British TV series Terrahawks in 1984 after he showed Anderson effects he had put together himself. "I got a crash course in practical miniature effects from the master and I still use a lot of those effects today on the Bond films," he said.
His first big credit as visual effects supervisor was on Lara Croft: Tomb Raider in 2001 and he would later work on Batman Begins as miniature unit supervisor.
Casino Royale (the 2006 version, not the 1967 spoof) was a big moment for Mr Begg. "I became the full scale visual effects supervisor on Casino Royale. What's great about Bond films are they're highly practical, with stunts and special effects augmented by visual effects.
"I like to mix the tricks of special and visual effects. I like the best of both worlds" he said. "CGI effects have got so good you can't tell most of the time, but I like to integrate a real element in there to help the illusion. It can't look lightweight."
The increasing reliance on visual effects is neatly illustrated by the Bond movies. In 2006, Casino Royale used about 800 visual effects shots; Spectre, released last year, employed about 1,600.
Register for free to continue reading
Registration is a free and easy way to support our truly independent journalism
By registering, you will also enjoy limited access to Premium articles, exclusive newsletters, commenting, and virtual events with our leading journalists
Already have an account? sign in
Register for free to continue reading
Registration is a free and easy way to support our truly independent journalism
By registering, you will also enjoy limited access to Premium articles, exclusive newsletters, commenting, and virtual events with our leading journalists
Already have an account? sign in
Join our new commenting forum
Join thought-provoking conversations, follow other Independent readers and see their replies