Brad Pitt and Jennifer Aniston star in Fast Times at Ridgemont High table read
'Hi Brad, I think you're so sexy': Fans demand Oscar for Jennifer Aniston after hilarious reading with Brad Pitt
Morgan Freeman, Julia Roberts and Shia LaBeouf were also among cast
Leer en Español
Brad Pitt and Jennifer Aniston have reunited on screen for the first time in nearly two decades.
On Thursday (17 September), the pair took part in a virtual table read of 1982 teen drama Fast Times at Ridgemont High as a charity fundraiser. The live-streamed event was hosted by Dane Cook and narrated by Morgan Freeman.
Joining them as they read through the film, which originally starred Sean Penn and Jennifer Jason Leigh, were Julia Roberts, Shia LaBeouf, Jimmy Kimmel, John Legend, Ray Liotta and Henry Golding.
With Pitt and Aniston reading for the characters of Brad Hamilton and Linda Barrett, fans were excited to see that the former couple were still friends, greeting eachother with a "Hi Aniston" and "Hi Pitt".
Reading through a dream sequence scene, Aniston said as Linda: "Hi, Brad. You know how cute I always thought you were. I think you're so sexy. Will you come to me?"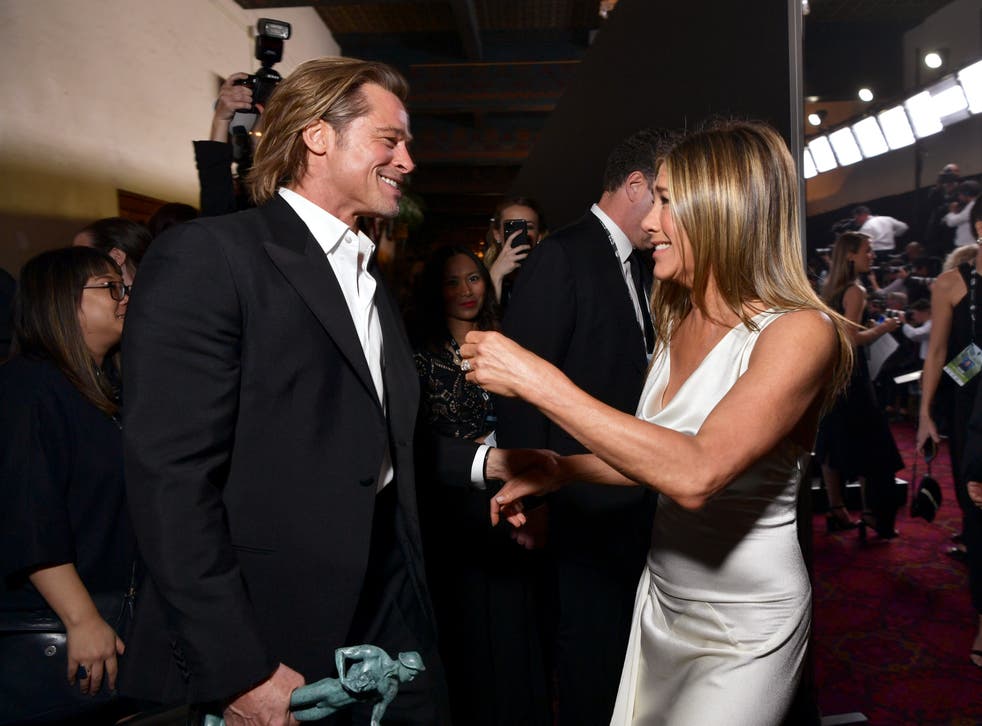 The rest of the cast cracked up laughing during the scene, with Freeman adding: "Lord, have mercy" after describing Brad's fantasy about Linda's body.
This clip was recirculated on social media, with one commenter sarcastically writing: "This will definitely stop everyone obsessing over Brad and Jen reunions."
The event raised more than $50,000 (£38,500) for relief fund CORE, as well as criminal justice reform group Reform Alliance.
One fan went so far as to demand an Oscar for Aniston's performance.
Aniston and Pitt were one of the biggest celebrity couples of the 1990s and married in 2000 before divorcing in 2005.
The pair appeared on TV together in 2001 when Pitt made a guest appearance on Friends. He played Will, a friend of Ross's (David Schwimmer) who revealed that they used to have a "club" about their hatred of Rachel (Aniston).
Join our new commenting forum
Join thought-provoking conversations, follow other Independent readers and see their replies