Jennifer Lawrence reveals she once had to do a naked casting line-up and the producer deemed her 'fuckable'
'I'm still learning that I don't have to smile when a man makes me uncomfortable'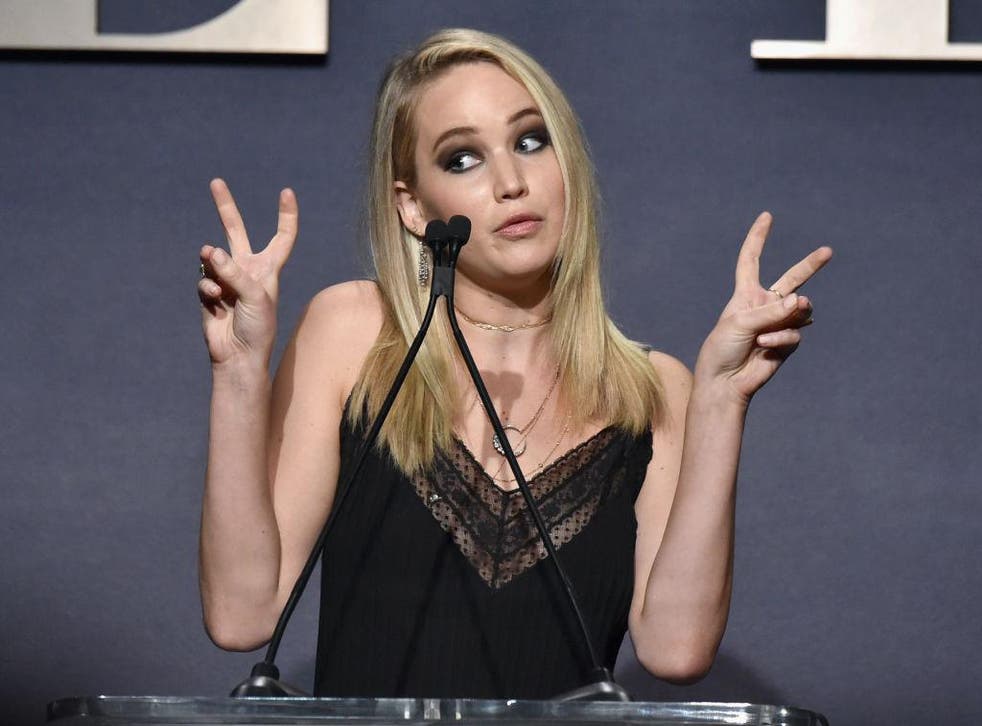 Inspired by the women in Hollywood who have been sharing their experiences of sexual harassment over the past couple of weeks, Jennifer Lawrence has recounted a "degrading and humiliating" casting process that saw her asked to take part in a nude line-up with other actresses, the producers' subsequent comments now being about her suitability for the role but her weight and "fuckability".
Discussing the early years of her career, she said during a speech at Elle's 'Women in Hollywood' event on Monday night: "During this time a female producer had me do a nude line-up with about five women who were much, much, thinner than me.
"We are stood side-by-side with only tape covering our privates. After that degrading and humiliating line-up, the female producer told me I should use the naked photos of myself as inspiration for my diet."
"The director of that film asked me if he could have me star in a porno as that character," Lawrence continued, "among many other things that are too inappropriate to repeat here."
After being told to lose 15 pounds in two weeks for the role, Lawrence asked a male producer on the film about this unrealistic diet regime, to which he confessed he "didn't know why everyone thought [she] was so fat," as he "thought she was perfectly fuckable".
"Like so many young actors and actresses," Lawrence explained, "I couldn't have got a producer or director or studio head fired; I let my self be treated a certain way because I felt like I had to for my career.
"I was young and walking that fine line of sticking up for myself without being called 'difficult', which they did call me, but I believe the word they used was 'nightmare'.
The Oscar-winning actor is only the latest big name actor to discuss a dehumanising experience in Hollywood, following the New York Times and New Yorker's exposés on producer Harvey Weinstein and the scores of other allegations subsequently made public by actors including Angelina Jolie and Gwyneth Paltrow against him.
Harvey Weinstein: his accusers

Show all 42
The alleged historic abuses kickstarted a worldwide discussion about how women are treated in the workplace.
Lawrence said that, though she wouldn't let herself be submitted to such a process now, she is "still learning that I don't have to smile when a man makes me uncomfortable."
"I was trapped and I can see that now. I didn't want to be a whistleblower, I didn't want these embarrassing stories talked about in a magazine, I just. Wanted. A. Career."
Join our new commenting forum
Join thought-provoking conversations, follow other Independent readers and see their replies