Matthew McConaughey: Twitter reacts to Best Actor Oscar-winner thanking himself in acceptance speech
Actor did first mention God and family after taking Academy Award for his amazing performance in Dallas Buyers Club
Adam Withnall
Monday 03 March 2014 16:10 Comments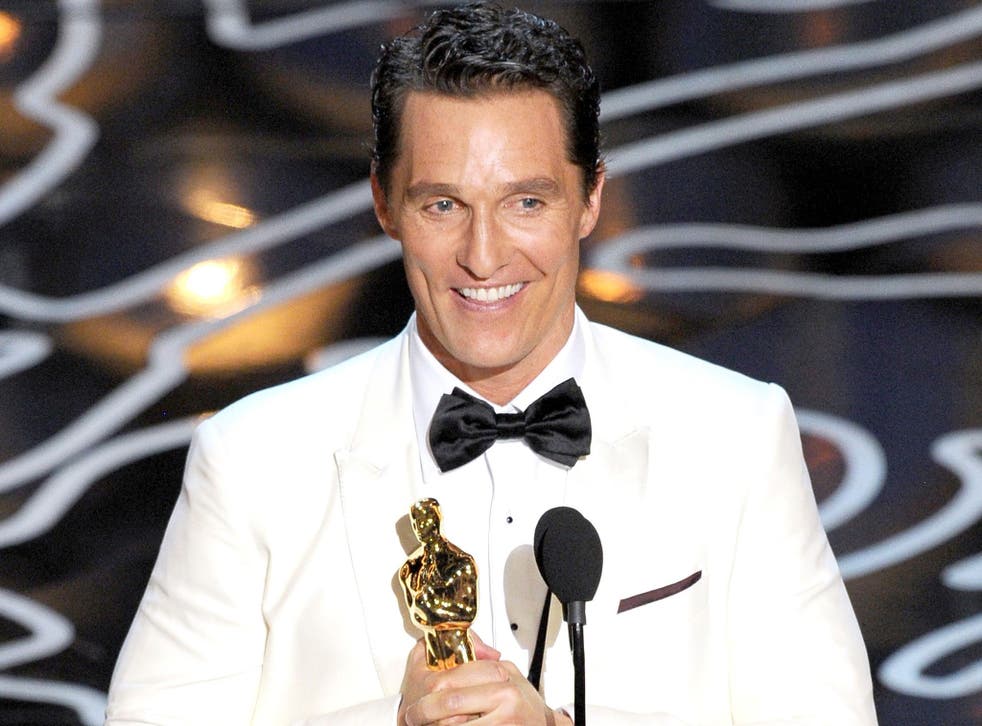 Matthew McConaughey was one of the stars of last night's Oscars award ceremony, taking the hotly-contested Best Actor gong and delivering one of the evening's longest and most eclectic acceptance speeches.
But while his performance in Dallas Buyers Club got the critics talking, responses online were largely focused on the fact that he named himself as his own "hero".
Delivering his speech like a three-point plan, McConaughey said everyone needs "something to look up to, something to look forward to and someone to chase".
For the third, in something of a maverick move for an Academy Award winner, he thanked the spectral figure of himself "in 10 years'" time.
To his credit, McConaughey handed first mentions to God, his late father and the other members of his family, before finishing (eventually): "And to my hero. That's who I chase.
"Now when I was 15 years old, I had a very important person in my life come to me and say 'who's your hero?' And I said, 'I don't know, I gotta think about that. Give me a couple of weeks.' I come back two weeks later, this person comes up and says 'who's your hero?' I said, 'I thought about it. You know who it is? It's me in 10 years.'
Oscars 2014 Winners

Show all 8
"So I turned 25. Ten years later, that same person comes to me and says, 'So, are you a hero?' And I was like, 'not even close. No, no, no.' She said, 'Why?' I said, 'Because my hero's me at 35.'
"So you see every day, every week, every month and every year of my life, my hero's always 10 years away. I'm never gonna be my hero. I'm not gonna attain that. I know I'm not, and that's just fine with me because that keeps me with somebody to keep on chasing."
On Twitter, viewers responded with a mix of admiration and bemusement. Court Hamilton wrote: "Did anyone else find it strange that McConaughey thanked himself last night? Essentially said 'I'm my greatest inspiration, so thanks me.'"
Access unlimited streaming of movies and TV shows with Amazon Prime Video Sign up now for a 30-day free trial
Sign up
Garon Deo wrote: "Matthew McConaughey is such a smooth dude that he thanked himself and got away with it."
An apparently angry US comedian Jim Norton, meanwhile, said: "McConaughey's hero is himself in 10 years? F****** YUCK."
If there was a Best Self-Appreciation award in the alternative Oscars, the actor could consider himself a shoo-in.
Register for free to continue reading
Registration is a free and easy way to support our truly independent journalism
By registering, you will also enjoy limited access to Premium articles, exclusive newsletters, commenting, and virtual events with our leading journalists
Already have an account? sign in
Join our new commenting forum
Join thought-provoking conversations, follow other Independent readers and see their replies