Parents warned over dangerous fake Frozen snap bracelets that could cut children
The counterfeit toys are just badly-covered metal measuring tapes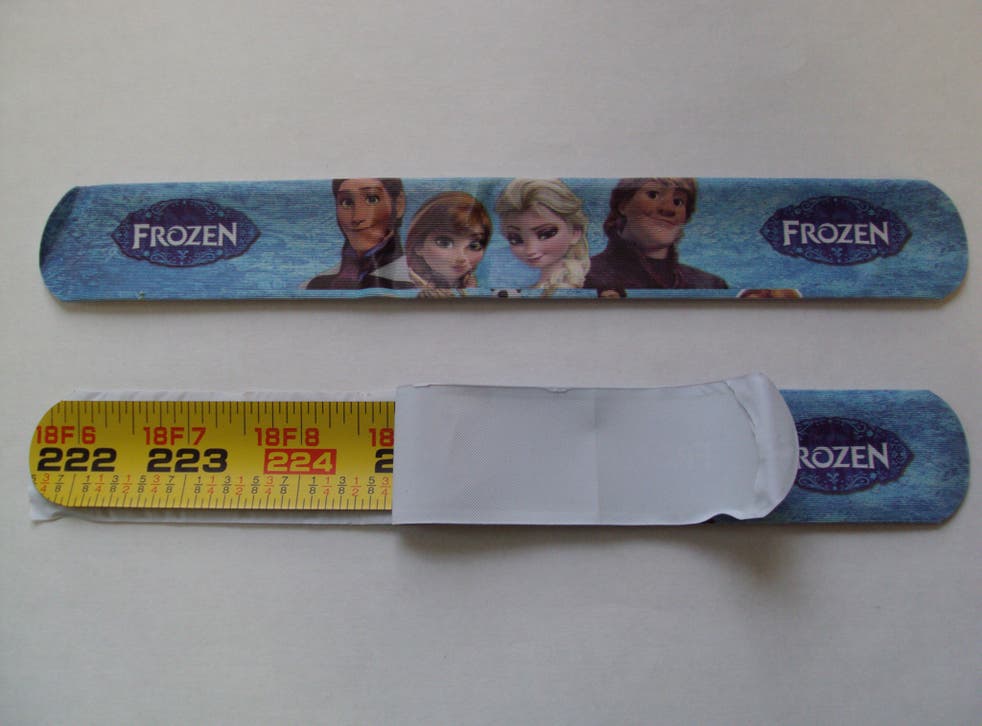 Parents are being warned about "dangerous" counterfeit Frozen snap bracelets that could rip and cut children's wrists.
A buying frenzy around the Disney film has driven prices of dolls up to £6,000 on eBay and parents desperate to buy the Elsa figures reportedly came to blows in one Dublin shop.
The demand has spawned the sale of countless items of fake merchandise online, including the potentially dangerous bracelets.
A mother from Newark, in Nottinghamshire, raised the alarm after she found the toys in two packs she bought over the internet were just cut up metal measuring tapes covered with a thin layer of plastic.
Julie Brooks said: "I bought these online for birthday party packs and then saw on Facebook a horror story where a cheap snap bracelet cut a child's face.
"I was horrified when they arrived as they looked so poorly made, so I decided to cut one open and found a cut up metal tape measure inside so it was clearly not designed to be used as a toy.
"I got a refund but I just want to warn other parents to steer clear of these dangerous items before there's an accident."
Nottinghamshire County Council's Trading Standards team released a warning after the discovery that the bracelets were "potentially dangerous" for children.
Unlike more expensive versions, they have only a very thin layer of plastic that is likely to rip, exposing sharp metal beneath that could cut a child's wrist, the council said.
Genuine snap, or "slap", bracelets are made up of a safely sealed flat steel spring band that wraps around a wrist when slapped against the arm.
Councillor Glynn Gilfoyle, the chairperson of Nottinghamshire's community safety committee, said: "As Frozen merchandise is the latest craze this Christmas, many parents are struggling to find items for sale and may be tempted to buy counterfeit versions online.
"As this example shows, cheap toys from outside the European Union available from online auction sites are often not well made and have not undergone any safety tests so can be lethal for children to handle.
"As these snap bracelets come into close contact with a child's wrist, these versions could cause a lot of harm so we are urging parents to avoid them at all cost."
Join our new commenting forum
Join thought-provoking conversations, follow other Independent readers and see their replies