Quentin Tarantino's 'actor wish list' for Pulp Fiction envisions a very different movie
Drug dealer Lance was a part written for John Cusack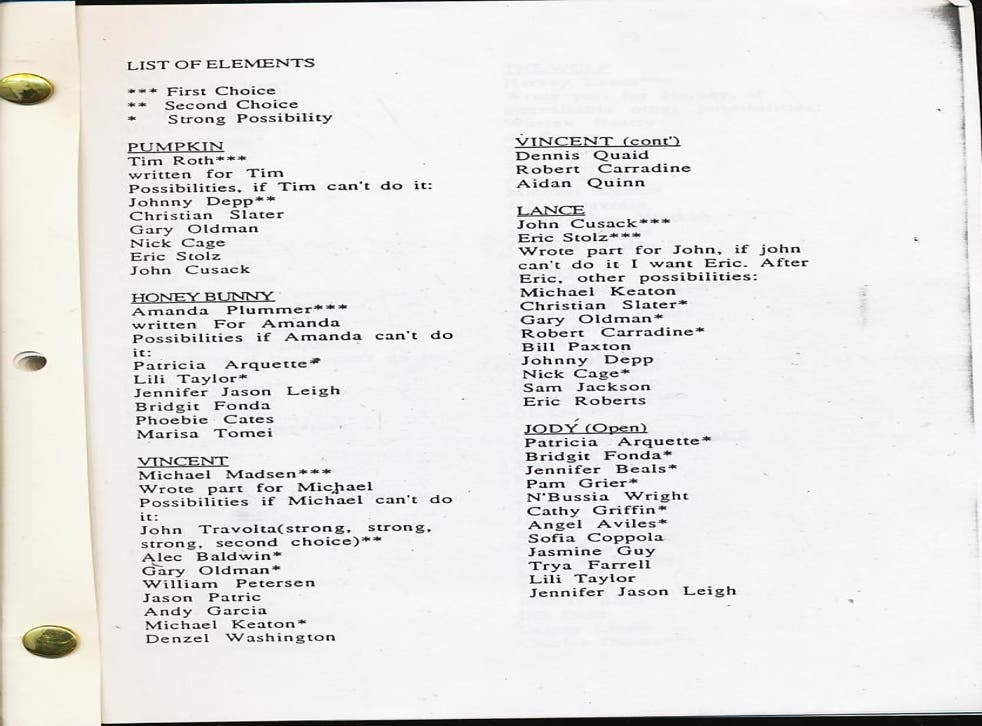 A typed-up list of casting recommendations for Pulp Fiction by director Quentin Tarantino found its way online today, detailing a host of A-listers he was eying for various parts and showing that the actors who eventually starred in the classic film were not all first picks.
The scan looks like it's missing a second page (Jules and The Wolf aren't listed) but we do get his notes on Vincent (a role that would eventually go to John Travolta), Lance (Eric Stoltz), Jody (Rosanna Arquette) and Pumpkin (Tim Roth).
Some interesting points (HQ version of image here):
- He wanted Gary Oldman for all three male characters (and who wouldn't)
- Nicolas Cage could have played dressing gown-wearing drug dealer Lance and was a 'strong possibility' for the role
- Dennis Quaid might have played Vincent Vaga. Dennis Quaid!
- Though she would end up being very successful behind the camera, Sofia Coppola was considered for the part of Jody
- Johnny Depp would have made a good Lance
- Vincent was written with oft-Tarantino collaborator Michael Madsen in mind
It's fascinating seeing these tidbits get circulated decades after films are released. Earlier in the year, we got a glimpse of all the alternative phrases Kubrick had in mind for 'All work and no play makes Jack a dull boy' in The Shining, which included 'The morning has gold in its mouth').
Register for free to continue reading
Registration is a free and easy way to support our truly independent journalism
By registering, you will also enjoy limited access to Premium articles, exclusive newsletters, commenting, and virtual events with our leading journalists
Already have an account? sign in
Register for free to continue reading
Registration is a free and easy way to support our truly independent journalism
By registering, you will also enjoy limited access to Premium articles, exclusive newsletters, commenting, and virtual events with our leading journalists
Already have an account? sign in
Join our new commenting forum
Join thought-provoking conversations, follow other Independent readers and see their replies