Inherent Vice: Thomas Pynchon gets film cameo in adaptation of his novel
But will fans be able to recognise the reclusive author?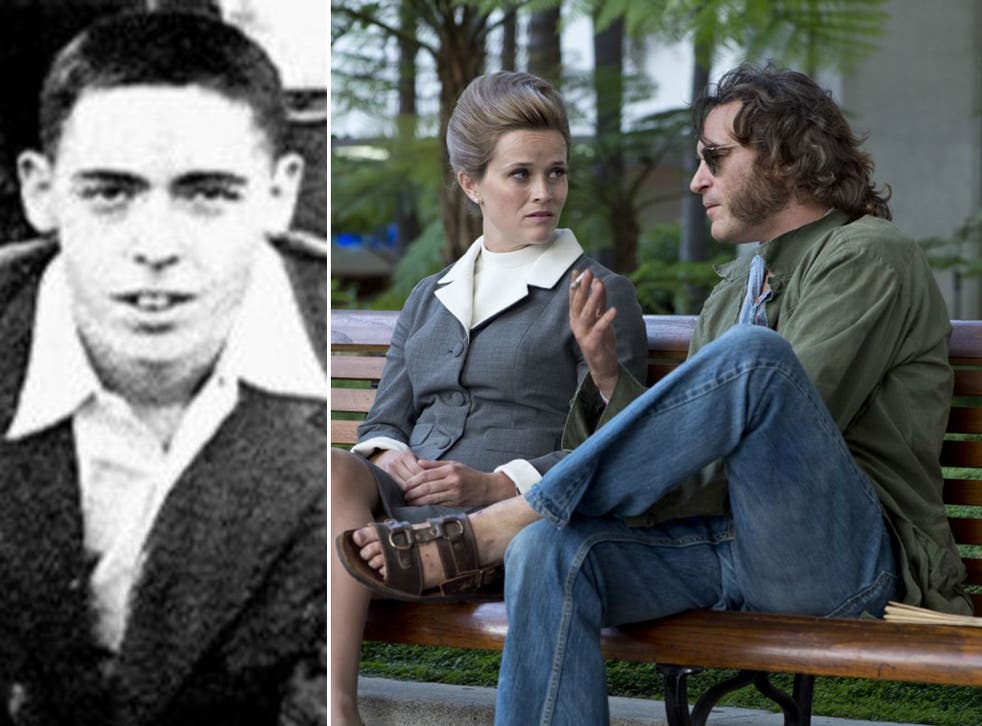 The last reliable photograph of Thomas Pynchon was taken more than 50 years ago, before the elusive author even embarked upon his stellar literary career.
Yet now the 77-year-old novelist, who has spent his entire adult life avoiding the camera, is set to make his big screen debut, with a cameo role in director Paul Thomas Anderson's adaptation of his 2009 book, Inherent Vice.
Inherent Vice is the first of Mr Pynchon's eight novels to be adapted for the screen, which will come as little surprise to those familiar with the density, complexity and breadth of works such as The Crying of Lot 49 (1966), Gravity's Rainbow (1973) and Against The Day (2006).
Mr Anderson's movie, due to premiere at the New York Film Festival this weekend, stars Joaquin Phoenix as Doc Sportello, a perpetually stoned PI in 1970s Southern California. Like the comic novel on which it is based, the film is packed with pop cultural references of varying obscurity, and visual jokes that the filmmaker has compared to classic spoofs such as Airplane!
One of those jokes is an appearance by Mr Pynchon himself. In an interview with the New York Times, Mr Anderson refused to confirm the cameo, but actor Josh Brolin, who also stars in the film, admitted that Mr Pynchon was secretly present on set.
"I don't think anybody knew," Mr Brolin said. "He came on as the kind of mercurial iconoclast he is. He stayed in the corner."
Since he published his first novel, V, in 1963, Mr Pynchon has never made a major public appearance, nor has he allowed his photograph to be taken for publication. In the age of the internet, his apparent reclusiveness – not to mention the conspiracy themes in his work – made his identity and whereabouts a compelling mystery for online sleuths.
In a rare interview with CNN in 1997, Mr Pynchon pooh-poohed his hermit-like reputation. "Let me be unambiguous. I prefer not to be photographed," he said. "My belief is that 'recluse' is a code word generated by journalists... meaning, 'doesn't like to talk to reporters.'"
In 2004, he played on his anonymity by voicing "himself" in two episodes of The Simpsons. The animated Pynchon wore a paper bag on his head and yelled, "Get your picture taken with a reclusive author!"
Access unlimited streaming of movies and TV shows with Amazon Prime Video Sign up now for a 30-day free trial
Sign up
The novelist's face may be no easier to spot in Inherent Vice, the plot of which includes several crowded parties and characters in disguise, offering Mr Pynchon plenty of opportunities to appear incognito.
Besides, even his biggest fans have very little idea what he looks like, given that the most widely circulated photo of the author is a yearbook portrait taken in 1953, when he was 16 years old and a pupil at Oyster Bay High School on Long Island.
Mr Pynchon later studied engineering and English at the prestigious Cornell University, spent two years in the US Navy and another two years working for Boeing in Seattle, while he wrote V.
He then moved to Manhattan Beach, close to Los Angeles, where he lived for much of the 1960s and early 1970s, and which provided a model for the fictional Gordita Beach, the setting for Inherent Vice.
In the early 1990s, Mr Pynchon returned to New York, where he reportedly lives today.
Join our new commenting forum
Join thought-provoking conversations, follow other Independent readers and see their replies