Rogue One: New character details revealed, first look at Mads Mikkelsen's Galen Erso and new droid
A panel for the upcoming Star Wars spin-off took place at London's Star Wars Celebration weekend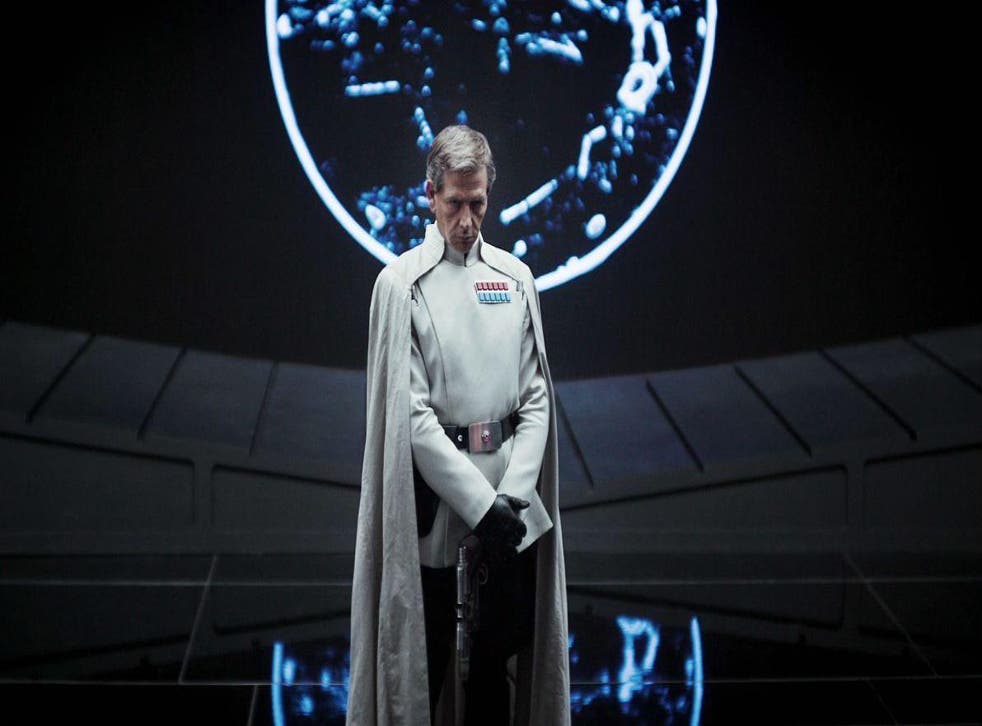 Disney continues to keep a very tight lid on their first slated Star Wars spin-off, Rogue One; but it looks like it's with very good reason, as the upcoming movie is so far set to be unlike anything we've ever seen before in the Star Wars universe. And that is something to get very, very excited about.
Hype reached an absolute peak at London's Star Wars Celebration; where a panel of cast and creators teased the upcoming film with a few well-placed hints, some confirmations about the identities of its central characters, and a general sense of what's in store for fans.
"It's a style that is unlike any other Star Wars movie," enthused LucasFilm President Kathleen Kennedy at the panel's opening. "This is going to be an incredibly immersive experience." One of the most striking elements that we've seen so far is merely the sense of location to this film, of Stormtroopers crossing crystal-blue waters with an eerie sense of foreboding.
That location, it turns out, is the Maldives; part of a move to film in as many tangible locations as possible, including London's very own Canary Wharf. Director Gareth Edwards revealed his very first job in London included the DLR route, one that he'd always remarked as distinctly futuristic in its appearance and worthy of an appearance in a future film of his.
Though who'd knew it would be a production as massive as Star Wars? Filming for the scene was inevitably an intensely secretive operation; with crew diving in after the station's midnight closure to set dress, followed by a mere four hours to shoot the scene.
The film's cast also joined the stage to discuss their own characters – at least, discuss them to the extent they were allowed to before Kennedy shot a discerning glare in their direction. At the centre of the film is Felicity Jones' Jyn Erso.
She's the criminal misfit who becomes embroiled in the Rebellion's most improbable of missions: steal the plans for the Death Star. These events, of course, directly link into the first scenes of A New Hope; when Princess Leia is seen concealing the plans in R2-D2 before she's captured by the Galactic Empire.

What's unlike previous Star Wars heroes, Jones explained, is that Jyn is a woman who already possesses a sense of self; "We know where she comes from, and that fact is what propels the story."
One of the biggest reveals of the panel was a better look at the film's new droid, K-2SO. Diego Luna, who plays Cassian Andor in the film, said, "One of the most important members of this team is a droid, an Imperial droid that is programmed by the rebellion. He's probably the best friend Cassian has in the Rebellion, or the only one."
Access unlimited streaming of movies and TV shows with Amazon Prime Video Sign up now for a 30-day free trial
Sign up

Alan Tudyk, who provides a motion-capture performance for the role, had this to say about the not-so-friendly creation. "Cassian reprogrammed him, and did like a data wipe. When he reprogrammed him, he's not quite all there. He speaks his mind and says things, I don't know, that can be unsettling. He's very honest. If you know any old people, he's like that; he just says whatever he thinks. It was great. It was really great to play him."
Riz Ahmed later described his own character Bodhi as, "a pirate. He works for the Empire to make a living. People who work at big organisations, they don't agree with everything they do. He's questioning things; the planet that he's from is an occupied planet."
The panel also brought confirmation that Mads Mikkelsen will, indeed, be playing Jyn Erso's father Galen Erso; though there's a particular secrecy around his character that hints to his having a significant role in the Star Wars universe. Mikkelsen intriguingly teased that Galen, "once invented something so beautiful, so fantastic that it could change the universe."

Also kept under secrecy is Ben Mendelsohn's Director Orson Krennic, though the actor had little to give away at the panel; jokingly teasing that he's "an Australia kind [of villain]. We do villainry very well. He's smarter than most of his predecessors, more inventive; perhaps a little sexier than some of them, perhaps not quite as sexy as some of the others."
The panel also further once more confirmed Darth Vader's appearance, and particularly James Earl Jones' involvement in voicing him. Yet, the one highlight any fan will be taking away from the panel was a brand new trailer – shown only to Celebration audiences – that briefly revealed Vader himself.
Merely a moody, reflective shot of the iconic villain taking in breath, there's nothing story wise to be particularly gained from the new footage; except to say that something quite spectacular-looking is on the horizon.
Rogue One: A Star Wars Story hits UK cinemas 16 December 2016.
Join our new commenting forum
Join thought-provoking conversations, follow other Independent readers and see their replies