Sausage Party: Seth Rogen already has an idea for a sequel
'That's one of the reasons why we took away the original ending'
Jack Shepherd
Wednesday 17 August 2016 09:10 Comments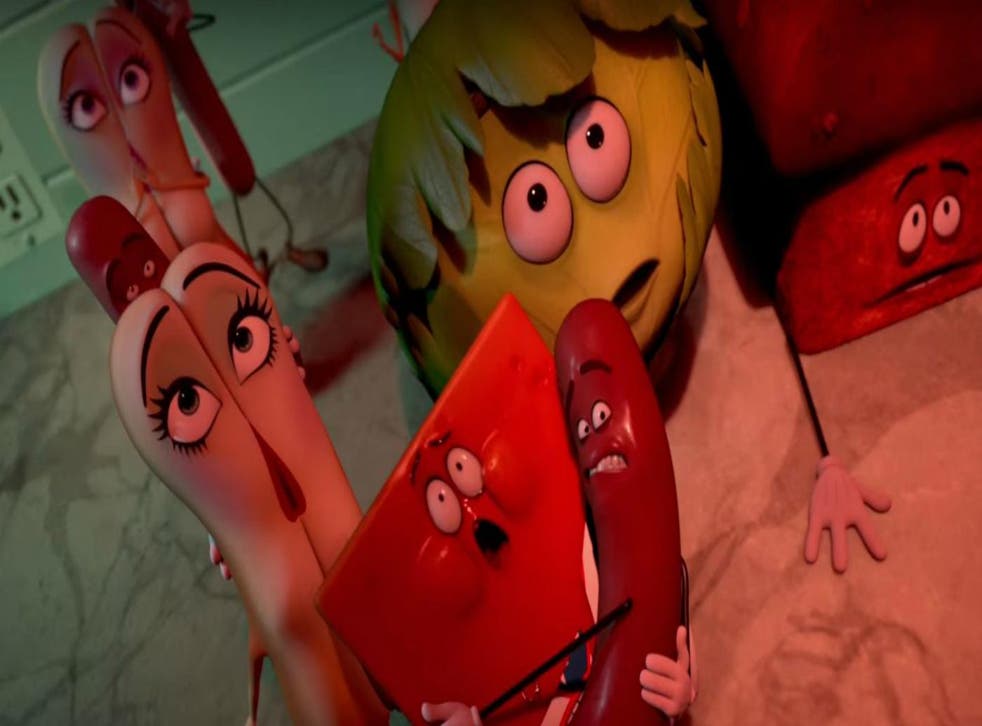 Sausage Party exceeded expectations during its first weekend at the box office, taking over $30 million in the US on a rumoured $19 million budget.
As with any successful project, speculation has already started regarding a sequel, something creator Seth Rogan is keen to get behind.
In an interview with Empire, he discussed the idea of a future project, detailing how the film's ending will likely influence the sequel.
Before we get into the interview, however, a slight bit of context, which includes spoilers for the film's ending.
Film premises that shouldn't have worked but did

Show all 14
In the theatrical cut currently being enjoyed by our American cohorts, Sausage Party ends with the main character realising they're cartoons and heading into a portal to meet their human counterparts.
However, at SXSW - where the film was first shown - the joke went further, yet Rogan decided to cut the post-portal moment.
"It's something we talk about, yeah," Rogen told Empire "That's one of the reasons why we took away the original ending because we thought, well, if that was the first scene of the next movie it's probably not what you would want it to be, with them just seeing us and finding us basically.
"But the idea of a live-action/animated movie, like a Who Framed Roger Rabbit?-style hybrid is also very exciting, mostly because Who Framed Roger Rabbit? is one of my favourite movies of all time."
The actor/creator also discussed how he hope the film leads to a wave of R-Rated comedies: "We have ideas for other R-rated animated movies that have nothing to do with Sausage Party, and we're hoping this goes well so we get to make them. Hopefully it won't take this long to make the next one because it won't take five years to convince someone to make it.
Access unlimited streaming of movies and TV shows with Amazon Prime Video Sign up now for a 30-day free trial
Sign up
"The whole problem before was there was no precedent for it, so hopefully this will show people that this is a viable thing to do... or it'll do the opposite and this will be the last R-rated animated movie that ever gets made!"
Sausage Party recently made headlines after a parental advisory website detailed why the film is R-Rated, describing is ridiculous detail all the scenes that may potentially be too adult for children's eyes.
Register for free to continue reading
Registration is a free and easy way to support our truly independent journalism
By registering, you will also enjoy limited access to Premium articles, exclusive newsletters, commenting, and virtual events with our leading journalists
Already have an account? sign in
Join our new commenting forum
Join thought-provoking conversations, follow other Independent readers and see their replies