Skyfall director Sam Mendes takes hat-trick at the Jameson Empire Awards 2013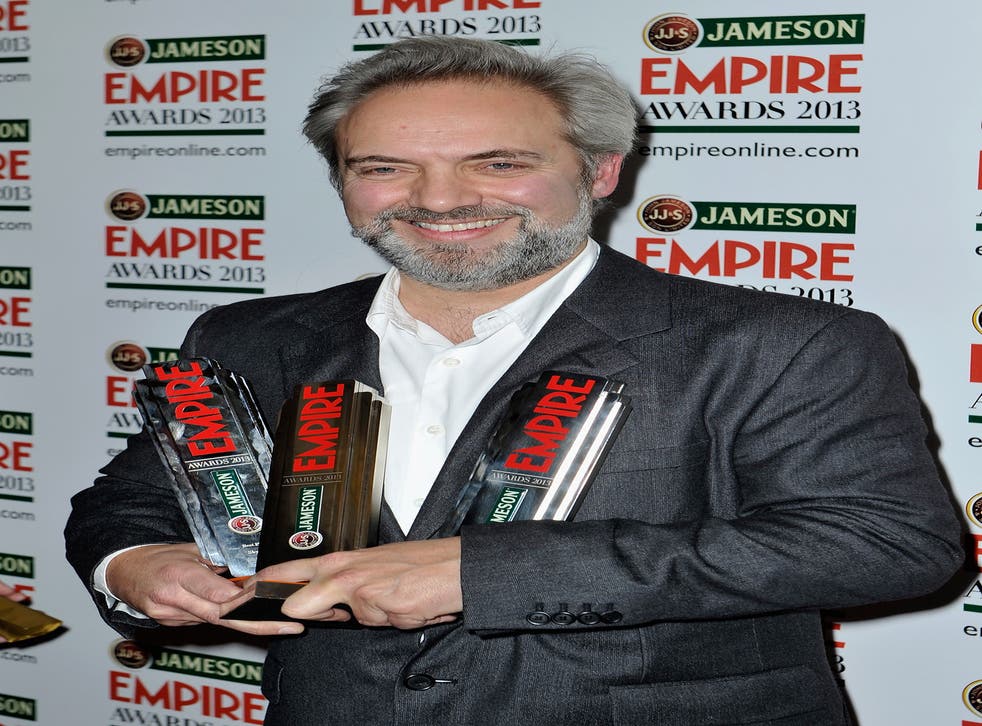 Skyfall director Sam Mendes finally had his moment of glory scooping three gongs at the Jameson Empire Awards 2013.
The latest James Bond film, though a box office hit, was overlooked at the Oscars and the Baftas in the best film and best director categories.
But at the star-studded ceremony at London's Grosvenor House Hotel, Mendes took home the best director and best film awards for his 007 effort Skyfall, along with the Empire Inspiration award.
Dame Helen Mirren was queen of the night, receiving the Empire Legend award.
The 67-year-old actress was hailed for her screen career spanning five decades, including notable performances in The Cook, The Thief, His Wife, And Her Lover, Gosford Park, The Queen and this year's Hitchcock.
Danny Boyle - who along with Mendes has already ruled himself out of directing the next Bond film - was also celebrated for his film career, presented with the Empire Outstanding Contribution award.
The British director has enjoyed a varied career of critically acclaimed films, including his dark debut Shallow Grave, the Oscar-winning Slumdog Millionaire, cult hit Trainspotting and his latest effort, thriller Trance.
Harry Potter star Daniel Radcliffe was named this year's Empire Hero, while his film The Woman In Black won the award for Best Horror.
The Hobbit: An Unexpected Journey notched up two wins - Best Sci-Fi/Fantasy Film and the Best Actor award for star Martin Freeman.
Jennifer Lawrence was named Best Actress for her performance in The Hunger Games. The win is the cherry on the cake for the star, who has won a string of accolades this awards season for her role in indie comedy Silver Linings Playbook, including an Oscar and a Golden Globe.
Access unlimited streaming of movies and TV shows with Amazon Prime Video Sign up now for a 30-day free trial
Sign up
Dame Helen joked she had planned to dye her hair green to match the Jameson Empire logo.
The Oscar-winning star of The Queen and Hitchcock dyed her hair pink for the Bafta ceremony last month.
Dame Helen laughed: "It's so easy. You just wash it in, wash it out. I was going to go green for tonight, but I didn't get round to it."
The actress was presented with the Empire Legend award and admitted she still felt too young to be a legend.
"It's okay. You sort of think really? Do I have to be a legend already? Can't they wait 20 odd years and then make me a legend? But that's alright, I'll take it."
Mendes took home three awards, Best Director, Best Film and the Inspiration award, presented to him by Kevin Spacey, who starred in his first film American Beauty.
Mendes said: "It was great to have it done by Kevin. Kevin was the first person I cast in my first movie, and ended up winning an Academy Award for it, so there's always been a great bond there.
"And the whole inspiring thing I take very seriously. Me, if I feel like my films have inspired a couple of people, a couple of kids who are sitting in the back of a dark auditorium, then it's been worth it."
Mendes has already ruled himself out of directing the next Bond film, but admitted he had not chosen his next project.
He said: "It probably won't be quite as big as Bond. But I want to do something ambitious in a different way.
"I think I need a few weeks where I don't know exactly what I'm doing next. It's good for me to clear my head.
"It's been such a great experience and it's going to be such a difficult one to follow, but I'm looking forward to trying."
Best Actor winner Freeman confessed he felt a bit embarrassed after realising his green suit and red shirt matched his award perfectly.
He insisted he had not chosen the outfit on purpose.
"No I didn't! I like colour alright?! But it is almost exactly the same isn't it?! It just looks like I've dressed to match, or as some sort of Christmas decoration. But I didn't really twig that."
The Hobbit star is returning to New Zealand in May for a few months more filming on Peter Jackson's epic adaptation.
He said: "I'm looking forward to going back. There are restaurants and record shops I'm looking forward to going back to. And it's a lovely bunch of people as well, so to spend two more months out there is fine and dandy.
"We'd better finish the films. I think it's contractual we should finish them!"
But in the mean time Freeman is dreading filming night shoots on the new series of Sherlock with Benedict Cumberbatch.
"We're going to be in Bristol tomorrow doing exteriors, and I think it will be freezing," he revealed.
"I don't know whether it's actually snowing in Bristol at the moment, but either way it will be very, very cold and it will be hard - because we're doing nights as well."
The Jameson Empire Film Awards Special will be transmitted on Saturday March 30 on Sky Movies at 8.30pm.
PA
Join our new commenting forum
Join thought-provoking conversations, follow other Independent readers and see their replies