Spongebob Squarepants film posters spoof Fifty Shades of Grey movie and Jurassic World
Terminator: Genisys also got the yellow sponge Super Bowl treatment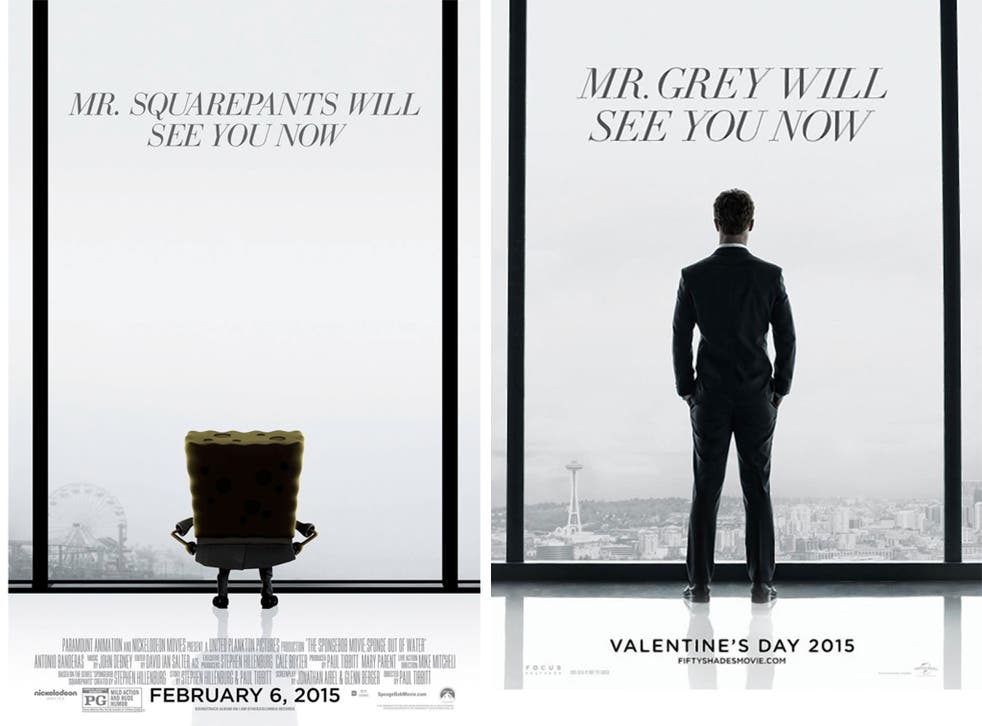 It seems that a certain cartoon character is looking for roles in a range of big name upcoming movies if the latest posters for the new SpongeBob Squarepants film are anything to go by.
Everyone's favourite walking yellow sponge has replaced Jamie Dornan's Christian Grey in a '50 Shades of Yellow' spoof of the Fifty Shades of Grey poster, while also hijacking promos for Jurassic World and Terminator: Genisys.
The new posters were revealed on SpongeBob: Sponge Out of Water's official Twitter account last night while a trailer aired during the Super Bowl on US TV.
Directed by Paul Tibbit who wrote and produced the hit animated series, the film sees SpongeBob leave the oceans to embark on a heroic adventure on land.
Tom Kenny is reprising his lead voice role while Antonio Banderas, Rodger Bumpass and Clancy Brown also star as Burger-Beard, Squidward Tentacles and Mr Krabs respectively.
The first SpongeBob Squarepants movie hit cinemas in 2004 and saw the title character leave the town of Bikini Bottom to track down King Neptune's stolen crown.
SpongeBob: Sponge Out of Water reaches UK big screens on 27 March 2015.
Register for free to continue reading
Registration is a free and easy way to support our truly independent journalism
By registering, you will also enjoy limited access to Premium articles, exclusive newsletters, commenting, and virtual events with our leading journalists
Already have an account? sign in
Register for free to continue reading
Registration is a free and easy way to support our truly independent journalism
By registering, you will also enjoy limited access to Premium articles, exclusive newsletters, commenting, and virtual events with our leading journalists
Already have an account? sign in
Join our new commenting forum
Join thought-provoking conversations, follow other Independent readers and see their replies