Star Wars: The Force Awakens in race row after John Boyega's character shrunk on Chinese poster
'There's no need to erase Finn from the poster - and just because he's black?'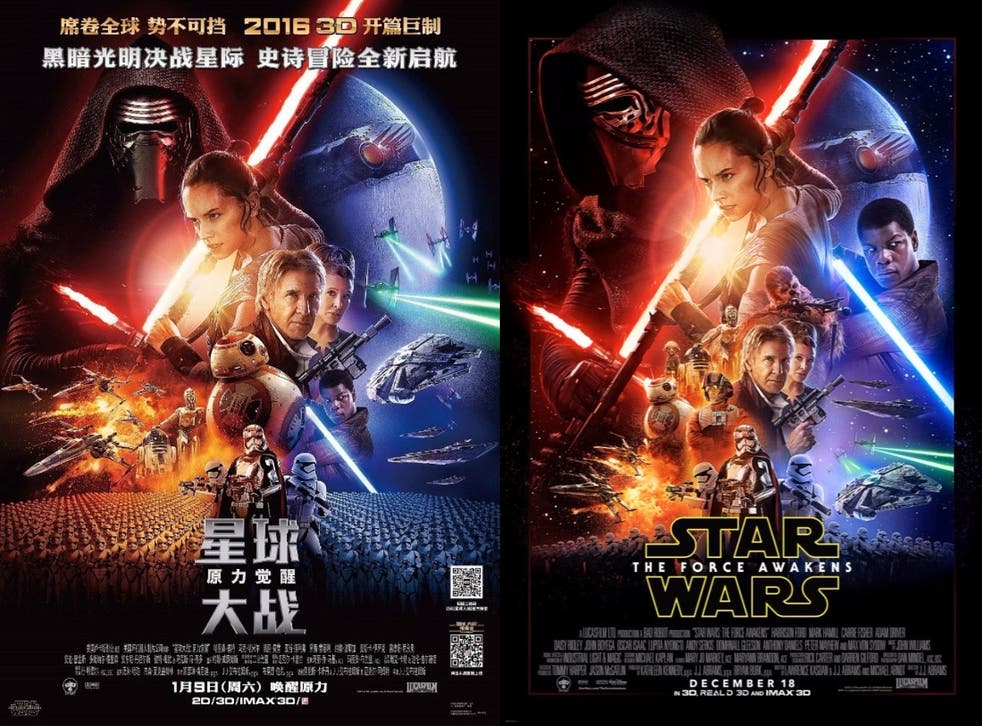 The Chinese adaption of the already iconic Star Wars: The Force Awakens poster has enraged fans after John Boyega's character was shrunk in size.
Finn, the actor's character in the upcoming film, is one of the leads and is the only person on the light side of the Force to have been seen wielding a lightsaber in the upcoming film as-yet.
On the UK poster he prominently features on the right, but is for some reason made smaller than the droid BB-8 on the Chinese poster.
Fans have since accused Disney of whitewashing the film and downplaying his role because of the colour of his skin.
On the release of the first trailer, John Boyega faced a backlash from fans who questioned whether there could be "a black stormtrooper". At the time, the Londoner said: "To whom it may concern: Get used to it".
EW's Star Wars: The Force Awakens photos

Show all 8
Elsewhere in the poster, Oscar Isaac's Poe Dameron, Maz Kanata and the wookie Chewbacca have also been removed while the stormtrooper army has been expanded vastly.
In other Star Wars news, George Lucas has given his verdict on the upcoming film, as has Harrison Ford who declared the film was "wonderful".
Carrie Fisher has also been wonderfully outspoken in the run up to the film's release, having called the banning of the 'slave Leia' toy "stupid" while also revealing how she was made to lose 35Ib before playing General Leia in the upcoming film.
Star Wars: The Force Awakens is out 17 December.
Join our new commenting forum
Join thought-provoking conversations, follow other Independent readers and see their replies