Treasure secretary and Suicide Squad producer Steven Mnuchin reportedly forms Trump 'suicide squad'
Trio will reportedly quit if Trump targets any one of them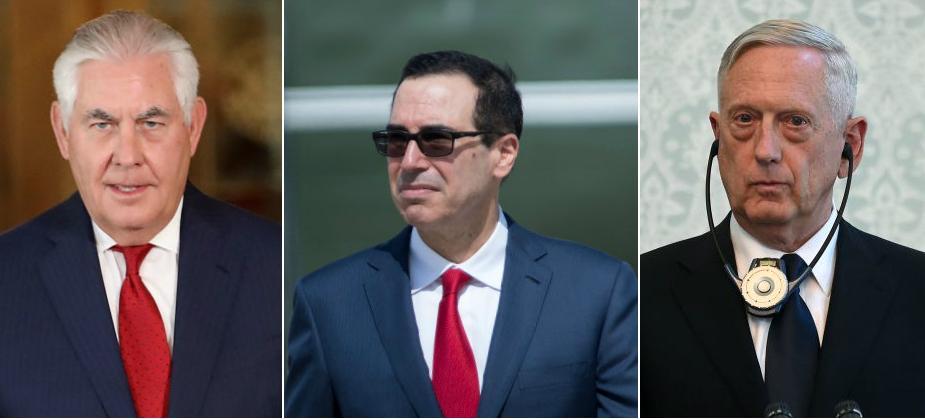 Life imitates art in D.C. this week, with a report from the Washington Examiner claiming that Secretary of State Rex Tillerson, Defense Secretary Jim Mattis, and Treasury Secretary Steve Mnuchin have forged a "suicide pact" that would see all three members of President Trump's Cabinet quit if one of them is targeted by the president.
This formation of this group, a suicide squad, if you will, may ring bells for Mnuchin, who was a film producer before his stint in the White House, one of his most notable executive producer credits coming with Warner Bros' 2016 movie, Suicide Squad.
News of the reported pact among members of Trump's inner circle surfaced as Tillerson attempted to quash rumours that he was set to resign, with the president standing by him on Twitter and declaring NBC's recent reportage "#FakeNews".
Back in March, the Senate Finance Committee's top Democrat called for the US government's ethics watchdog to look into whether comments made by Mnuchin about The Lego Batman Movie (which he also executive produced) constituted an ethics violation.
Asked for a movie recommendation by news website Axios, Mnuchin joked: "I'm not allowed to promote anything that I'm involved in. So I just want to have the legal disclosure, you've asked me the question, and I am not promoting any product. But you should send all your kids to Lego Batman."
The treasury secretary agreed to divest his interests in Ratpac-Dune Entertainment Holdings LLC, which is also behind Avatar and Max Max: Fury Road, within 120 days of his confirmation, and "not participate personally and substantially in any matter that has a direct and predictable effect on the financial interests of the entity".
Join our commenting forum
Join thought-provoking conversations, follow other Independent readers and see their replies