Suicide Squad fan tries to sue studio for 'false advertising' over lack of Joker scenes
Jared Leto's psychopathic clown is only on screen for circa 15 minutes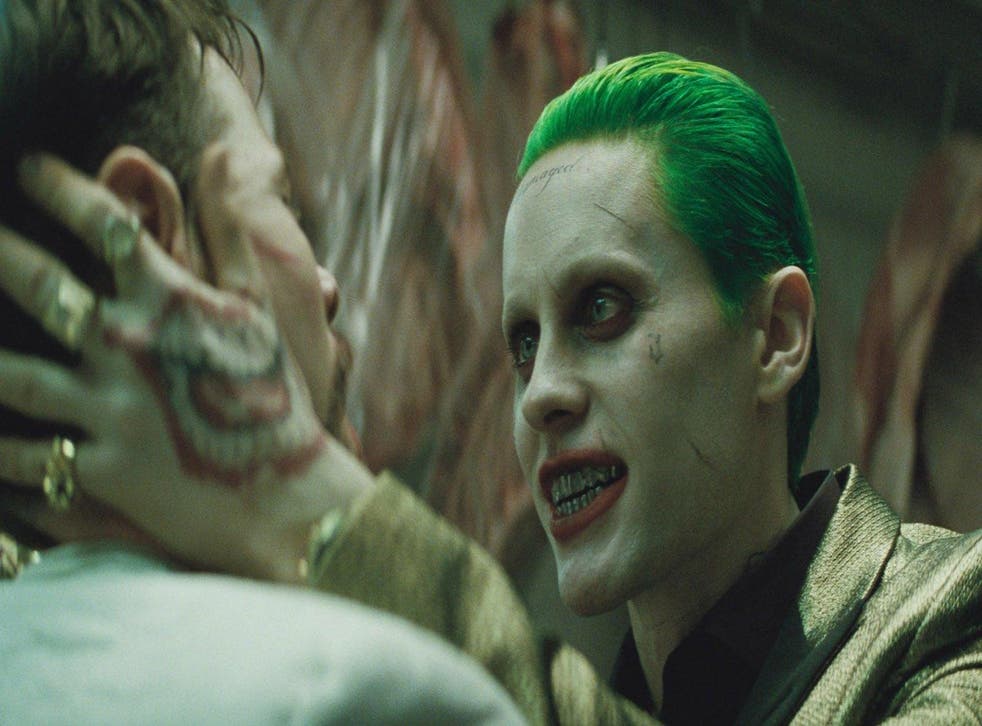 Jared Leto might have admitted that there are enough deleted Joker scenes to make a full movie but one Suicide Squad moviegoer has gone as far as to try and sue the studio for the disappointing lack of Clown Prince chaos.
Reddit user BlackPanther2016 has threatened to begin legal action against Warner Bros and DC Comics later this week, claiming that teasing Joker scenes in trailers that did not make the final film amounts to "unjust false advertising".
The disgruntled superhero fan argued in a post on Movies subreddit that he should receive a refund after driving 300 miles to London to watch "specific scenes explicitly advertised in TV ads" only to leave feeling ripped off. He says he will file a lawsuit on 11 August, with his "lawyer" brother leading the case.
Read the (lengthy, probably in vain) post in full here:
"Movie trailers are like food menus, they give you a preview of what you're gonna get. You look at a McDonald's menu and you choose to get your favourite burger, presented in a nice picture with pickles, chicken, mild cheese (your favourite, in fact that's the only reason you're getting this burger, because you love mild cheese). You use your hard-worked money to pay for this burger, you get the burger, only to find out that this isn't the burger you ordered. Yes it has pickles and chicken but it doesn't have mild cheese, it has regular cheese.
Suicide Squad Exclusive Interview With Margot Robbie, Jared Leto, Jay Hernandez & David Ayer
"Suicide Squad trailers showcased several specific Joker scenes that I had to pay for the whole movie just so that I can go watch those specific scenes that Warner Bros/DC Comics had advertised in their trailers and TV spots. These scenes are: when Joker banged his head on his car window, when Joker says '"Let me show you my toys', when Joker punches the roof of his car, when Joker drops a bomb with his face all messed up and says, 'Bye bye!' None of these scenes were in the movie.
"I drove 300 miles to London to go watch these specific scenes they had explicitly advertised in their TV ads…and they didn't show them to me. Adding to this, they were also two specific Katana scenes they advertised that were also the reason I wanted to go watch the movie. These scenes were: Katana's eyes going black, and a slow motion shot of her and her sword taking souls in a smoky kind of style. These scenes were advertised several times in the first trailer and many TV ads but they didn't show it to me in the movie. I wasted a lot of money paying and travelling to go watch this movie because of these specific scenes they had advertised to me and all of us saying, 'Hey, check out our preview! This will all be in our movie, come watch it on the 5th!' All lies.
"I told the theatre about this unjust act and said 'I didn't get what I came here to see, can I have my money back?' They laughed at me and kicked me out. So I'm now taking this to court. I want my refund, the trauma of being embarrassed as I was being kicked out and people laughing at me for wanting my refund, and also the £160 of fuel money I used to drive to London from Scotland.
"If you advertise something, give me what you have advertised. Period. This is becoming a habit with movie studios, showing epic scenes in trailers that are never shown in the movies. It's unjust.
"I just want to say, join me if you feel the same way. Let's stop this nonsense of false bulls***ery and don't let them bribe you with their 'deluxe premium special directors gold extended edition supreme cut' nonsense. You should get what they advertised as their first theatre showing and what you have paid for based on what they have showed you in their advertisements."
Suicide Squad character posters

Show all 38

Leto, whose well-publicised "method" approach involved sending live rats and anal beads to his co-stars, has commented on his minimal screen time of circa 15 minutes, telling IGN that "there were so many scenes that got cut from the movie I couldn't even start".
"Were there any that didn't get cut?" he said. "We did a lot of experimentation on the set, we explored a lot. There's so much that we shot that's not in the film."

Suicide Squad is certainly not the first case of marketing misleading cinemagoers. While frustrating, as trailers are often produced well before a film is finished, changes to the final product are widely expected. As such, it is likely that this case will not progress in court, particularly without evidence to suggest any deliberate defrauding of fans.
Suicide Squad is in cinemas now, having broken box office records in the US last weekend despite negative reviews.
Warner Bros and DC Comics are yet to comment on the threatened legal action.
Join our new commenting forum
Join thought-provoking conversations, follow other Independent readers and see their replies