The Queen receives honorary Bafta for 'Bond girl' role
Tony Jones
Friday 05 April 2013 10:17 Comments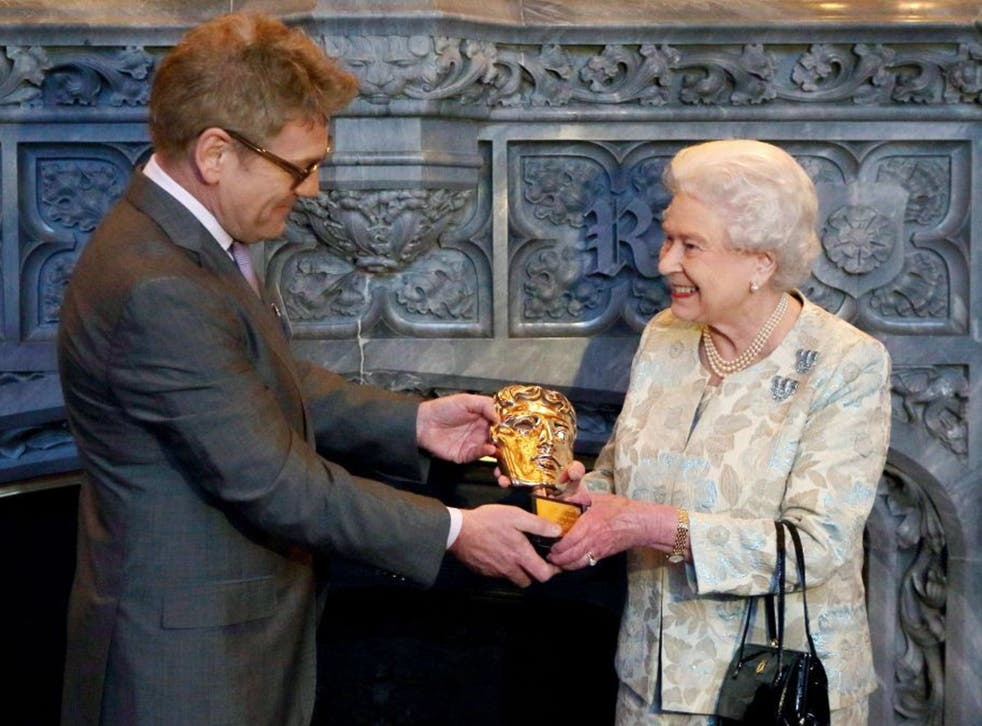 The Queen has received an honorary Bafta in recognition of a lifetime's support of British film and television - and for being the most "memorable Bond girl yet".
Hollywood star Sir Kenneth Branagh presented the award during a glittering Windsor Castle reception attended by stars of stage, screen and television celebrating their industry.
John Willis, chairman of Bafta, paid tribute to the Queen for her patronage of entertainment bodies and charities throughout her reign.
He drew laughter from the audience when he referred to the Queen's now famous role alongside James Bond during the opening ceremony of the Olympics - when she appeared to parachute into the stadium with 007.
Mr Willis said in a short speech: "We should be proud of our industry.
"The people here this evening represent a vast variety of skills and ground breaking innovation; they have entertained and informed a generation and inspired generations to come."
He told the audience, which included the Duke of Edinburgh: "I am delighted that this evening has given us the opportunity to give something back.
"I have the great honour to announce that we are to present Her Majesty with an honorary Bafta, in recognition of her outstanding patronage of the film and television industries."
The former award-winning television documentary director, now chief executive of the independent television production company Mentorn Media, highlighted the monarch's support for British film and television.
Mr Willis said: "The Queen has been patron of the Royal Academy of Dramatic Arts, the Entertainment Artistes' Benevolent Fund and the Cinema and Television Benevolent Fund - for which money is raised by Royal Film Performances - since 1952, so for more than 60 years, and visited countless industry organisations, shining a light on the work that we all do and lending her tireless support to our efforts."
Access unlimited streaming of movies and TV shows with Amazon Prime Video Sign up now for a 30-day free trial
Sign up
He added: "More recently Her Majesty the Queen starred at the London Olympics as the most memorable Bond girl yet."
Sir Kenneth kept up the theme of the Queen's unexpected movie appearance at London 2012's opening night when he gave his presentation speech.
To laughter from his audience he told the Queen: "...Your sensational appearance at the opening ceremony of last year's Olympics was especially memorable.
"So much so that several of my colleagues here tonight want you to know that should you wish to take it further into the world of British films that they have a number of scripts with them here this evening. I have to warn you, Your Majesty, not all of these films are fully financed."
Finally 007 - who was not at the event - was mentioned: "Of course we are happy to deal directly with your agent so Daniel Craig is here this evening."
The reception, held in the royal residence's lavish state apartments, recognised those involved with British films and the supporting creative industries.
Among the 300 guests were actors, directors, writers, producers, costume and set designers, publicists and critics.
They included Homeland star Damian Lewis who attended the event with his actress wife Helen McCrory. He said: "The arts and film industry punch above their weight with little funding.
"Our arts in this country and theatre and film and TV are some of our greatest exports, to have that recognised by your monarch is important."
Also invited were actresses Thandie Newton and Peepshow star Olivia Coleman, Sir Christopher Lee, and Downton Abbey writer Julian Fellowes.
Billy Connolly joined the reception as did director Terry Gilliam, actress Minnie Driver and actor Idris Elba.
Acclaimed actor John Hurt said he enjoyed the Queen's starring role in the opening ceremony: "It was a bit of good fun, I thought so - good on her."
The actor revealed he had made a special trip from filming a 50th anniversary of Doctor Who project in Cardiff, and would be returning to Wales immediately after.
George Lucas, who had flown in especially for the Windsor Castle reception, praised Britain for backing its movie industry.
The Hollywood supremo said the UK had been very influential in his career.
He said: "I've been here since '75 so for me this is my second home."
Asked how the British film industry had helped his career he replied: "It's been very influential for me, I've shot lots of movies here not only four of the Star Wars films but also Indiana Jones, all kinds of films - it's been a long road."
Speaking about the US, Lucas said: "The White House, the government there doesn't support the film industry the way we do in Britain.
"Many, many years ago Britain didn't support the film industry and when I came here it was on its last legs and fortunately now it's a lot steadier."
PA
Register for free to continue reading
Registration is a free and easy way to support our truly independent journalism
By registering, you will also enjoy limited access to Premium articles, exclusive newsletters, commenting, and virtual events with our leading journalists
Already have an account? sign in
Join our new commenting forum
Join thought-provoking conversations, follow other Independent readers and see their replies