The Walking Dead season 7 episode 14: Who does Rosita see at the end of 'The Other Side'?
*Spoilers for The Walking Dead season 7 episode 14 follow*
Jacob Stolworthy
Monday 20 March 2017 03:06 Comments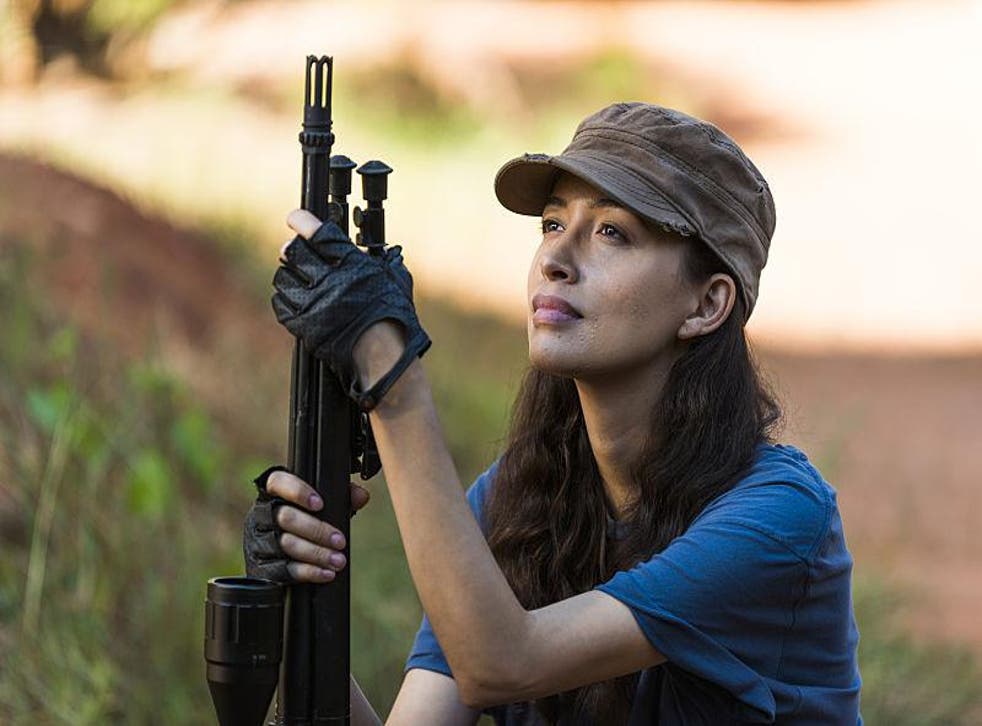 This week's episode of The Walking Dead saw Sasha and Rosita embark on their mission to assassinate Negan at the Sanctuary.
As the instalment drew to a close, a plot twist saw Sasha lock Rosita out of the Sanctuary as she ran fully armed directly into the heart of The Saviours' compound fully prepared to die in combat avenging the death of Abraham (Michael Cudlitz).
However, the episode's final moment sees Rosita, forlornly begrudging Sasha for going it alone, looking fearful as she spots a long-haired crossbow-wielding figure stood in the shadows.
Considering a previous scene shows Daryl (Norman Reedus) discovering that Sasha and Rosita had gone missing, it's a fair bet to assume this could be him, ready to help the pair wreak their vengeance against Negan.
But, considering the look of terror on Rosita's face, perhaps the figure is none other than Negan's right-hand man Dwight (Austin Amelio). Throughout this season, Dwight's allegiance to his leader has been wavering - could this be his time to help Rick's crew in their war against The Saviours? Next week's episode will most certainly tell (we hope).
The Walking Dead Season 7 Episode 14 trailer
The Walking Dead airs in the UK tonight (20 March) at 9pm on FOX. You can read our review of last week's episode hereyyyy.
Register for free to continue reading
Registration is a free and easy way to support our truly independent journalism
By registering, you will also enjoy limited access to Premium articles, exclusive newsletters, commenting, and virtual events with our leading journalists
Already have an account? sign in
Join our new commenting forum
Join thought-provoking conversations, follow other Independent readers and see their replies