Toy Story 3: The highest grossing animated film ever
As feature cartoons keep audiences flocking to cinemas, Hollywood studios hastily roll out more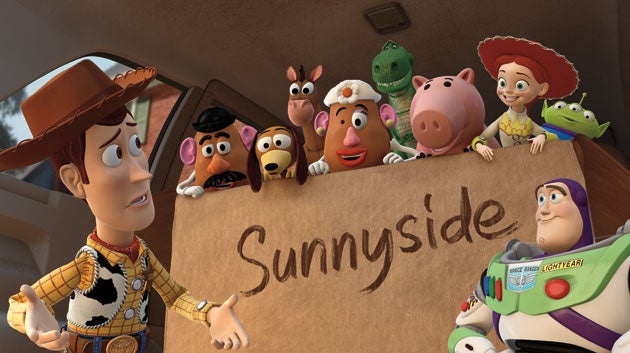 His catchphrase is to go "to infinity, and beyond" and, if his box office receipts are anything to go by, Buzz Lightyear is on course to set sky-high standards of success for any big-screen animated character to follow.
Toy Story 3, in which Lightyear stars, is set to become the first animation to take $1bn at box offices globally after becoming the highest grossing animation ever, this weekend.
Its characters, including spaceranger Buzz, cowboy Woody and resourceful Barbie, helped Disney/Pixar gross $920m in global ticket sales since it opened in June. The previous record holder was DreamWorks Animation's Shrek 2, which raked in $919.8m.
Toy Story 3's success makes it the fourth highest grossing Disney movie ever, behind Johnny Depp blockbusters Pirates of the Caribbean: Dead Man's Chest ($1.07bn), Alice in Wonderland ($1.02bn) and Pirates of the Caribbean: At World's End ($961m).
Cinemagoers' love affair with animation shows no sign of waning. Shrek Forever After is currently pulling in viewers across the country, while Lionsgate's 3D wolf animation Alpha and Omega hits the big screen in October. Universal's Despicable Me, which knocked the latest Twilight instalment off the top of the box office on its release in the United States last month, is also due out in the UK in October.
Charles Gant, film editor at Heat magazine and a box office analyst, said studios had invested in their own animation divisions over recent years after seeing the success of DreamWorks Animation in rivalling Disney. "3D has been fantastic for animation and also the family market just keeps getting bigger," he added. "It's very rare a big studio loses money on a family film."
Toy Story 3 is the latest in a line of hits for Pixar, which also created Up, Finding Nemo and Monsters, Inc. The film has been credited with reducing grown men to tears with its themes of growing up, separation and loss.
Helen Nabarro, head of animation direction at the National Film and Television School, said the success of the Toy Story franchise and feature-length animations such as Oscar winner Up was down to sophisticated scripts and strong stories. "It can be a recognisable human world but with this extra fantasy that you believe," she explained.
Ms Nabarro, who was an executive producer on the BBC's Robbie the Reindeer films, said animation was "very much mainstream" now. It may have been viewed as "kids' stuff" in the past but now targeted adults.
Access unlimited streaming of movies and TV shows with Amazon Prime Video
Sign up now for a 30-day free trial
Sign up
Access unlimited streaming of movies and TV shows with Amazon Prime Video
Sign up now for a 30-day free trial
Sign up
Aardman's Wallace & Gromit did animation a "massive service" in showing that the genre could work for both adults and children, she added.
Hollywood's top actors are increasingly keen to voice animated characters. Steve Carell features as Gru in Despicable Me, while Brad Pitt will voice hero Metro Man opposite Will Ferrell's villain in DreamWorks Animation's Megamind this December.
Join our commenting forum
Join thought-provoking conversations, follow other Independent readers and see their replies