Charlottesville: JK Rowling and other celebrities blast Donald Trump over comments on far-right rally
'Hell of a day for the President to forget how to tweet'
White supremacists clash with anti-fascist campaigners ahead of Virginia rally
On Saturday morning, Donald Trump's Twitter account was notably silent despite white supremacists and anti-facists clashing at a rally in Charlottesville, Virginia.
Many social media users picked up on how the usually vocal President was taking so long to comment on the situation.
Eventually, Trump finally Tweeted: "We ALL must be united & condemn all that hate stands for. There is no place for this kind of violence in America. Lets come together as one!"
In a press conference later on, Trump said: "We're closely following the terrible events unfolding in Charlottesville, Virginia. We condemn in the strongest possible terms this egregious display of hatred, bigotry, and violence, on many sides. On many sides."
The comments, however, did little to appease those on Twitter, the likes of JK Rowling, Patton Oswalt, and Ava DuVernay blasting the President for ambiguously blaming "many sides". See a selection of comments below.
Officials in Charlottesville declared a state of emergency shortly after 11am local time as the clashes became more violent, with punches thrown between rival groups and pepper spray released in the crowd.
Michael Signer, the town's mayor, gave a statement laying blame on Trump, saying: "I'm not going to make any bones about it. I place the blame for a lot of what you're seeing in America today right at the doorstep of the White House and the people around the President."
Violence on the streets of Charlottesville

Show all 9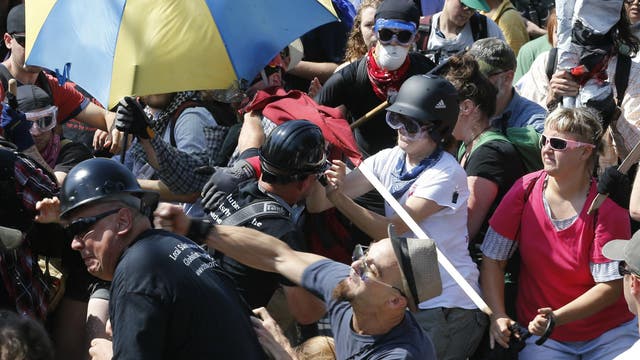 He was speaking shortly before it emerged one person had been killed and several others injured when a car hit anti-fascist protesters.
The clashes broke out at a "Unite the Right" protest over the decision by the local government to remove a statue of the leading Confederate general, Robert E Lee, during the American Civil War.
Join our new commenting forum
Join thought-provoking conversations, follow other Independent readers and see their replies