Woody Harrelson interview: The Hunger Games star recalls pranking Liam Hemsworth in the darkest way possible
The Haymitch actor is a Game of Thrones mega-fan but is wary of signing on to TV shows
Jess Denham
Monday 16 November 2015 12:07 Comments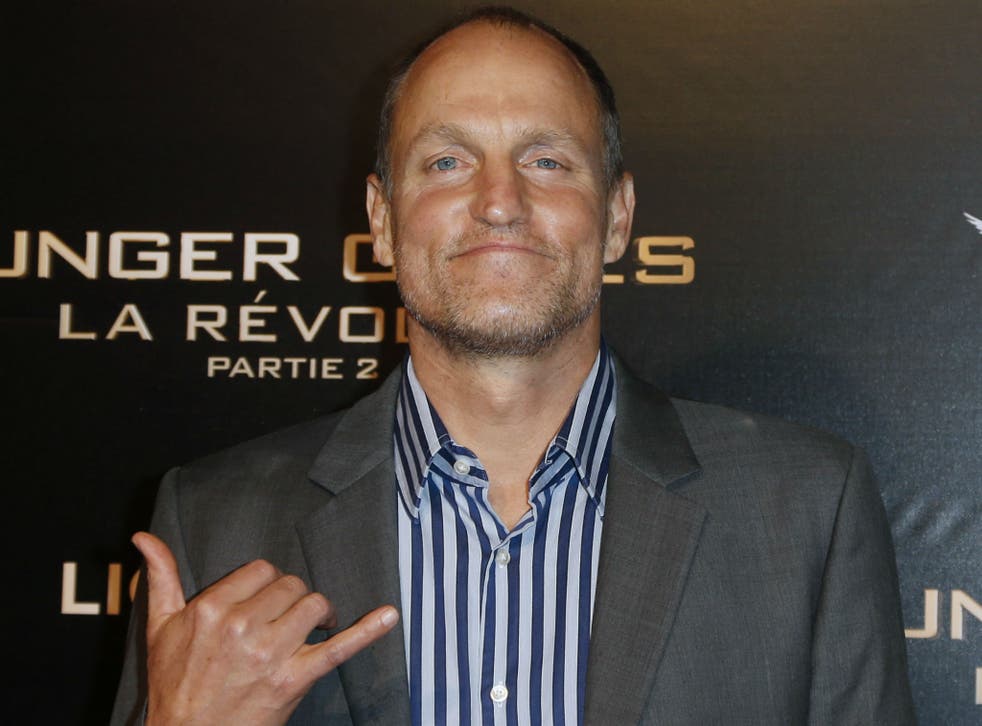 Woody Harrelson might cut an innocent-enough figure in those pyjamas he wore to a recent Hunger Games photocall, but when it comes to pranking, this self-proclaimed anarchist is a master of the dark arts.
The Oscar-nominated actor has revealed that he targeted friend and co-star Liam Hemsworth while shooting was underway on fourth and final movie Mockingjay Part 2 and made him believe he had been seriously injured in a bike accident.
"I am one of those guys who does sometimes like to make people laugh," he tells The Independent. "I did one prank on April Fools' Day where I got our make-up artist to come over to my house and make my face look like I'd been in a bad bike wreck and skidded, blood everywhere.
"I rang [director] Francis Lawrence as I was supposed to film the next day and asked him what I should do. He said, 'First, you need to get to the hospital!'. Then I called Liam and told him to come to the hospital to pick me up, but I made the name up and of course there was no such place.
"That was a dark one, it played on people's sympathies. Nothing good about it, but…"
Hunger Games trailer: Mockingjay Part 2
Presumably the cast and crew saw the funny, albeit it ever so slightly twisted side of Harrelson's gag, as the fun they had together on set is widely known about. Filming the last two movies back to back meant lots of time to bond, "hanging out in Liam or Jen [lead actress Jennifer Lawrence]'s rooms".
"That could be a separate movie on its own, all the shenanigans and playfulness," he jokes. "It's a mad group."
Harrelson nearly missed out on the chance to make some friends for life, however, after initially passing up the role of Katniss Everdeen's mentor Haymitch Abernathy.
"I turned it down and they re-offered it and I turned it down again," he says. "Then [the first film's writer and director] Gary Ross called me and convinced me to do it on the phone. I'd thought the writing was good but it didn't feel that much to do for me."
Reading all the books by Suzanne Collins also played a major part in changing Harrelson's mind. "I thought Suzanne wrote incredible stories that are the perfect illustration of what's going in the world, with governments controlled by giant industries.
Access unlimited streaming of movies and TV shows with Amazon Prime Video Sign up now for a 30-day free trial
Sign up
"It's a bleak outlook. It's a better look at the end of this fourth movie than it is right now in the world. It's frightening."
The Hunger Games Mockingjay Part 2: Every look from the film's premieres

Show all 22
Elsewhere, Harrelson admits that while he loves television, he is wary of signing on to long-running series because of the levels of commitment involved. "It goes on and on," he says. "Just doing True Detective was six months, so that's half a year spent doing it. I think you've really got to be prepared before you jump into something like that."
His favourite shows include hospital drama The Knick, comedy Doll and Em, fantasy series Game of Thrones and Britain's own Downton Abbey. But would he accept a job offer for any of them?
"I'll never be a part of those but I love watching them," he says. "A sitcom? I could actually see that a little better. Not such a strenuous work week…nothing I'm averse to!"
The Hunger Games: Mockingjay Part 2 arrives in UK cinemas on 19 November
Register for free to continue reading
Registration is a free and easy way to support our truly independent journalism
By registering, you will also enjoy limited access to Premium articles, exclusive newsletters, commenting, and virtual events with our leading journalists
Already have an account? sign in
Join our new commenting forum
Join thought-provoking conversations, follow other Independent readers and see their replies