At Eternity's Gate, Venice Film Festival, review: Torpid Van Gogh biopic falls very flat
For all its formal beauty, Julian Schnabel's film never really quickens into life
Geoffrey Macnab
Monday 03 September 2018 17:44 Comments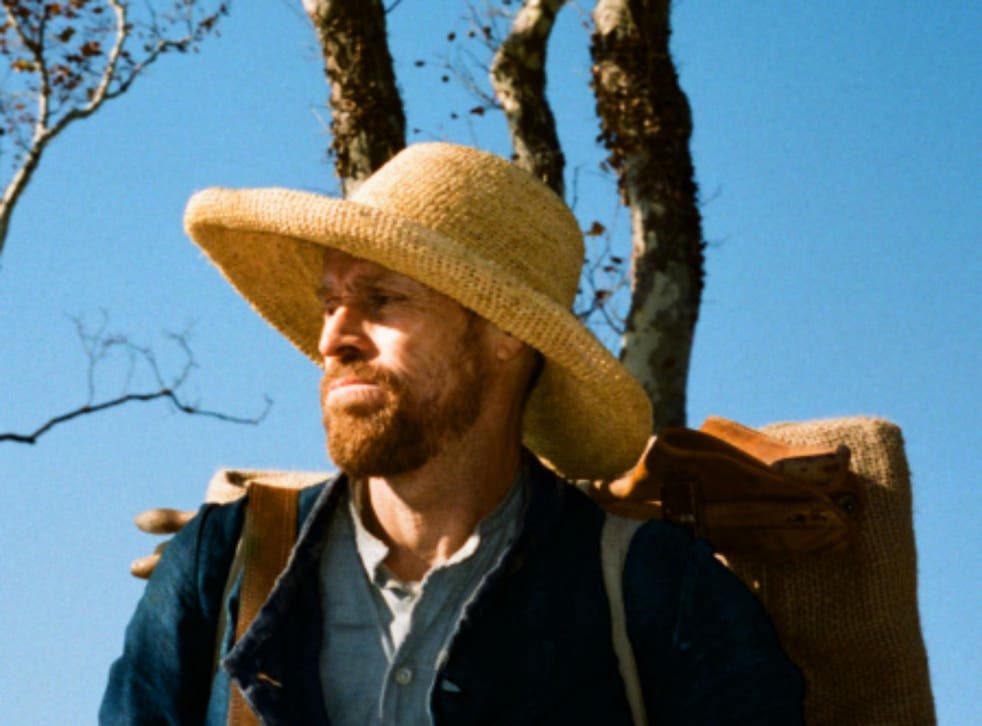 Julian Schnabel; Starring: Willem Dafoe, Rupert Friend, Oscar Isaac, Mads Mikkelsen, Emmanuelle Seigner, Mathieu Amalric
Of all the many films about Vincent Van Gogh, At Eternity's Gate (a world premiere in Venice's competition on Monday) is surely the most downbeat and lugubrious. It boats a remarkably rich and sensitive portrayal of the artist from Willem Dafoe but, as a piece of drama, it is torpid in the extreme. There is none of the frenzied melodrama found in Vincente Minnelli's Lust For Life. Nor does it possess the detective story quality which made last year's animated biopic of Van Gogh, Loving Vincent, so compelling. Instead, it offers us a claustrophobic portrait of an artist who spends most of his time alone in a room or out in the countryside in front of his easel. The drama here, such as it is, is all internal. We don't even get to see Vincent cut off his ear. For all its formal beauty, the film never really quickens into life. It doesn't help that the filmmakers can't work out which language to use. In some scenes, the characters speak in French but Vincent's voice over and his exchanges with Paul Gauguin (Oscar Issac) are all in English.
Schnabel's main focus is on Vincent's creative process. As a painter himself, the director is fascinated with the way Vincent mixes his colours and with the obvious physical pleasure he takes in his brush strokes. We see him dabbing at the canvas in a feverish state. "The faster I paint, the better I feel," he confides at one stage. The only time he is contented is when he is working well. He can take everyday objects (for example, his scuffed old boots) and paint them as if they are objects of wonder.
At 63, Willem Dafoe is very much older than Van Gogh, who died aged 37. That is not a hindrance. He looks like Vincent, dresses the part and brings that absolute conviction to his role that you find in all of the actor's best roles. His Vincent lives up to every last cliché of the tortured, suffering visionary. He has holes in his socks. He lives and works in a frozen garret. The innkeeper won't allow him to hang or sell his paintings. Vincent is utterly reliant on his devoted brother Theo (Rupert Friend) for financial support. Theo treats him with endless tenderness. To almost everybody else, though, he is a pariah.
"I am Paul Gauguin, by the way," Isaac's Gauguin tells Vincent early on. It's one of those lines which can't help but make you groan. Gauguin advised his fellow artist to "go south!" That's where Vincent heads, in search of the light and hoping for some peace of mind. In Arles, though, the locals don't take to him at all. He is tormented by school kids and beaten up by their parents. He drinks too much and can't pay his bills. In the asylum where he ends up in a straitjacket, the priest (a very restrained Mads Mikkelsen) tells him his work is ugly.
Dafoe plays Vincent not as a madman but as an ultra-lucid philosopher using his art to wrestle with the metaphysical riddles of existence. "I see nothing but eternity," he says of the infinite mystery and beauty he discerns in any flat landscape or conventional still life subject.
25 new films to look out for in 2018 that aren't sequels

Show all 25

As a primer of Vincent's life and work made by a fellow artist, the film is sometimes intriguing. As a biopic, it falls very flat. It was co-written by the legendary Jean-Claude Carrière, whose credits range from Bunuel classics to films with Milos Forman and Nagisa Oshima but the film doesn't have any of the lyricism or inventiveness generally associated with Carrière's work. Schnabel has assembled an impressive supporting cast but gives actors with the magnetism of Mikkelsen or Amalric little chance to offer anything but the very sketchiest of performances. Schnabel's approach is austere. He doesn't ever stumble into kitsch sentimentality but you almost wish he would, if only to add a little more liveliness to proceedings.
Register for free to continue reading
Registration is a free and easy way to support our truly independent journalism
By registering, you will also enjoy limited access to Premium articles, exclusive newsletters, commenting, and virtual events with our leading journalists
Already have an account? sign in
Join our new commenting forum
Join thought-provoking conversations, follow other Independent readers and see their replies