Carol, film review: Cate Blanchett stars in a moving tale of forbidden love
(15) Todd Haynes, 118 mins. Starring: Cate Blanchett, Rooney Mara, Kyle Chandler, Sarah Paulson, Jake Lacy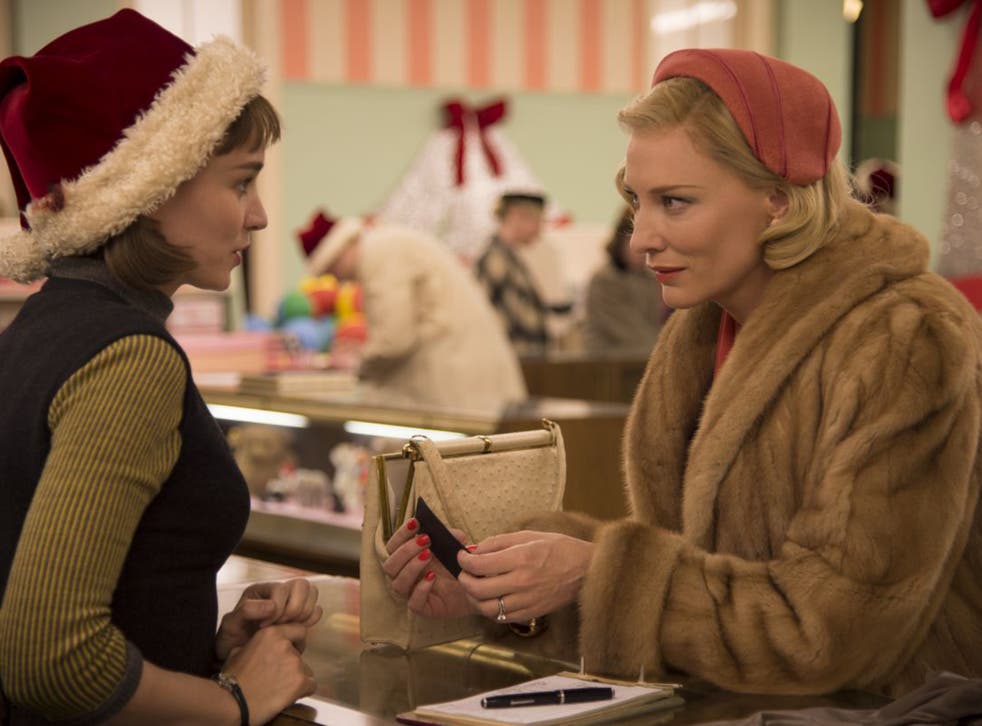 Todd Haynes's latest feature is a subtle, moving and deceptive story of two women (brilliantly played in very contrasting styles by Cate Blanchett and Rooney Mara) who refuse to live against "their own grain". Carol is based on a Patricia Highsmith novel (The Price of Salt, published in 1952) but this isn't the typical Highsmith adaptation. We do see a gun at the bottom of a suitcase and there is a fleeting appearance from a private detective, but there are no murders here or Ripley-style psychopaths up to nefarious games. Instead, this is a very closely focused character study.
Early on, the film seems to be shaping up as a modern-day equivalent to one of those swirling Douglas Sirk melodramas from the 1950s (the era in which it is set), featuring long-suffering but defiant heroines in states of extreme emotional turmoil. Carol has very sumptuous production values. Blanchett, in an array of costumes – often draped in a fur coat or brandishing a gleaming cigarette holder and always with immaculately coiffed hair – looks as glamorous as any Lana Turner-esque star from Hollywood's golden age.
Blanchett's Carol Aird is chafing against the constraints of her role as wife and mother. When she swears ("Son of a bitch!"), that itself seems as if she is breaking a taboo. Expressing her sexual desire for a woman is another way of rebelling against the rigidly conformist world in which she is trapped. Blanchett has the ability to bring a Clytemnestra-like fury to roles as fragile and vulnerable women. Here, she manages to give a 1950s housewife the pathos and grandeur of a tragic heroine. In one of the most telling scenes, in which she has to make a plea to lawyers for the right to maintain contact with her daughter, she shows a defiance and searing eloquence that takes the men around her utterly by surprise.
Culture news in pictures

Show all 33
Mara is more subdued as Therese Belivet, a sly young woman working in a New York department store. Early on, we see her face through a rain-spattered windscreen. She is a guarded figure who gives the impression that she is looking in at her own life. Even at the most climactic moments, she keeps her reserve. Mara plays up the inscrutable side of the character. An aspiring photographer, she hides behind her camera in a way reminiscent of the equally mysterious real-life photographer Vivian Maier. Softly spoken, dressed in a woollen hat and tartan scarf, she seems to have a passive and sweet-natured personality, and yet she is as single-minded in her relationships as she is in pursuit of her professional career.
On the face of it, Blanchett's Carol is the dominant one in the relationship: older, wealthier and more experienced. Mara's Therese, though, has an independence that Carol lacks. She is part of a nascent New York bohemian subculture. She listens to jazz. She refuses to accept the conventions of an older, more conservative generation. This is a love story but one with a coolness and a sense of ironic detachment at its core. The most neurotic figure is a man, Carol's husband, Harge Aird (Kyle Chandler), who cannnot bear the idea that his lesbian wife is drifting away from him. "I love her!" he wails in self-pity at one moment. "I can't help you with that," is the deadpan response.
Haynes sets the tone with a brilliant early sequence set in a Manhattan department store just before Christmas. We are in Eisenhower-era America, a time of new affluence and opportunity. This, though, is the Cold War era, too. The irony, very deliberately accentuated by the film-makers, is that US society is as rigidly conformist in its own way as the communist world. "Compliments of the season from the management," the shop workers are told as they are all given identical Santa hats just as the Christmas rush is about to begin. Little details – the near-identical clothes of the women shopping, the Big Brother-style tannoy voice telling customers what to buy – hint at how rigidly behaviour is controlled.
The two women first encounter one another in the store. Blanchett's Carol is out on a shopping spree. She is married to a man who dotes on her. They have a daughter and live in a beautiful home, but she feels trapped. When she leaves her gloves behind, thereby giving Therese the opportunity to get in touch with her, she is clearly looking for a means of escape. The lovers refuse the roles of victims. Even when they are being spied on during sex, or when Carol is being threatened by her husband's powerful lawyers, neither is ever apologetic. Phyllis Nagy's screenplay emphasises their steeliness and self-reliance.
In sly and subversive fashion, Haynes is laying bare the tensions in a society that refuses to acknowledge "difference" of any sort. The film stands as a companion piece to the director's earlier Far from Heaven (2002), in which Julianne Moore played an affluent American wife and mother whose husband turns out to be gay, and who then scandalises her neighbours herself through her friendship with a black gardener.
Ed Lachman's richly textured cinematography gives us the sense that we really are back in the 1950s. The costume and production design are meticulously detailed but without stifling the searing emotional charge in the film.
Together, Blanchett and Mara make an extraordinarily potent couple. Alongside Saoirse Ronan in Brooklyn and Maggie Smith in The Lady in the Van, they are front-runners in what looks likely to be one of the most fiercely contested campaigns in recent times for the next Oscar for Best Actress. They are both helped that in Todd Haynes, they have a director who is sensitive to every last nuance in their performances.
Join our new commenting forum
Join thought-provoking conversations, follow other Independent readers and see their replies