Dallas Buyers Club, film review: 'A rousing crowd-pleaser'
A contradictory film that is uplifting despite dealing with HIV and death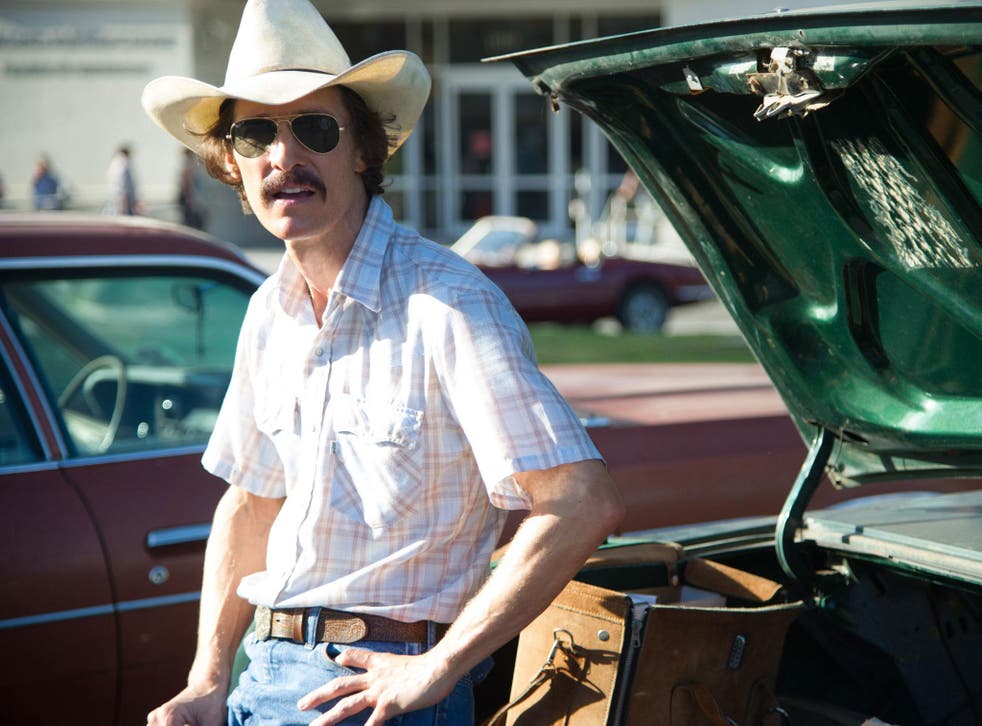 Dallas Buyers Club is a truly contradictory affair: a rousing crowd-pleaser dealing with the most downbeat subject imaginable – a man contracting HIV and slowly dying of an Aids-related condition.
Summed up like that, it sounds impossibly grim. What makes the film so special is its sense of defiance and its scabrous humour. The main characters here simply don't accept their role as victims, Ron Woodroof (Matthew McConaughey) least of all.
Like other former juvenile leads who've appeared in too many romantic comedies, McConaughey has been consistently underestimated as an actor. Here, he gives an astonishing performance that combines sleaziness and venality with grace and pathos.
The director Jean-Marc Vallée, previously best known to British audiences for the pallid, Julian Fellowes-scripted costume drama The Young Victoria (2009), brings a grittiness and morbid humour to the storytelling here that, early on, evokes memories of Bob Rafelson's Five Easy Pieces.
When we first encounter McConaughey's Ron, he is having frenzied, unprotected sex in a darkened stall at a Texas rodeo. The scene is shot in a furtive, voyeuristic way. From the corner of his eye, he notices a sad-faced rodeo clown – a figure we see again and who seems to have been included as a harbinger of troubles ahead.
Moments later, Ron is fleeing angry cowboys he seems to have fleeced. It's 1985. With his rakishly lean frame and moustache, Ron may look like a member of camp disco group Village People but he is rampantly homophobic. "Rock Hudson was a cocksucker!" he exclaims early on when he learns of Hudson's homosexuality. He likes women, beer, drugs and pornography. His language is colourful but obscene. "That shit is purer than a preacher's daughter's p***y," is how he describes the cocaine he is trying to sell to a friend.
Dallas Buyers Club film stills

Show all 13
Ron is an electrician who lives in a trailer park. When he first learns of his HIV diagnosis and is given 30 days to get his affairs in order, he reacts with utter astonishment. "I ain't no faggot," he roars at the doctor, telling him his blood must have been mixed up with some "daisy puller's".
Any prospect of a dignified death looks remote. His friends are as homophobic as he is – and quickly begin to shun him. He doesn't have much money but is desperate to get hold of AZT, the only drug he thinks can help him. The screenplay, by Craig Borten and Melisa Wallack, reverses the trajectory of the typical terminal illness film. Its darkest and most upsetting moments come early on, when Ron is struggling and failing to come to terms with his condition.
There are some overlaps with the excellent recent documentary How to Survive a Plague, which showed how, during the early days of the Aids epidemic, gay and lesbian activists stood up to politicians and pharmaceutical companies. Ron becomes the unlikely leader in a battle with the medical establishment, here represented by the FDA – the Food and Drug Administration. He reads up on the science and challenges the received medical establishment wisdom about AZT, a drug he soon decides is toxic.
Access unlimited streaming of movies and TV shows with Amazon Prime Video Sign up now for a 30-day free trial
Sign up
Dallas Buyers Club can hardly be described as a comedy but the idea of a group of eccentric small-timers taking on the big, bad bureaucrats has a comic resonance. It was a starting point for many of the best Ealing films. Ron and his business partner, the HIV-positive Rayon (Jared Leto), make a memorable odd couple. One is a macho Texas redneck and the other is a Marc Bolan-obsessed transgender woman.
The tone is beautifully struck. The film- makers neither trivialise the plight of the HIV-positive protagonists in pursuit of easy laughs but nor do they slip into mawkishness or heavy-handed solemnity. On one level, this is a story about good old American entrepreneurialism. Ron and Rayon are hustlers who understand market forces. They realise that they can supply legal drugs and vitamin supplements that HIV sufferers need and want. By setting up a club, they avoid having to sell on the streets.
Leto is a revelation as Rayon, a character who is a strange mess of contradictions: self-reliant and yet intensely vulnerable, full of common sense and yet self-destructive. Vallée doesn't skimp from Rayon looking utterly ravaged by illness and drug abuse, her skin blotchy and her eyes heavy. At the same time, she also has her diva-like moments when, with her wig, rouge and high cheek bones, she looks as if she is a glamour queen on leave from a Factory-set Andy Warhol film.
The doctors and FDA officials are demonised here in a way that seems a little simple-minded. They're portrayed as being vindictive and petty when they have no particular reason to be so. The portrayal of the relationship between Ron and the kind-hearted doctor Eve (engagingly played by Jennifer Garner) is contrived and goes nowhere in particular. It's as if the film-makers are desperate to include a conventional romantic sub-plot but don't quite know how to do it.
Ron is HIV positive and his libido is on the wane as the result. His lothario days are largely behind him. Even so, as played by McConaughey, his swagger never quite leaves him. It's a testament to the actor's charisma that Ron seems more heroic than absurd, even when he is wandering around town with a drip attached to his arm or walking down a hospital corridor wearing a cowboy hat but no underwear.
Dallas Buyers Club is based on a true story. It's impossible to overlook the fact that this is a film deals with illness and imminent death. At the same time, it's thoroughly uplifting to watch in the way of the best tales about underdogs fighting back against overwhelming odds.
Register for free to continue reading
Registration is a free and easy way to support our truly independent journalism
By registering, you will also enjoy limited access to Premium articles, exclusive newsletters, commenting, and virtual events with our leading journalists
Already have an account? sign in
Register for free to continue reading
Registration is a free and easy way to support our truly independent journalism
By registering, you will also enjoy limited access to Premium articles, exclusive newsletters, commenting, and virtual events with our leading journalists
Already have an account? sign in
Join our new commenting forum
Join thought-provoking conversations, follow other Independent readers and see their replies