The Disaster Artist review: A sympathetic look at the worst film ever made
 It's a nice irony that one of the worst movies in recent history has enabled James Franco to make one of the best films in his own chequered career.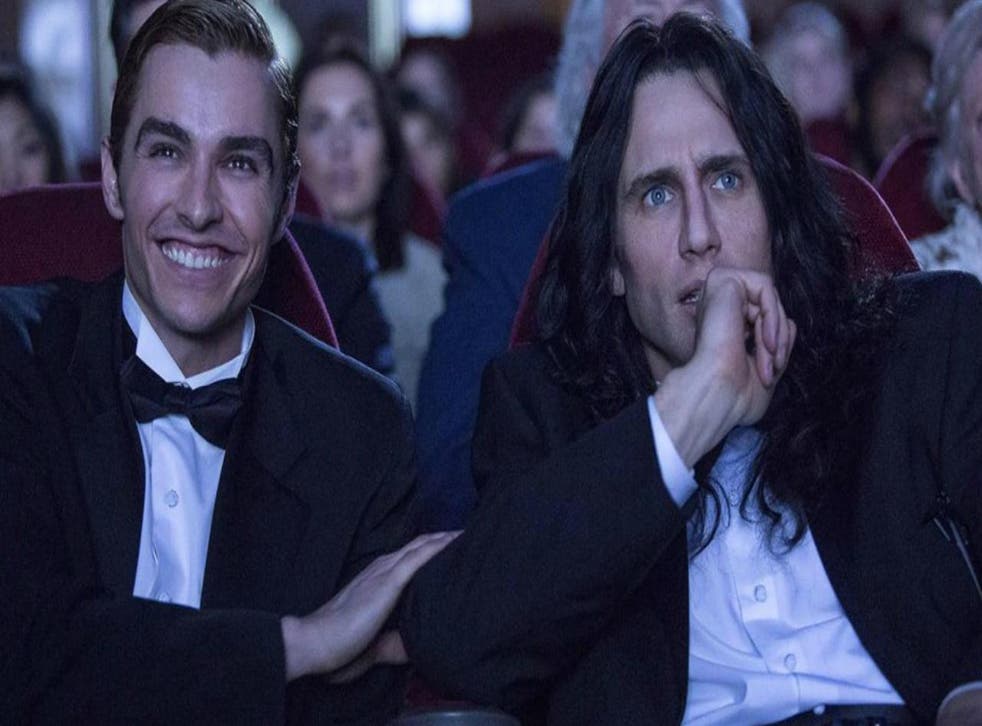 Dir: James Franco, 103 mins, starring James Franco, Dave Franco, Seth Rogan, Alison Brie, Ari Graynor, Josh Hutcherson
When it comes to critics' lists of the worst films ever made, Ed Wood's Plan 9 From Outer Space (1956) used to nestle very near the top. Its place has now been well and truly usurped by Tommy Wiseau's sublimely awful The Room (2003), the making of which has been dramatised in comic and poignant fashion in James Franco's latest feature, The Disaster Artist.
Ridiculed and largely ignored on its initial release, The Room has achieved cult status as news of its awfulness has spread – it even turned a small profit.
Franco's own career as director hasn't been entirely blemish-free. (Witness his deeply dreary William Faulkner adaptations, for example.) That is presumably why the actor-writer-director-conceptual artist treats Tommy Wiseau with such sympathy here. He is not sneering at his subject, whom he also plays. Tommy is a kindred spirit, an artist who doesn't give up, even when everybody else wishes that he would. He is a comic and preposterous figure – but, in his own warped way, he does have integrity.
Tommy is mysteriously wealthy, speaks in a Slavic mumble, and looks like an uglier version of Gary Oldman's Dracula. He is utterly unselfconscious. He'll rehearse Shakespeare or Tennessee Williams plays at full volume in a diner as other customers are eating their food. He'll writhe around on stage as if he having a fit. He is also ignorant and naive, a would-be method actor who has never heard of James Dean and doesn't appear to realise that Stanislavski has been dead for 80 years.
Nobody likes him. His demeanour is threatening. His lack of social graces makes him bad company at nightclubs or parties. Casting agents shun him. Other actors mock him. Franco plays him in subtle and funny fashion. We are in no doubt that Tommy is a bit of a creep but we root for him anyway.
On one level, this is a buddy movie. Tommy is befriended by his fellow drama student, the blandly good-looking Greg Sestero (Dave Franco). Tommy soon has Greg under his spell. They head off to Los Angeles together to try to break into the movies. Before they go, Greg's mother (Megan Mullally) meets Tommy very briefly. Like everyone else, she is utterly bemused by him. She warns Greg that "you have to be talented" to make it. The whole point of this film is that you don't.
Greg and Tommy do just as badly in Hollywood as we expect. Greg at least gets an agent (largely because of his looks) and finds a girlfriend, but Tommy is rejected everywhere. In one excruciating scene, he approaches a big name producer in a restaurant who berates him and tells him that even if he had "Brando's talent", his chances of success are a million to one.
The hostility is too much, even for someone as thick-skinned as Tommy. That is when Greg comes up with the brainwave. If no one is going to hire them to be in a movie, they can make one themselves. Tommy will finance it, write it, produce it, direct in it and star in it.
Access unlimited streaming of movies and TV shows with Amazon Prime Video Sign up now for a 30-day free trial
Sign up
One of the most tantalising questions here is where Tommy's money comes from. This is not a secret that Scott Neustadter and Michael H Weber's screenplay divulges. Nor do we learn anything about his family background or even when his passion for acting began.
The Disaster Artist - Trailer
The comedy works by a process of attrition. The funniest scenes tend to be those when Tommy is appearing in front of camera. His performance is ludicrous. He can't remember the lines he himself wrote and when he does finally deliver them correctly, they don't make sense anyway. He'll laugh uproariously when someone tells him sad or disturbing news.
He behaves equally strangely off set, insulting the leading actress, refusing to turn the air conditioning on and berating his crew, who snigger at him behind his back. There is a wonderful moment when the script editor (Seth Rogen) visits the bank to cash his first cheque from Tommy, convinced that it will bounce. When it goes through safely, he looks as if he has just witnessed the second coming.
At times, The Disaster Artist resembles Casey Affleck's spoof documentary about Joaquin Phoenix, I'm Still Here (2010). You suspect that Tommy will suddenly reveal himself as a conceptual artist; we will learn that The Room was made as a prank in the first place and the joke is on us, the viewers, for ever having believed the story was real.
If Tommy is goosing us, he doesn't let on. Besides, it takes a kind of genius to act and direct as badly as he is doing here. If you set out to make the worst film possible, you wouldn't succeed. Tommy manages the feat because he does it instinctively. He has a flair for extreme banality.
At the end credits, we see footage from Tommy's "real" version of The Room next to the same scenes as they were recreated by Franco for The Disaster Artist. The difference between them is minimal. Any irritation viewers might feel about the absurd accent Franco adopted when playing Tommy dissipates as we realise this is exactly what the real Tommy sounded like.
The Disaster Artist is bound to spark yet more interest in The Room. Wherever it screens, so will The Disaster Artist – and vice versa. The two films are now joined at the hip. It's a nice irony that one of the worst movies in recent history has enabled James Franco to make one of the best films in his own chequered career.
The Disaster Artist hits UK cinemas 1 December
Join our new commenting forum
Join thought-provoking conversations, follow other Independent readers and see their replies