Dunkirk film review: Christopher Nolan has crafted a minimalist war film with maximal impact
Dunkirk is an exercise in focused simplicity and could easily have worked as a silent film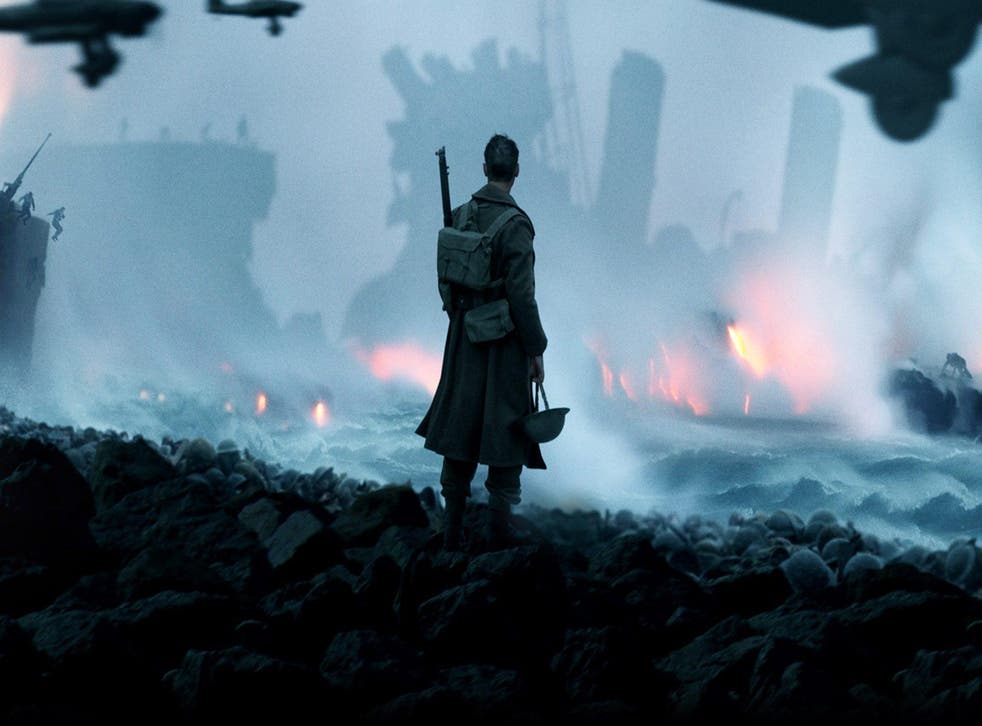 The war film genre is a fundamentally competitive one which many great directors have submitted an (often single) entry to. It's a test of one's technical chops; can you replicate on the screen one of the most complicated and terrible activities that man has ever taken part in?
With Christopher Nolan's submission, the answer is yes and in unique and spectacular fashion.
Dunkirk is an unusually linear film from the writer-director (Memento, The Dark Knight trilogy, Interstellar), centering exclusively on the evacuation of Allied troops who found themselves surrounded in Dunkirk, France during the Second World War. There's no political context provided, no worried families back home; it's focused entirely on the race to rescue soldiers itself and as such is tense and battle-orientated from start to finish. Nolan does allow himself one piece of trademark narrative disruption though, the chronology of the film not being as straightforward as it initially appears.
The director playfully thanked Warner Bros for giving this "British movie an American budget" at the film's premiere and, indeed, it was necessary in achieving his vision, paying for the extensive practical effects, boats, planes and vast cast of extras employed to make war look real. It's very much a story of land, sea and air and all three elements look jaw-dropping, shot meticulously by cinematographer Hoyte van Hoytema (Her, Interstellar, Spectre) on IMAX 65mm film stock.
The Spitfire dogfights in the sky are particularly gorgeous, unfolding most of the time from a cockpit or first-person perspective and making it feel like you're playing a video game 10 generations of console into the future. On land, the sea foam shivers on the beaches around the dead, even the howling wind not seeming to want to let the soldiers escape, while at sea the desperate situation on sinking destroyer boats is depicted with gasping grit, the camera being flipped on its side and stationed in unusual places in order to capture the mania as the troops struggle to extricate themselves from the water's embrace.
The sound/editing mixing is sure to be decorated at the Oscars (note the heartbeat-like thumping footsteps near the opening) and the score from frequent Nolan collaborator Hans Zimmer is as virtuosic as ever.
Mark Rylance, Tom Hardy, Cillian Murphy and Kenneth Branagh is a terrifyingly talented quartet of actors, but they're actually only used sparingly in supporting roles and feel like a paternal presence on the cast. Murphy is parachuted in to give a small but emotionally pivotal role as a shell shocked officer, Branagh plays a classic stiff-upper-lip commander, Rylance expertly portrays the quiet resolve of a wartime Brit as a mariner who goes steaming into the battle on a tiny boat and Hardy, well, Hardy is just incredibly badass as an RAF pilot - to tell you more about him would be to stray into spoiler territory, but suffice to say the 8-year-old in you will be wanting to punch the air in the cinema. These performances underpin those of the younger cast as, after all, war is nearly always a story of young men and women losing their lives. Fionn Whitehead, Tom Glynn-Carney, Barry Keoghan and Harry Styles are the teenagers caught up in the horror and perform alongside their elders admirably.
I think it's fair to single out Harry Styles' performance for analysis here as, frankly, Nolan brought it on himself by casting him (even if he underestimated the singer's fame). Yes, Styles is very competent and his performance does not stick out like a sore thumb as many feared; you immediately accept him as a soldier alongside the infinitely less recognisable others. He doesn't exactly have any especially challenging scenes, but he is solid and takes the job seriously and I imagine, for better or worse, many lead feature film roles will follow if he wants them, given the immediate box office injection that comes with his casting. One small criticism in the casting department: the young actors are all so uniformly chiselled and good-looking it's like conscription was restricted to Burberry models, to the point where it is legitimately hard to tell the soldiers apart at some points.
In choosing to hone in on the action and functioning as a survival film, Dunkirk does lack the cinematic surrealism of Apocalypse Now or the poignant quirks of something like Saving Private Ryan (I'm thinking when the soldiers are sitting around in a demolished town listening to Édith Piaf on a gramophone). These are clearly choices rather than shortcomings or oversights, but nonetheless it is what bars the film from 'best war movie ever' lists for me. It's a staggering achievement but for some will verge on clinical, particularly as it wraps up in patriotic fervour toward the end.
In spite of my want for deeper or more oblique notes in it, Dunkirk is an unbelievably assured and thrilling war film. Nolan is at the top of his game, and what a joy it is to watch him construct such grand scale filmmaking.
Join our new commenting forum
Join thought-provoking conversations, follow other Independent readers and see their replies