Film Review: Diana - Flat biopic fails to conjure interest, let alone controversy
Even Naomi Watts can't rescue director Oliver Hirschbiegel's latest effort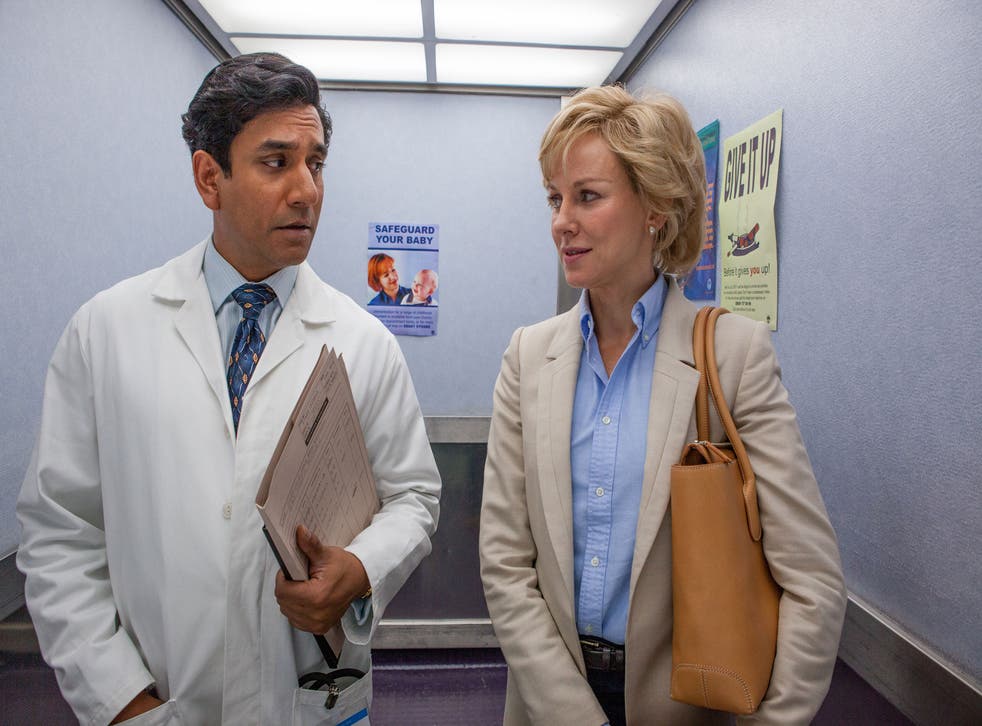 The German director Oliver Hirschbiegel, who made the epic Downfall, about Hitler's final days, looked an intriguing choice to helm this biopic of Princess Diana. Here after all was a film-maker who grasped the drama not just of bunker mentality and delusional narcissism, but also the way an individual could bewitch an entire country into soft-headed adoration. Who knew what other parallels Hirschbiegel might unearth between these two iconic subjects?
Sadly, the reality has not matched expectation: this is "Shortfall" rather than Downfall. Where his brilliant Hitler film offered Sturm and Drang, Diana opts for Mills and Boon, a would-be tragic romance that spares us nothing in soppiness or banality. It is difficult to fathom what the screenwriter Stephen Jeffreys was briefed to come up with, but speakable dialogue was evidently not part of the deal. The characters in this movie talk an English that seems to have been translated, badly, from another language. It will provoke much mirthless laughter.
Hirschbiegel isn't the only top-drawer talent on board. Naomi Watts was stupendous in her breakout movie for David Lynch, Mulholland Dr., and if there's been nothing quite like it in the years since she still brings a polish to the dull and daft: she was terrific in Woody Allen's You Will Meet a Tall Dark Stranger, and in last year's disaster weepie The Impossible. This role, however, is beyond her; it would be beyond anyone. Her facial resemblance to Diana isn't strong, though she does her best to catch the coy uptilted gaze, the outward poise, the inward fragility. She doesn't embarrass herself; the script does that for her.
It opens on that fatal August night in Paris, 1997, before flashing back a couple of years to her troubled affair with a Pakistani heart surgeon, Hasnat Khan (Naveen Andrews). Diana, separated from Charles for three years, struggles to keep this private and personable man away from the flashbulb glare in which she has lived her entire adult life. She disguises herself in a black wig to go out on dates with Hasnat, she hides him under a blanket in the car home, she even visits his large extended family back in Pakistan. But their relationship unravels because, as the film keeps reminding us, she's "the most famous woman in the world" – and the paps won't give her a moment's peace.
Of course it's not as simple as that, and the film occasionally gets up off its knees to suggest that Diana was, or had learned to become, a shrewd manipulator. In the run-up to her TV interview with Martin Bashir, we see her practising her sorrowful phrases and martyred expressions in the mirror. Later, she summons her pet paparazzo to catch exclusive shots of herself on Dodi's yacht, the strongest indication of the dance of death she conducted with Fleet Street's finest: she despised the attention, and craved it at the same time. Dodi, incidentally, is portrayed here as a mere stooge, a rebound fling intended to make Hasnat jealous.
Hirschbiegel wants to present Diana as a loving yet lonely soul, devoted to her young sons but piteously excluded from a grown-up relationship. Her court remains pretty vague: Geraldine James plays a masseuse who does a bit of Irish blarney on the side, Juliet Stevenson plays an older friend who picks her up from small-hours misery, and Douglas Hodge is woefully underemployed as her butler Paul Burrell. (One imagines this nugatory part will greatly displease the actual Burrell, so there is a silver lining.) As Hasnat, Naveen Andrews hasn't much to work with, though he decently keeps a straight face when musing on his job: "You don't perform the operation, the operation performs you." Come again? Diana seems one of those better suited to dealing with "humanity" rather than human beings in particular; perhaps it was this impersonal sense of charity that prompted her to take up causes in Bosnia, Angola, Australia. When she does her landmine walk in front of the press one gets a vivid sense of her courage and compassion, but then the film over-eggs it with a scene in which, Christ-like, she touches a blind man. (It stops short of suggesting she might have cured him.)
That the film has nothing new to tell us about its subject is a minor drawback. That the woman seems barely credible is a more serious shortcoming. But what is surely the central failure is its desperate inability to make her even interesting. The public side we know about; but what of the individual whose personal charm conquered so many? The script hasn't a clue. It looks especially weedy when set against other recent biopics of prominent English women; you may have hated Thatcher in The Iron Lady but you couldn't have found her boring. So too with The Queen. The entertaining biopic goes beyond a mere recital of the known facts and imagines the play of personality in company. How, for instance, did an average night in Prince Charles's company go? The film's not telling – Chas is discreetly sidelined.
Watts's incarnation of the Princess is so wan and flat you wonder how anyone fell for her at all. Where one might have hoped for a wry sense of humour there is only self-pity ("I'll never be happy again") and insincere self-deprecation ("I've been a mad bitch").
It all seems a long time ago now – the shock of the death, the recriminations, the national nervous breakdown that followed. You don't hear people talk much of Diana's "saintliness" anymore, which is a good thing. Granted a little perspective on her, a purposeful biopic would have tried to conjure a real woman from the babble of myth and gossip. This movie, on the contrary, has placed her even further out of reach.
Join our new commenting forum
Join thought-provoking conversations, follow other Independent readers and see their replies