Film reviews round-up: Lady Bird, Detective Chinatown 2, The Ice King, You Have No Idea How Much I Love You
Greta Gerwig's loveable Oscar nominee, a flimsy Chinese comedy, an ice skating doc, and an unusual approach to mother/daughter relationships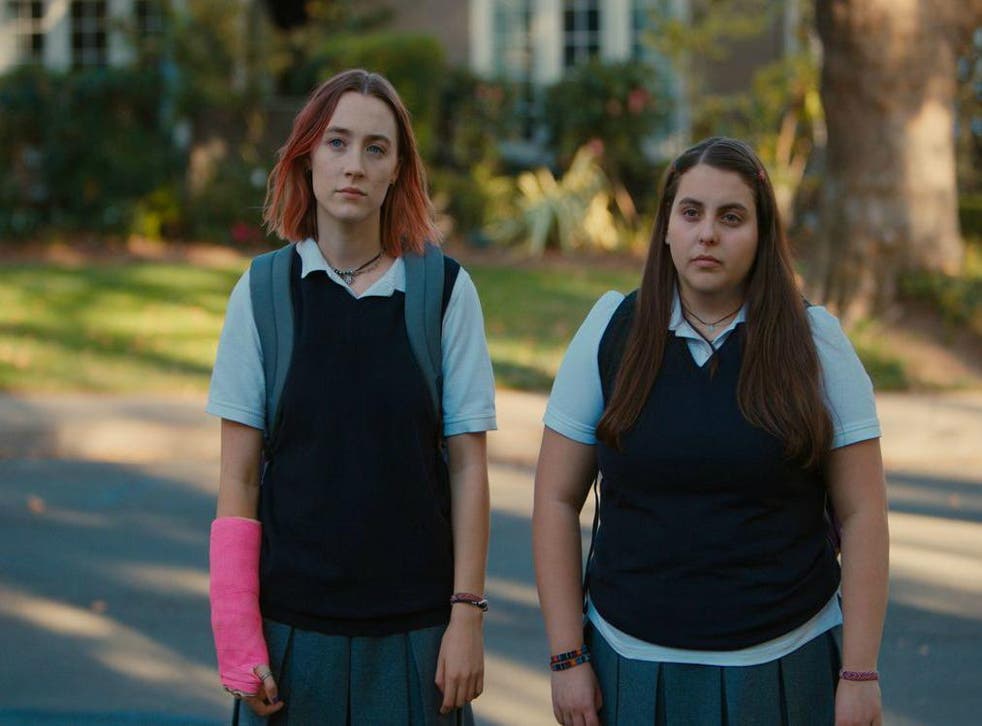 Lady Bird (15)
★★★★☆
Dir. Greta Gerwig, 94 mins, starring: Saoirse Ronan, Laurie Metcalf, Tracy Letts, Lucas Hedges
Lady Bird arrives at a very timely moment, one reason why it has been received with such enthusiasm and has secured all those Oscar nominations. At a time of a huge outcry in Hollywood about gender imbalance and sexual harassment in the film industry, this is a debut feature written and directed by a woman, and with a female protagonist. (That alone makes it unique in this year's awards race.)
It turns out to be one of the best American coming-of-age films since Barry Levinson's Diner. Written and directed by Greta Gerwig, it offers an utterly winning mix of humour, poignancy and sharp-eyed social observation
The premise is straightforward enough. Christine "Lady Bird" (Saoirse Ronan), its pink-haired heroine, is a teenager growing up on the wrong side of the tracks in Sacramento in the early 2000s. She is in her final year at her Catholic high school and yearns to escape.
In most stories about Americans looking for a better life, California is the destination, not the place anyone wants to flee from. "Anybody who talks about California hedonism has never spent a Christmas in Sacramento" reads the quote from author Joan Didion that opens the film and sets its tone. The California we see here is remarkably mundane.
This isn't the land of oranges, sunshine and endless wealth but of struggling, lower-middle-class families trying to stay afloat amid job cuts and economic depression in the wake of 9/11. Lady Bird, as she insists on calling herself, sees it as "soul killing". She hankers to go to "where culture is". To her, that means New York, not LA.
Even if she does somehow win a place at one of those fancy east coast colleges, her parents have little money to pay the college tuition fees. She seems stuck in a dead-end town with no chance of escape. When she mentions Yale as a potential school for her to attend, the school careers advisor breaks down in laughter and tells her she "definitely couldn't get in". "Lady Bird" is bright, though. Her SAT scores are "strangely good". She is also very tenacious.
As in so many other coming-of-age stories, the lead character has an ambivalent relationship with her home town. She is driven mad by what she perceives as her family's small-mindedness and lack of ambition. At the same time, she is devoted to them.
Writer-director Gerwig manages brilliantly the delicate feat of portraying the vulnerabilities and eccentricities of the townsfolk without patronising them. There is a tenderness here in her treatment of all her characters.
Whether it's Lady Bird's brusque and overworked mum Marion (Laurie Metcalf), who does double shifts at the local psychiatric hospital, or her kindly but weak-willed father Larry (Tracy Letts) or her feckless adopted brother, Miguel (Jordan Rodrigues), everyone has their foibles – but Gerwig never caricatures them. She gives us enough information about them to make them sympathetic as well as comic or neurotic.
Access unlimited streaming of movies and TV shows with Amazon Prime Video Sign up now for a 30-day free trial
Sign up
As Lady Bird, Ronan offers an appealing mix of mischief, delinquency, naiveté, defiance and precocious charm, She is both extremely confident in herself and painfully aware of her own intellectual and social limitations. She may never have heard of Jim Morrison and the Doors but she won't admit it. Nor will she let her affluent friends from the other side of town know just how humble her circumstances actually are.
She's a rebel, ready to argue the case for abortion with shocked grown ups at her Catholic school, but she also wants to belong. She has no intention of dropping out. Ronan shows us her idealism and her snobbery. She makes it very clear that she can do "better" than the nuns and teachers in her Catholic school think she can.
Metcalfe and Letts are equally impressive as her embattled parents. Metcalfe's hostile manner belies her devotion to her family – and to Lady Bird in particular. Gerwig always pays attention to specifics.
Lady Bird's untidy room and crumpled clothes might not mean much in themselves but, as Marion is quick to tell her daughter, they can have an economic impact. "Some of your friends' fathers could employ your father and they're not going to do it if your family looks like it's trash," she explains. Letts, meanwhile, is the amiable and ineffectual Mr Nice Guy-type, who accepts the petty humiliations that come his way on an increasingly regular basis with dry humour.
Certain elements here are very familiar. At times, it's as if we're in a John Hughes-like bratpack movie. There's the traditional high school prom. Lady Bird and her teenage friends learn the time-honoured, lessons about class, sex and the cruelties of the adult world. Her early romantic adventures are unsatisfactory
The wealthy Irish-Catholic neighbour she meets at auditions for the school play is sympathetic. They stare at stars together but the chemistry isn't there and he turns out to be more frog than Prince Charming. (He respects her too much to "touch her boobs," as he indelicately tells her.)
The aloof, too cool for school guitarist Kyle (Timothée Chalamet), a loner, doesn't have any such inhibitions but, for all his intellectual airs, he turns out to be profoundly shallow. Chalamet, who played the young American abroad experiencing first love in another of this year's award's contenders, Call Me By Your Name, gives a sly performance as the already world-weary and jaded seducer.
Some of the ecstatic responses to Lady Bird do seem over the top. The film isn't "miraculous" or "flat our wonderful" or "big screen perfection", as its earliest champions have proclaimed. It's a modest, small town drama whose impact lies in its humour and emotional truth. Gerwig can give even the most banal scenes – a family exchanging Christmas gifts, women chatting in the queue for the ladies – a comic poignance.
She always sees the funny side of social embarrassment. We can all guess that the closer Lady Bird comes to leaving her home town, the more affectionate she will become toward it. The film captures not just the monotony of its young heroine's everyday life but it's pleasures too. There is something reassuring about walking the same streets and seeing the same faces everyday. The film continually makes the ordinary seem extraordinary.
Gerwig approaches her subject matter with the same tenderness and affectionate irony with which the adolescent Lady Bird regards Sacramento. She also shows Lady Bird's heroism as the young heroine strives against the odds to become the very best version of herself she can be.
Detective Chinatown 2 (12A)
★★☆☆☆
Dir. Chen Sicheng, 121 mins, starring: James Edward Alexander, Brett Azar, Inga Ballard, Spelman M Beaubrun, Natasha Liu Bordizzo,
Detective Chinatown 2 is a harum scrum comedy adventure with a very flimsy plot line but lots of chases, slapstick and tongue in cheek humour pep matters up.
Qin Feng, the fresh-faced Tintin-like young hero, arrives in New York for a wedding but is soon drawn into a murder mystery. Sickly, wheelchair-bound Uncle Severn has only a few days to live and has offered $5m to whoever can find the killer of his son. (The boy's corpse was discovered with the heart ripped out.) Several different detectives are competing for the prize.
The humour is crude and goofy but the filmmakers use their American locations, ranging from the docks to the public libraries, from Irish pubs to the subway, inventively enough. The pacing is very brisk. The film has the manic energy of a kids' adventure or of an old Keystone Cops farce.
The three main characters, Qin Feng, his clown-like uncle Tang Ren and their sidekick, also briefly the chief suspect, Song Yi (Xiao Yang), lose their clothes, dress in drag and are generally put through the wringer.
The film throws in references to Columbo (lots of characters wearing crumpled old macintoshes), Sherlock Holmes and US police dramas. They're all smitten with the slim and beautiful Detective Chen (Natasha Liu Bordizzo)
Alongside the Chinese actors, Michael Pitt pops up as an enigmatic surgeon, still struggling to get over the death of his wife. There is a serial killer at loose who takes his inspiration from the five elements. The morbidity doesn't stop the cascade of silly jokes, references to alchemy, bizarre fantasy sequences, over the top special effects and the inevitable martial arts scenes, chases and shoot-outs.
The first Detective Chinatown was a huge box office success in China. The sequel is clearly aiming for an international as well as a Chinese audience. It isn't remotely subtle. The pacing is relentless, the performances cartoonish, but the film fuses Chinese and Hollywood elements in surprising and occasionally original fashion.
The Ice King (12A) – released 23 February
★★★☆☆
Dir. James Erskine, 89 mins, featuring: John Curry
This biopic of British Olympic gold medal winning ice skater, John Curry, is closer to a Red Shoes-style ballet story than it is to a conventional sports film. Curry, who died of an AIDS-related heart attack in 1994, always made it clear that he was far more interested in skating as a form of artistic expression than as a competitive discipline.
Although he is best remembered for his Olympic success, the most riveting parts of James Erskine's film are those showing him performing Nijinsky-like routines to Bizet or Jean-Michel Jarre music on the ice or dancing tango.
If he once won BBC Sports Personality Of The Year, that, it is implied, was neither here nor there as far as he was concerned. His real passion was for his "theatre of skating" and dance company.
The early part of his life has a Billy Elliot-like quality, although that Curry was from a far more privileged background than the dancer in Stephen Daldry's film. He grew up in Birmingham, the son of an engineering magnate who thoroughly disapproved of boys taking ballet lessons.
Taking to the ice was his way of getting round his father's structures. Ice skating, he observed, was a form of self-expression "protected by the umbrella of sport."
Erskine combines well chosen archive footage, readings from Curry's writings (read by actor Freddie Fox) and interviews to tell Curry's story. The skater was an intensely private and driven figure who was a perfectionist on the ice. He was also gay. After his Olympic victory, the press effectively "outed" him but he never tried to hide his sexuality.
Judging by the documentary, Curry was a complex and contradictory figure. He could be very aloof.In spite of his deeply ambivalent feelings about his father, he found his father's death very hard to accept.
At times, he was waspishly cruel to female dancers in his company whom he felt to be overweight. Curry was also extremely sensitive. One interviewee claims that all the female dancers were either openly or covertly in love with him.
Growing up, paid no attention to those who tried to bully him into "skating like a man." On the ice, both in skating competitions and afterwards, in his stage shows, he was an absolute perfectionist. Given his achievements, first in the Olympics and then performing triumphantly at the Met, it became a struggle for him to maintain his motivation. "Can I stop now," he asked after his biggest successes.
Erskine isn't able to cast huge amounts of light into Curry's private life. Some of his former lovers and family members are shown on camera. There are references to his masochism and to his destructive relationships with some of his lovers. Erskine, though, is relying on second hand testimony or on Curry's letters.
It's hard to get a sense of what he himself was feeling or how members of his dance group really felt about him. Where the film does succeed is in underlining its subject's credentials as an artist.
His performance in L'Apres-Midi D'Un Faune is extraordinary. He wasn't just the star in his theatre of skating – he was also the Diaghilev-like impresario who held the company together. He could be prickly and a bully – but always insisted that everybody in the group was paid the same. One of the interviewees makes the point that skating can be more expressive than normal dance.
Performers can hold a pose and yet glide along the ice at the same time. In other words, performers like Curry could combine stillness and movement in a way that ballet dancers couldn't.
You Have No Idea How Much I Love You
★★★☆☆
Dir. Pawal Lozinski, 76 min, starring: Bogdan Barbaro, Hanna Maciag, Ewa Szymczyk
Polish director Pawel Lozinski's film is an intriguing but deceptive affair, straddling the lines between documentary and drama. It appears as if the director has gained an extraordinary level of access to the very private psychotherapy sessions undertaken by a mother and her estranged grown-up daughter.
The sessions are overseen by Professor Bogdan de Barbaro, a renowned psychiatrist and therapist. Watching the film, you marvel at how Lozinski persuaded his subjects to allow him into the room and how he was then able to film their sessions in such a discreet but intimate fashion.
Some purists will question his techniques and his failure to disclose just how he set the film up. The end credits tell the audience that their very raw testimony they've been hearing wasn't elicited in the way they would have expected. Even so, the film feels authentic.
There is nothing feigned in the hurt expressed by the punkish young daughter or in the regret etched on the face of her divorced mother. For all their hostility, the bond between them remains powerfully and painfully strong.
Join our new commenting forum
Join thought-provoking conversations, follow other Independent readers and see their replies