Film reviews round-up: The Shallows starring Blake Lively, the remake of Pete's Dragon and more
Also Mike and Dave Need Wedding Dates and Nerve starring James Franco,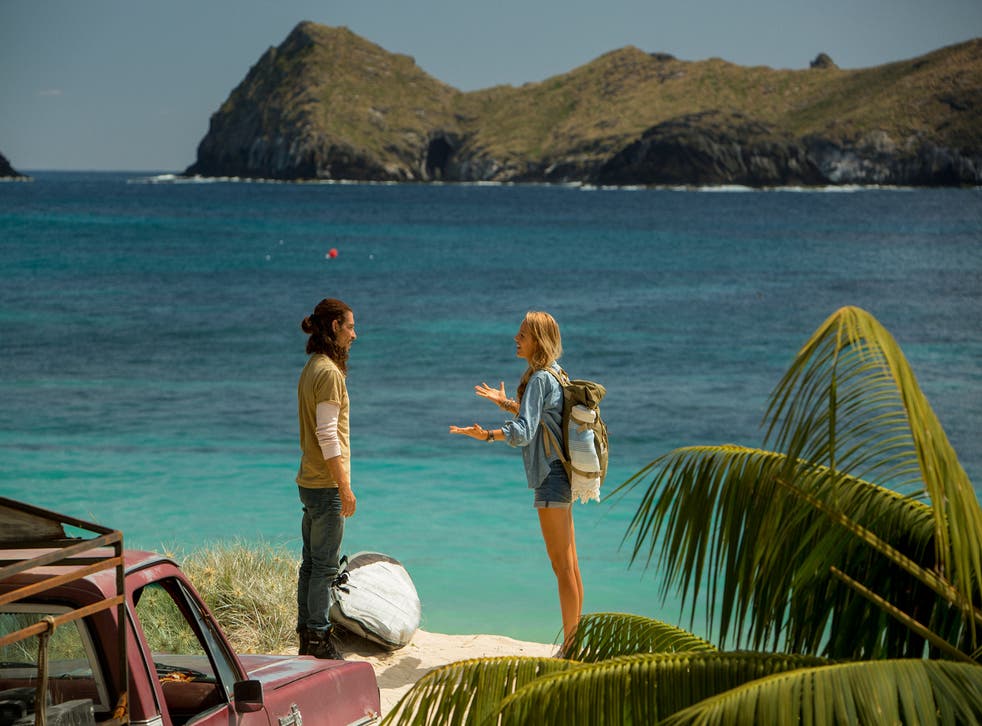 The Shallows (15)
★★★★☆
Dir: Jaume Collet-Serra, 86 mins, starring: Blake Lively, Óscar Jaenada, Brett Cullen, Sedona Legge
The posters of Gossip Girl's Blake Lively in a bikini suggest that this is going to be a low-grade and voyeuristic exploitation movie – a cautionary tale about a girl and the shark that wants to eat her. In fact, The Shallows is virtuoso filmmaking – a very pared-down survival story closer in tone to philosophical Robert Redford yarn All Is Lost than it is to Jaws or Bait 3D. You can't help but marvel at the lean quality of Anthony Jaswinski's screenplay, the tightly focused direction from Collet-Serra and, above all, at Lively's courageous and very committed performance. She plays Nancy Adams, a young woman mourning her mother and questioning her career choice as a medical student. Looking for catharsis, she has come on a surfing trip to a remote Mexican beach that has a special significance for her family. What she hasn't noticed is the whale carcass in the bay or the shark circling it.
Pitted against the great white, Nancy turns out to be extraordinarily resourceful. She is an expert surfer. Her medical expertise is very useful when it comes to improvising stitches and ensuring that she doesn't freeze to death. She is only a few hundred yards from shore but there is an ominous big fin in the water. Getting back there will take huge amounts of courage and ingenuity.
Collet-Serra is relatively sparing in showing the shark. This means that when we do see it in its huge toothsome close-ups, the impact is all the more jarring. There are obvious nods in the direction of Spielberg in the way the filmmakers try to crank up the tension, using music and shots of open water in an ominous fashion. Just occasionally, a little gore is thrown into the mix. (Inevitably, the most savage scenes are shot on a GoPro camera.) The real surprise about The Shallows is that it provides such depth of characterisation. Nancy refuses to accept the role of victim. Collet-Serra gives a very far-fetched story a patina of realism. The longer Nancy spends in the water, the more the tension rises.
Pete's Dragon (PG)
★★★☆☆
Dir: David Lowery, 103 mins, starring: Bryce Dallas Howard, Karl Urban, Robert Redford, Wes Bentley, Oona Laurence
Pete's Dragon, a remake of a 1977 Disney movie, is a determinedly old-fashioned kids' film, consummately crafted and with a subtlety that brasher, noisier children's movies conspicuously lack. It is set in the early 1980s – which means there are no cell phones or laptops intruding in the idyllic rural world it depicts. No one here even seems to watch TV either. Even the car crash that opens the film is very gracefully shot. There is Leonard Cohen music on the soundtrack ("So Long Marianne") and the film is full of loving, National Geographic-style shots of forests, rolling fields and rivers. The only hitch is the dragon itself, which looks like a cuddly toy and is nowhere near as impressive as the fire breathing creatures found in Game Of Thrones.
There is a hint of The Jungle Book's Mowgli about the little boy Pete (Oakes Fegley) brought up in the woods by the friendly dragon, Elliott. This is an eco-fable. The rapacious humans are cutting down more and more of the trees, intruding deeper and deeper into the forest in which the dragon lives. Another key theme here is kids struggling to cope with bereavement.
Robert Redford is the wise and kindly old-timer who tells the local children seemingly fantastical stories about a green dragon he once saw. Bryce Dallas Howard plays his daughter, a forest ranger who loves the woods, knows them like the back of her hand and will go to extreme lengths to protect them.
At its best, Pete's Dragon has some of the same grace and lyricism found in Caroll Ballard's The Black Stallion. Strangely, the least impressive scenes are those in which the dragon takes wing. It looks like a big green furry gonk – an animated creature that has somehow stumbled into a live-action film.
Mike And Dave Need Wedding Dates (15)
★★☆☆☆
Dir: Jake Szymanski, 98 mins, starring: Zac Efron, Anna Kendrick, Adam DeVine, Aubrey Plaza
This enjoyably sleazy but absurdly contrived comedy sees Efron and DeVine as ne'er-do-well brothers, Mike and Dave Stangle. They're dope heads who eke out a living selling tequila to bars. They also have a nasty knack of wreaking havoc at every party they attend. That is why their parents have insisted that they find themselves nice, decent girls to bring as dates and chaperones to their younger sister's wedding party in Hawaii. Enter Anna Kendrick and Aubrey Plaza as Alice and Tatiana, who pass themselves off to the boys as prim middle-class professionals (one pretends she's a teacher, the other says she's a hedge-fund manager) but, in fact, are just as addicted to booze, drugs, sex and high jinks as the boys.
Access unlimited streaming of movies and TV shows with Amazon Prime Video Sign up now for a 30-day free trial
Sign up
The humour here is gleefully crude. Massages with happy endings, drug induced naturist cavorting with horses and lots of double entendre laden dialogue is thrown into the mix. Plaza and Kendrick are very lively as the girls out for a good time but Mike and Dave soon overstay their welcome. DeVine's performance seems like a pastiche of Jack Black in one of his more uproarious comedies while Efron's familiar doe-eyed charm fades quickly. "This schtick was cute for a while but it has grown stale," one character murmurs – a verdict that could just as well be applied to the movie as a whole.
Nerve (15)
★★★☆☆
Dir: Henry Joost, Ariel Schulman, 96 mins, starring: Emma Roberts, Dave Franco, Samira Wiley, Kimiko Glenn, Juliette Lewis
This ingenious thriller based around gaming and social media can't quite sustain its early momentum. Emma Roberts plays Vee, a high-school senior and promising photographer who lives in Staten Island in a cramped apartment with her single mum (Juliette Lewis.) Vee is bright but self-effacing. She has the chance to attend a top university but can't afford the college fees. Her social life is dominated by her much more extrovert friend, Sydney (Emily Meade), who introduces her to online game "Nerve". This involves players undertaking outrageous "dares" (which range from kissing a stranger in public to riding a motorbike blindfold.) Their success is measured not just in completing the tasks but in the number of "watchers" they attract online. Vee turns out to have a reckless, daredevil side. It helps attract the online fans that she is paired with the handsome Ian (Dave Franco), a "Nerve" veteran first spotted reading Virginia Woolf's To The Lighthouse.
Directors Joost and Schulman, best known for documentary Catfish, struggle to reconcile the competing elements in their storyline. On the one hand, this is a movie about "adrenaline junkies" performing outrageous stunts for their own excitement and that of their live online audience. (The early scenes effectively convey the sheer exhilaration Vee and Ian feel at their own ever wilder antics.) On the other hand, Nerve is a dystopian conspiracy thriller, looking at cyber bullying, data theft and the dehumanising effect that the online world has on the young protagonists. The only way out of the game is to win. The paranoia is heightened by frequent shots of the characters as if seen from the point of view of their own laptops or mobile devices.
As the film progresses, the storytelling becomes ever more conventional. By the final reel, the film seems as if it is contemporary-set reworking of The Hunger Games with Vee as the Katniss Everdeen figure, taking on the shadowy, fascistic forces behind "Nerve". The excitement that everyone felt when first playing the game is quickly forgotten as the movie trundles toward its predictable conclusion.
Join our new commenting forum
Join thought-provoking conversations, follow other Independent readers and see their replies