Foxcatcher, film review: Bennett Miller wrestles lurid true-crime story into shape
(15) Dir. Bennett Miller; Starring Steve Carell, Channing Tatum, 134mins
Saturday 10 January 2015 13:00 Comments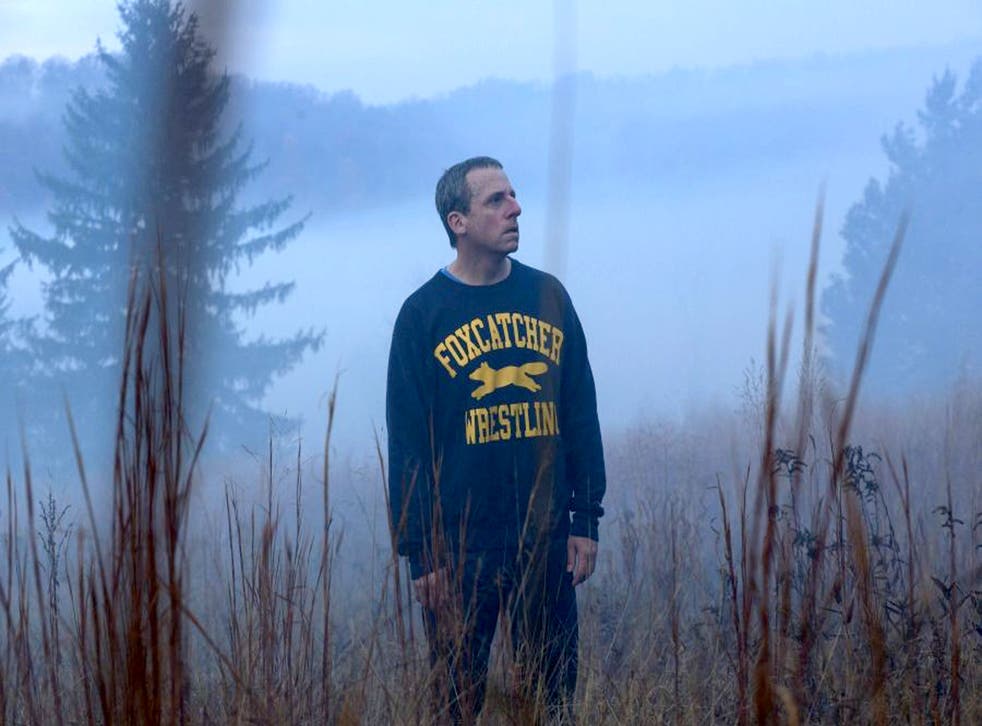 Bennett Miller's third feature film, after Capote and Moneyball, and for which he won the Best Director award at last year's Cannes festival, is a subtle and subdued true-crime drama that doesn't fully let on what it's about until after it ends. And even then, remains somewhat mysterious and opaque.
Steve Carell, almost unrecognisable under prosthetic make-up and in a sinister, mostly unfunny register, plays John Eleuthère du Pont, the eccentric, self-aggrandising heir to the fortune of one of America's wealthiest and most prominent families, who offers to fund, sponsor, house and help train the whole US Olympic wrestling team ahead of the 1988 summer games in Seoul – and blue-collar sibling Olympic gold medal-winners Mark and Dave Schultz (Channing Tatum and Mark Ruffalo) in particular.
The psychodynamics of the relationships between John, Mark and Dave, so full of class and status anxieties, sibling rivalries, mummy and daddy issues, egotistic power plays and sublimated homosexual desires, resound around the grand, isolated grounds of the du Ponts' Foxcatcher estate.
The facts that the du Ponts' fortune was built on gunpowder during the American revolution, and that John du Pont likes to collect military-grade armaments, mean that one can reasonably expect all these tensions and character weaknesses to result in an explosion of one kind or other.
But Miller shows the sort of restraint that directors of lurid true-crime stories usually don't. Foxcatcher doesn't offer simple psychological explanations of the sort that we usually like to be given by murder stories. It shows you what is going on in its characters' heads rather than tells you – and sometimes it only offers a best guess. There are key confrontations in which we don't even get to hear what characters are saying, and can only infer it from their body language.
The performances all seem utterly authentic, though, so that you do have the sense that you feel some of what the characters are feeling, and there is something hypnotic and compelling about the slow-motion tragedy that befalls them.
Register for free to continue reading
Registration is a free and easy way to support our truly independent journalism
By registering, you will also enjoy limited access to Premium articles, exclusive newsletters, commenting, and virtual events with our leading journalists
Already have an account? sign in
Join our new commenting forum
Join thought-provoking conversations, follow other Independent readers and see their replies