Genius, film review: Michael Grandage should have stuck to his day job
The acting, along with John Logan's script, belongs to the theatre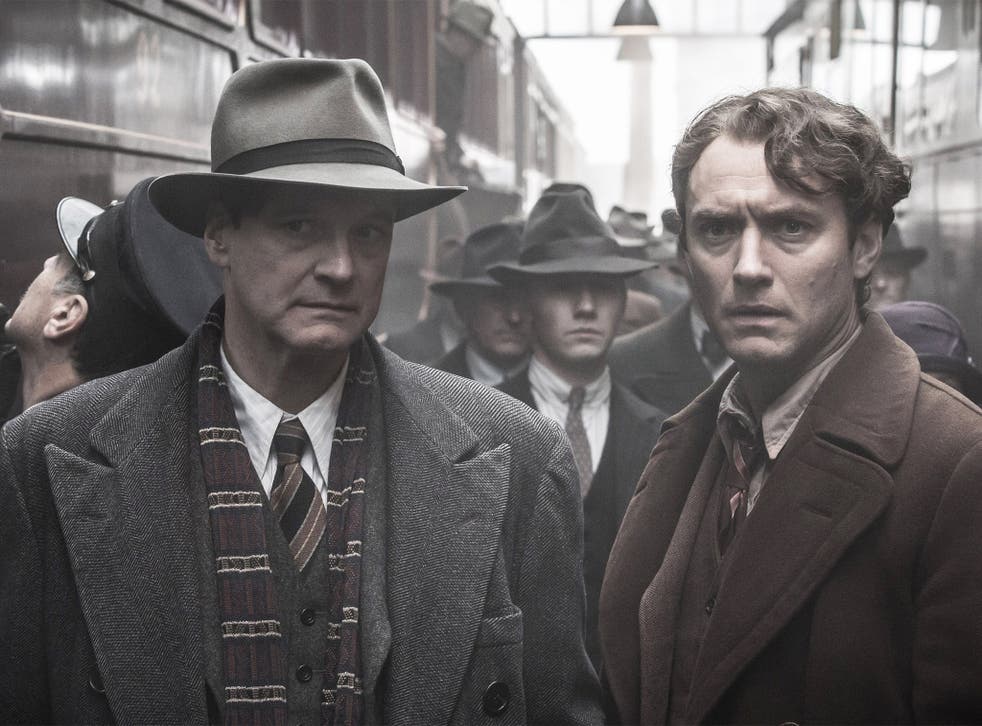 Genius is a lesson in the differences between film and theatre as mediums. Michael Grandage, one of the great theatre directors of our times, has made a move into cinema with a dialogue-heavy story about the father-and-son-esque relationship between Thomas Wolfe (Jude Law) and the great American editor Max Perkins (Colin Firth).
Made up largely of conversations – including way too many in which Perkins discusses ways for Wolfe to cut down his prose – the story indulges in long scenes focused on dialogue. When Grandage decides scenes are running on too long, he just changes the location, so exchanges jump from the office to stations, to trains and to the street, but the waffling continues.
The acting, along with John Logan's script, belongs to the theatre. Law seems to think he's back in the West End acting in Hamlet. At a dinner with the larger Perkins family, Wolfe likens himself to an octopus. This tidbit seems to have governed Law's big performance; constantly he's seen throwing his arms around like he's had an electric shock.
One aspect in which he is not like an octopus, however, is that the mollusc can constantly change its appearance. In contrast, Law delivers a one-note performance of pained expressions where his Wolfe is constantly verging on implosion.
Another missed opportunity is in the depiction of Perkins, the editor of not just Wolfe, but also F Scott Fitzgerald (Guy Pearce) and Ernest Hemingway (Dominic West).
These two authors appear briefly, as interludes, but one wishes they were given their own acts, as in these moments there are glimpses of how Perkins needed to act like the manager of a sports team, using different tactics to bring out the best in his team of players.
However, the biggest impression left by Firth's Perkins is that he is always wearing a hat, whether he's working in his office, or at home in his pyjamas.
Jude Law surprises guests
In the film, Perkins protests when Wolfe wants to dedicate his second book to him – which goes against the fact that at the time of his death in 1947, 68 books under his charge had been dedicated to him.
An interesting tangent that Grandage threatens to go down, but then pulls back from, is in the relationship between the two men and the women in their lives.
Access unlimited streaming of movies and TV shows with Amazon Prime Video Sign up now for a 30-day free trial
Sign up
#OscarsSoWhite: What Hollywood has to say

Show all 19
Perkin's wife and the mother of his five daughters, Louise Saunders, is played exquisitely by Laura Linney. When she tells Wolfe that she is a playwright, both Wolfe and her husband ignore her, a slight suggestive of misogyny, yet little more is made of this. Similarly, designer Aline Bernstein (Nicole Kidman), a progressive and forthright woman who dated Wolfe, is seen too fleetingly to be any more than the forlorn girlfriend.
As for his directing style, Grandage opts for still, fixed cameras, which adds to the sense that he is more comfortable framing to a stage. When the camera moves, it's in classical slow pans, accompanied by an overbearing score. Sound edits are often used to adjoin scenes.
Grandage is a stage musician, but there is a Spanish expression that seems apt for his first cinema foray, since here, he's more lost than an octopus in a garage.
Join our new commenting forum
Join thought-provoking conversations, follow other Independent readers and see their replies