Legend, movie review: Tom Hardy is brilliant in this weird love story about the Kray twins
Brian Helgeland, 131 mins, starring: Tom Hardy, Taron Egerton, Emily Browning, Christopher Eccleston, Paul Anderson, David Thewlis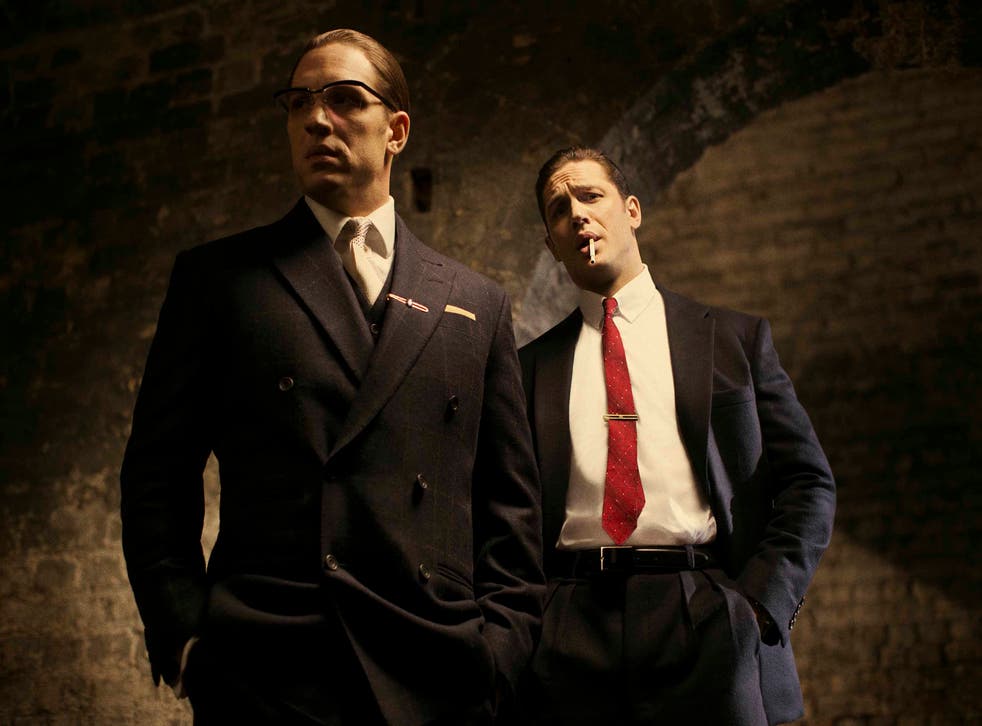 It's the proudest day of Reggie Kray's life. He is standing in the church, waiting for his young bride Frances to walk down the aisle. His brother Ronnie is alongside him. The bespectacled Ronnie is a little taller and more thickset than his brother. They are identical twins but we can easily tell them apart.
This is a scene from midway through Brian Helgeland's new film. What makes the scene - and the film - so startling is that both Reggie and Ronnie are played by the same actor, Tom Hardy.
Hardy gives an utterly fascinating performances in his dual role. His Ronnie is menacing, psychotic but also comic. He can be every bit as intimidating as the actor's uber-villain Bane in The Dark Knight Rises but he also chatters away like Peter Cook gossiping with Dudley Moore in the pub in one of his Derek and Clive sketches with Dudley Moore. "I'm 'omosexual," he tells his brother's startled fiancée the first time he meets her in what passes with for small talk.
Oscars predictions

Show all 16
Reggie, meanwhile, is dapper, very soulful when he is sharing lemon sherbets with the beautiful young Frances (Emily Browning) but calculating when violence is called for. We see a couple of examples of his notorious "cigarette" punch. As John Pearson's book, The Profession Of Violence, on which the film is loosely based, explains, this was when Reggie would offer someone a cigarette and then, as the man opened his mouth to take it, would hit him on the side of the jaw. ("An open jaw will fracture easily," Pearson explains Reggie's thinking.)
Legend is a biopic on a very lavish scale. The characters are British, the setting is London in the 1960s, but the film has the feel of an American gangster epic. It takes a mythologising and, at times, absurdly romantic, approach to its low-life heroes. In spite of the bloodletting and violence, it is a very glossy film, beautifully shot in luxuriant widescreen colour by cinematographer Dick Pope (fresh from Mr Turner, his biopic of artist J.M.W Turner) and with plenty of Burt Bacharach on the soundtrack.
In a bust-up in an East End pub in which Ronnie and Reggie are using hammers and knuckledusters, you can't help but notice the incongruously artful way that Pope uses daytime light. In another scene, as we see the twins' dour policeman nemesis Leonard "Nipper" Reid (a scowling Christopher Eccleston) prowling through the alleyways of the East End, Pope makes Bethnal Green as mysterious and labyrinthine as the Casbah.
Helgeland's screenplay starts well into the Kray brothers' criminal career. He doesn't bother with their East End childhood, their early days as boxers or their time spent AWOL or behind bars during National Service. Their beloved mum Violet is barely glimpsed outside one or two scenes in which she offers tea and cake to the boys. The film features an ethereal voice-over from Frances (Emily Browning) which introduces us to the brothers grim when they are already in their 1960s pomp, with Reggie established as "the gangster prince of the East End" and Ronnie diagnosed as a violent schizophrenic, which to him is a badge of honour. There is early skirmishing with the Krays' arch-enemies, the Richardsons, but soon the twins and all-powerful and their influence is stretching into the West End. They are even trying to strike deals with Meyer Lansky and the American mob, using the weasel-like fixer Leslie Payne (David Thewlis) as their go-between.
In the melting pot of swinging London, old class barriers are breaking down. In one telling early sequence, Reggie takes Frances into the nightclub he runs. He is greeted with deference by all the villains, minor celebrities and aristocrats who hang out there.
The sequence seems like both a self-conscious homage to the famous steadicam shot in Goodfellas and a reminder that gangsters were moving in the very highest circles. This is reinforced by the hilarious scenes in which Ronnie befriends the perverted British Tory politician Lord Boothby (John Sessions), who begins to frequent his gay parties. "Good lord, that's Bob Boothby at an orgy," Prime Minister Harold Wilson (Kevin McNally) almost chokes on his pipe when he is shown a newspaper with an incriminating picture. Any hopes if making political capital out of the scandal vanish when it turns out that a Labour politician, Tom Driberg, is involved too.
The key events in the Kray story - the shooting of George Cornell in the Blind Beggar pub, the stabbing to death of Jack "The Hat" McVittie in Stoke Newington - have been exhaustively chronicled elsewhere. These moments are present and correct but aren't foregrounded. The film's main focus is on the relationship between Reggie and Frances. It is through her eyes that she we see the brothers.
Helgeland makes it very clear that the twins had utterly different approaches toward their criminal careers. Reggie craved wealth and legitimacy. Ronnie was in it for the aggro. He very quickly grew bored unless there was violence and chaos to distract him.
The writer-director doesn't indulge in the expressionistic, mind-bending style of psychedelic filmmaking found in Donald Cammell and Nic Roeg's Performance (1970), which was partially inspired by the Krays. Nor does he slavishly takes us through their lives in the way that Peter Medak did in The Krays (1990), starring Martin and Gary Kemp. Instead, a little bizarrely, he has turned a film about Britain's most notorious gangsters into a love story. The film foregrounds Frances, one of the least well-known characters in Kray twin history. In a beguiling performance, Emily Browning plays her as a free-spirited but naive and ultimately tragic figure who is both devoted to Reggie and desperate to get away from him and his toxic world. She provides the film with an emotional core it wouldn't otherwise have had.
Legend, as its title suggests, isn't a social realist account of Reggie, Ronnie and their misdeeds. Hardy plays both villains on a grand scale. There is some stomach churning violence here but the film portrays the Krays in a glamorised, nostalgic fashion. This is certainly not a version that Nipper Read would have endorsed but even he might have admired the sheer effrontery and flamboyance of Hardy's brilliant, double-barrelled performance.
Join our new commenting forum
Join thought-provoking conversations, follow other Independent readers and see their replies