Mr Turner, film review: Brushstrokes of genius from Timothy Spall as old master
(12A) Mike Leigh, 149 mins Starring: Timothy Spall, Ruth Sheen, Lesley Manville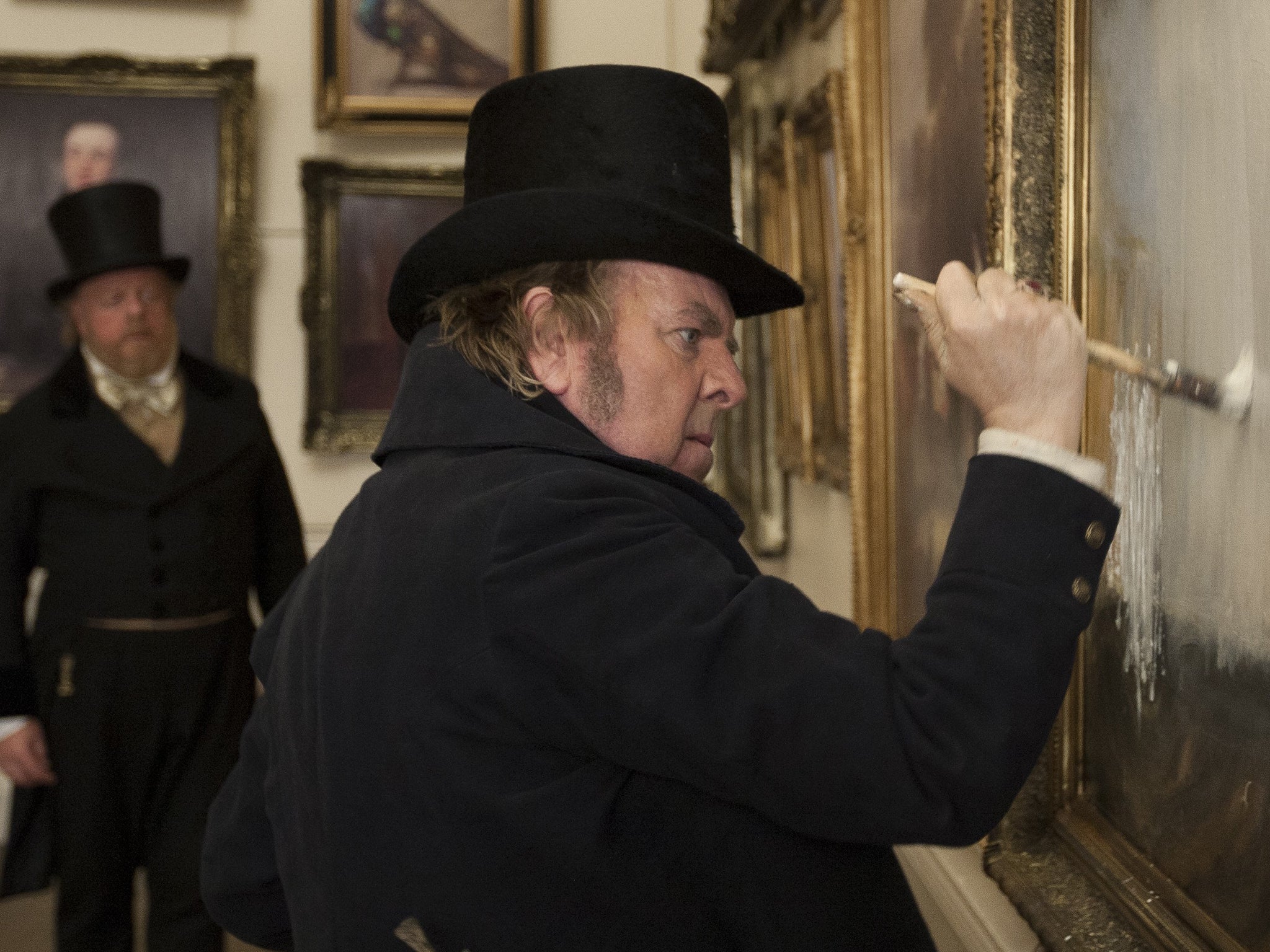 Mike Leigh's biopic is a rambling, richly detailed character study with a magnificent central performance from Timothy Spall. This may be 19th-century costume fare but it is made with the same precise attention to its protagonists' yearnings and comic foibles as we find in Leigh's contemporary dramas with Spall, whether Secrets and Lies or his woefully underrated All Or Nothing.
Leigh follows JMW Turner (1775-1851) in the final 25 or so years of his life as the artist paints in his studio, roams around seaside towns, gropes his housekeeper, courts a seaside landlady, deals reluctantly with family matters and consorts with fellow members of the Royal Academy.
As played by Spall, Turner is a grunting, walrus-like figure with a hint of Charles Dickens' Sam Weller about him. He is first seen in Holland, where he has been sketching, examining the light and taking a "gander" at the works of Rembrandt. Back home in London, he is looked after by his father, William Turner Snr (Paul Jesson), a former barber. Father and son are earthy characters without any pretensions.
Turner here is a bumbling, comical figure, but one who also possesses huge intellectual curiosity and single-mindedness. Dick Pope, Leigh's cinematographer, does bravura work in portraying the "damn fine storms" that Turner liked to paint, and the cloudscapes and crepuscular scenes ("the fiery firmament") that so fascinated him.
Spall's Turner isn't above vanity. He wants his paintings to be hung in prominent positions, and he is clearly hurt when Queen Victoria scorns his work – and, equally, hurt by the more public grumble that he "has taken leave of form altogether" in his more abstract work. He is astute about money, unlike some of his wastrel colleagues. He is also capable of behaving with extreme callousness to his own family. This, it becomes apparent, is not because he is unkind. It is simply that he is so preoccupied with his work that he doesn't have time to notice them.
In spite of its occasional flights of visual splendour, one of the most engaging aspects of the film is its mundane quality. Biopics of great artists tend to be overwrought: the artists have turbulent love affairs, or are driven mad by their muse. Leigh is more interested in exploring the everyday life of his subject. The paradox is that such an ordinary-seeming man was responsible for such visionary art.
Join our commenting forum
Join thought-provoking conversations, follow other Independent readers and see their replies