Nostalgia for the Light, Patricio Guzman, 90 mins, (12a)
On the high wastes of the Atacama, General Pinochet built his death star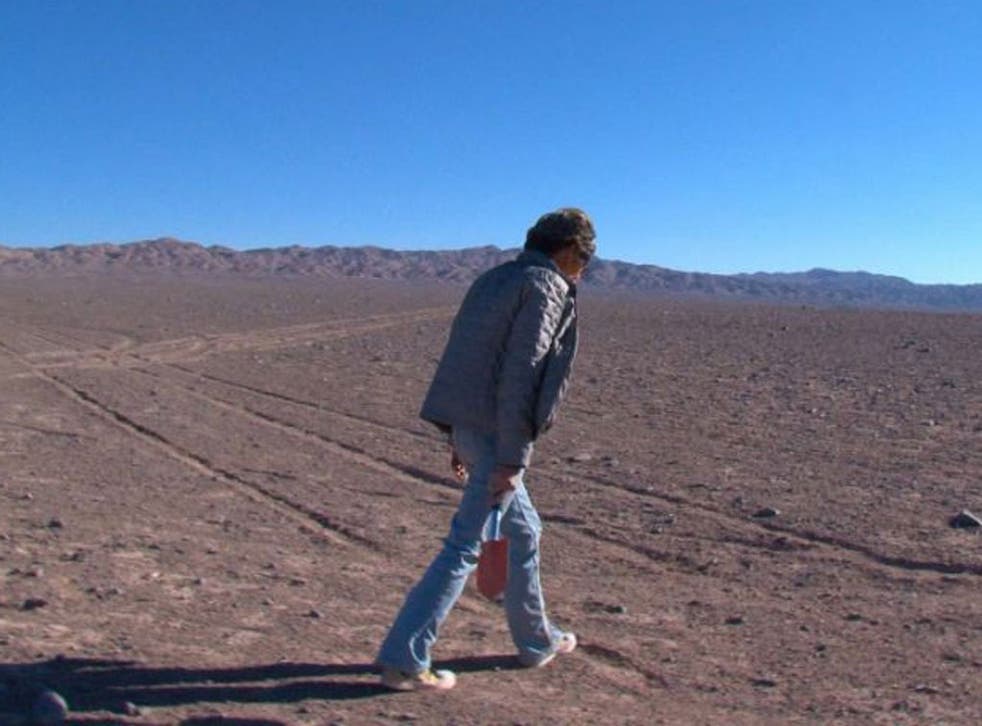 Chilean documentary Nostalgia for the Light is a film of heart-stopping beauty and devastating horror. You wouldn't imagine the two could co-exist, but Patricio Guzman's film shows us a place where they do – in Chile's Atacama Desert. This is apparently the driest place on earth, the only expanse that, seen from space, registers as a patch of brown. Clear skies make it an ideal spot from which to observe the universe; it is also, however, where the Pinochet regime installed a vast concentration camp, and where thousands of its victims' bodies are buried to this day.
Guzman's film is built on a startling constellation of ideas. He begins with the astronomers who operate Atacama's massive radio telescopes: they're looking into space for echoes of the past, quite literally. Because light takes time to travel, whenever we see a star, we're seeing an event that happened long ago. And because sound travels more slowly, the devices designed to listen to the galaxy will, astronomers hope, eventually capture echoes of the Big Bang itself.
When the astronomer Gaspar Galaz tells the film-maker, "The present doesn't exist," this is not a philosophical conceit, but a statement of scientific fact that there is always a time lapse between the thing we see and the instant at which we see it, whether it's a question of microseconds or millennia. The past, however, is always with us – you just have to dig deep enough. Just as the desert has yielded the mummified bodies of pre-Colombian Indians, so troops of tenacious women continue to comb Atacama for traces of more recent history. They sift the desert for remains of loved ones murdered by Pinochet's militia, some reduced to shards of bone, effectively dust among the dust.
Bones, we are reminded, are made of calcium – and the calcium that forms our bodies, one astronomer points out, was formed in the Big Bang. So calcium forms the link between the women and the astronomers, both engaged in uncovering the past. This parallel between the two sets of searchers may seem forced, yet Guzman succeeds brilliantly in developing his theme.
Astronomy, it emerges, is something of a Chilean national obsession; and Guzman examines what it means in people's lives. We meet Luis Henriquez, who found spiritual sustenance in learning astronomy while imprisoned under Pinochet. Today, young astronomer Valentina Rodriguez remembers her lost parents, abducted by the military; it's thinking about the magnitude of space, she says, that allows her to place their deaths in a perspective that keeps her sane. We then see a wall of faded, weathered pictures of the "disappeared" – themselves a constellation of distant stars, faintly glimmering out of the past.
This is a film of extraordinary beauty, in its desolate way as breathtaking as any BBC nature series. See it on the big screen, and you get the full benefit of the vast blue skies over Atacama's red sand and rock, shot with gorgeous contemplative clarity by Katell Djian. You also become aware, thanks to the voiceover (although its incantatory lugubriousness takes some getting used to), that what seems like an infinite expanse of desert is just a pinprick in our galaxy. Nostalgia for the Light does something that, in the era of CGI space operas, you'd think impossible: it restores a cosmic dimension to cinema. But this profound and moving work also reminds us that part of the cosmic is the history of humanity – politics, slaughter and all.
Critic's Choice
Willem Dafoe confronts destiny, and a rare Tasmanian tiger, in moody, off-beat Australian drama The Hunter. And comedian turned director, Bobcat Goldthwait, confronts the true horrors of American popular culture today in bloodthirsty satire God Bless America.
Join our new commenting forum
Join thought-provoking conversations, follow other Independent readers and see their replies