Reviews Round-up: Ghostbusters, Keanu, Ice Age: Collision Course, Men & Chicken
Paul Feig's reboot of the classic 1984 comedy, gangsta kitties, and prehistoric adventures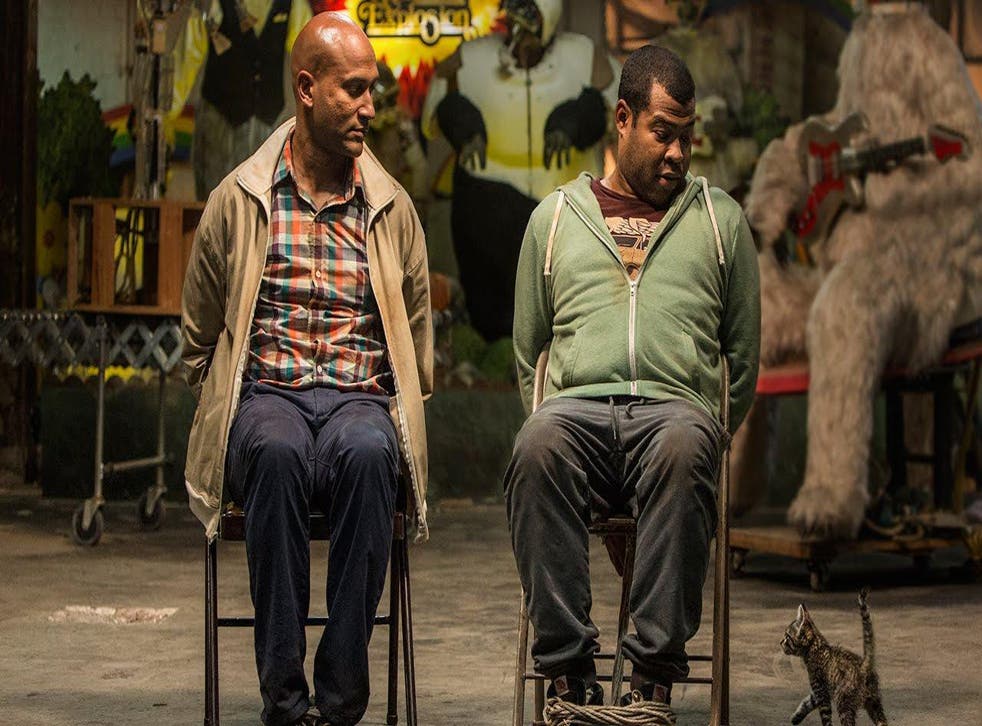 Ghostbusters (12A)
★★☆☆☆
Dir: Paul Feig, 116 mins, starring: Melissa McCarthy, Kristen Wiig, Kate McKinnon, Leslie Jones, Chris Hemsworth
The reboot of Ghostbusters feels like a Saturday Night Live comedy sketch stretched well beyond its natural running time to feature length. Its initial appeal very quickly wears off. There is only so much green ectoplasm that the film can dish up without the new all-female team of Ghostbusters becoming stuck in it. The same gags are repeated here again and again, with diminishing returns. The four very lively, very over-stated central performances soon begin to grate.
Kristen Wiig plays Erin Gilbert, a prim, conservatively dressed academic, seen as "an asset to modern physics". Erin is close to achieving her ambition of securing tenure at a top Ivy League college and she is determined to keep very quiet about the book on ghosts she wrote with her now estranged friend Abby Yates (Melissa McCarthy). The college dean of studies (Charles Dance in sneering, supercilious form) makes it very clear to Erin that there is no place in academia for anyone silly enough to take spooks seriously. That is why Erin is so upset that Abby is hyping up her book online.
Director Feig, who worked with McCarthy and Wiig on the raucous comedy Bridesmaids, likes his jokes about vomiting, goo and bodily fluids. He begins the film in bravura fashion with a haunted house sequence in which a tour guide is terrorised by an evil harpy who causes staircases to crumble beneath him. Feig orchestrates this initial mayhem with vigour while also throwing in plenty of droll gags.
Ghostbusters takes pleasure in reversing some old sexist stereotypes. There's an attractive, dim-witted blond working with the spook-hunters – but that's the Chris Hemsworth character, Kevin, their blissfully stupid secretary/receptionist. He is in the film primarily as eye candy (Erin, in particular, lusts after him) and also to be the butt of as many jokes as possible.
The film wriggles throughout on the horns of a dilemma. It can't work out just how tongue in cheek it wants to be. On the one hand, Feig is very deliberately going back to the 80s and trying to give a home-made, nostalgic feel to affairs. There's a half-hearted cameo from one of the original team, Bill Murray, this time playing a naysayer who scorns the work of the Ghostbusters.
Ghostbusters Interview with Cast & Crew
We even get a late glimpse of Sigourney Weaver. Abby's whirring, hand-held fan device for detecting ghouls looks like a very cheap toy. So do the guns. Kate McKinnon's character, laconic, tough-talking engineer Jillian Holtzmann, dresses as if she is Madonna in her Desperately Seeking Susan period.
The new team has offices above a Chinese restaurant. The ghost hunters wear boiler suits that make them look like refuse collectors and they drive to their missions in a clapped out old hearse. At the same time, this is a summer blockbuster which has its share of Independence Day-style special effects as ghosts run amok in New York.
All four of the Ghostbusters are skilled comediennes who know just how to deliver a punchline. This, though, is part of the problem. They perform as if they are in a sitcom, waiting for the canned laughter. None of the characters is developed in any meaningful way. The film is a collection of comic skits strung together in a scattergun fashion.
Access unlimited streaming of movies and TV shows with Amazon Prime Video Sign up now for a 30-day free trial
Sign up
Some are funny enough. Leslie Jones (as a New York subway worker turned Ghostbuster) combines abrasiveness and self-deprecation in a very effective fashion. McCarthy is in enjoyably subversive form as the team leader. The more beatifically she smiles, the more mischief you know she is planning.
Feig throws in stunts and gags in an increasingly desperate and cartoonish fashion. Characters fall out of windows or are possessed by evil spirits which give them added bounce. Whenever there is any sign of the action flagging, there will be a fresh burst of the Ghostbusters theme song ("who you gonna call!") on the soundtrack. All the noise and commotion can't hide the ghoulish inanity at the heart of the movie.
Keanu (15)
★★★☆☆
Dir: Peter Atencio, 100 mins, starring: Jordan Peele, Keegan-Michael Key, Tiffany Haddish, Darrell Britt-Gibson, Method Man
Ever since canine star Rin Tin Tin "rescued" Warner Bros in the 1920s, dogs have featured prominently in Hollywood movies. One of the pleasures of this intermittently very funny "gangsta" spoof is that the attention shifts for a change to a cat. The little kitten in question looks adorable enough to qualify for a leading role in a Disney movie but the setting here is the mean streets of LA and the main characters are hardened, violent drug dealers.
The film opens with the assassination of a Mexican gangster boss by two ruthless, long-haired hoodlums. This boss's little kitty runs off and ends up scratching at the door of the suburban home of Rell (Jordan Peele). He is a movie-loving, nerdish figure, recently split up from his girlfriend and delighted to have a cat to dote on instead. Rell's married cousin Clarence (Key) is home alone for a few days.
He and Rell plan to enjoy themselves watching a Liam Neeson movie and relaxing but their plans are thwarted when the kitten is kidnapped by members of a ruthless gang, The Blips (a cross between the Bloods and the Crips.) The gang is led by the very intimidating Cheddar (Method Man), who wears a lot of bling and keeps a huge snake in order to intimidate his enemies.
To get the cat back, Rell and Clarence assume mobster identities (as Tectonic and Shark Tank) and try to infiltrate the gang. Clarence has an obsession of his own – the music of Wham! – and he soon has hardened gang members singing along to old George Michael songs such as "Faith" and "Father Figure". (He also convinces the gang members that George Michael is black.)
Keanu makes a good job of straddling the line between hard-boiled crime thriller and whimsical comic romp. Just when it seems at its most ridiculous, there will a heist or an assassination, filmed in gritty, realist fashion. Just when it seems at its most intense, the adorable little cat will put in an appearance. Rell even puts together a special movie-inspired calendar with his new pet made up and photographed to look like a feline version of Jack Nicholson in The Shining or of Keanu Reeves in Point Break.
Several of the jokes here fall flat. The filmmakers are so busy nodding in the direction of other films (from New Jack City to Bill and Ted's Excellent Adventure and Tarantino in all his guises) that they risk making audiences dizzy in the process. Even so, with such a cute cat and such a quirky screenplay, the film seems destined for some kind of cult status.
Ice Age: Collision Course (U)
★★☆☆☆
Dir: Mike Thurmeier, Galen T Chu, 94 mins, voiced by: Denis Leary, John Leguizamo, Ray Romano
What's noticeable about all the best recent animated movies (Zootopia, Inside Out and even The Secret Life Of Pets) is that they have a relentless narrative drive. Ice Age: Collision Course, by contrast, is burdened by a storyline as tangled as the coats of its woolly mammoth heroes. There is a confusing 2001-style overture involving Scrat the squirrel on a spaceship, foraging for an acorn and somehow helping launch meteors toward earth.
These promise doom but the animals react to the prospect of being squashed out of existence in surprisingly desultory fashion. The mammoths are too busy playing ice hockey and worrying about family matters to pay much attention to the coming apocalypse. Sid the sloth's attention is more on romance than the likelihood of imminent death.
There isn't much spark in the screenplay and other aspects suffer too. The voice work is less lively than you would expect and the animation itself isn't especially eye popping or spectacular. Some of the puns are pretty feeble. Lines like "oh, Pythagoras, he has got the right angle" induce groans rather than laughter.
Just occasionally, when there is an iridescent shower of meteorites or the narcissistic, youth-obsessed spiritual leader Shangri Llama is on screen, the film flickers into life. Overall, though, the signs are that the big chill has set in and the Ice Age franchise is on the verge of extinction.
Ice Age: Collision Course - Trailer 4
Men & Chicken (15)
★★★★☆
Dir: Anders Thomas Jensen, 102 mins, starring: Mads Mikkelsen, David Dencik, Nikolaj Lie Kaas
Men & Chicken plays like a European art-house version of a Three Stooges comedy. It's a truly bizarre affair in which two bickering half-brothers brothers (Mikkelsen and Dencik) head off to the remote island on which, they think, lives their real father and three of their other siblings.
The three other brothers react to the arrival of the newcomers by bashing them up with any ornament, stuffed animal, piece of wood, or masonry that comes to hand. The family home is a rambling, near derelict house in the country, full of hens.
Mikkelsen's character Elias has a big bushy moustache and is uncouth in the extreme. Seen masturbating or making crude overtures to any woman he encounters, he is a long way removed from the sleek villain the actor played in Casino Royale. Gabriel (Dencik) is a more sensitive type. Against the odds, a rapport develops between all the brothers.
They play badminton together and even start bible classes. The father has been conducting stem cell experiments and the brothers (all of whom have hare lips) aren't altogether human.
This is a disconcerting film to watch. It has its moments of slapstick but these sit alongside far more unsettling and absurdist elements. At times, the storytelling becomes very grotesque indeed. There is, though, an unlikely tenderness between the brothers that softens the mood. The performances are excellent. The actors capture the boorishness and animalistic side of their characters, but also their vulnerability in the face of a world that makes such little sense to them.
Precious Cargo (15)
★☆☆☆☆
Dir: Max Adams, 87 mins, starring: Mark-Paul Gosselaar, Bruce Willis, Claire Forlani, John Brotherton
It is the fate of old action stars such as Bruce Willis that in the twilights of their careers they end up appearing in walk-on parts in half-baked thrillers like this. Precious Cargo is so far-fetched, so camp and so crudely written that you suspect it must be intended as a spoof. This is the kind of film in which an angry wife will yell at her husband "I'm going to piss on your laptop" and mean what she says, or in which the hero will casually scrape away a piece of brain from his hair after a shoot-out.
We're in Michael Mann territory. The main character Jack (Gosselaar), the "Michelangelo of thieves" as he is called, is a professional criminal with a very complicated private life. He has just started dating a veterinarian but is attracted to his sniper sidekick (played by Sports Illustrated model Jenna B. Kelly) and has unfinished business with his femme fatale ex-girlfriend Karen (Claire Forlani).
Willis plays Eddie, the Mr. Big of the local crime scene who is owed millions of dollars by Karen and whose henchmen will go to extreme lengths to get it back. (Willis himself is on screen only fleetingly.) There are chases on boats, chases in trucks and cars, fist fights and plenty of explosions as everybody double-crosses everybody else. The film is fun in its own cheesy way, reminiscent of straight to video action movies of the Eighties but scarcely deserves a cinema release.
Join our new commenting forum
Join thought-provoking conversations, follow other Independent readers and see their replies