Saving Mr Banks: Film review - a sugar coated, disingenuous marketing exercise for Disney
(PG) John Lee Hancock, 125 mins Starring: Emma Thompson, Tom Hanks, Paul Giamatti, Jason Schwartzman, Bradley Whitford
Geoffrey Macnab
Thursday 28 November 2013 21:30 Comments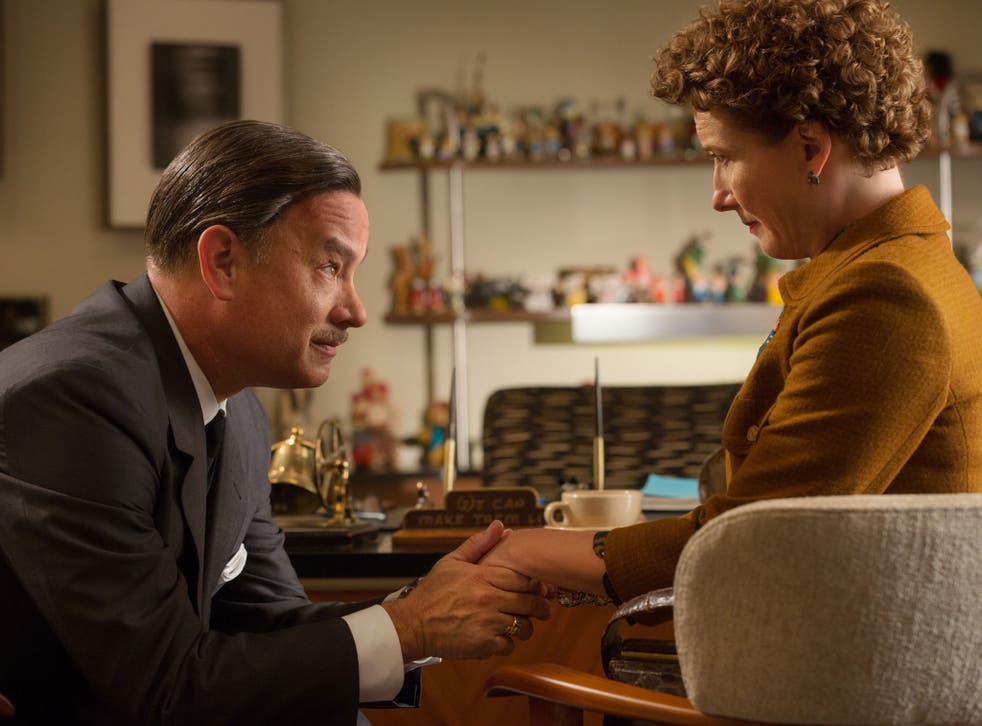 "Two great juggernauts thundering along a railway line, toward each other, doomed to collide," is how author Brian Sibley memorably described the coming together of PL Travers (writer of Mary Poppins) and Walt Disney.
The story of their unlikely and often fraught collaboration on the Hollywood adaptation of Mary Poppins (1964) is told in Saving Mr Banks. There is a very fine performance from Emma Thompson as the prickly, eccentric Travers and yet the film itself still seems sugar coated and disingenuous. Given that the Disney organisation was behind the project, it is hardly surprising that this is an upbeat account of the making of what became one of the studio's biggest commercial and critical hits of the 1960s.
The film isn't at all even-handed in its portrayal of its two main characters. Disney himself, as played by Tom Hanks, is the likable, avuncular American everyman type. He is as stubborn in his determination to get the movie made as Travers is in her resolve to stop her novel being bowdlerized on screen. Nonetheless, we're given little sense of what drives him or what his demons are.
He is played with considerable charm by Hanks and yet remains a bland, one-dimensional character. (As we've learned, even Disney's real-life chain smoking has been airbrushed out of the story.) Travers, by contrast, is shown to be tormented and contradictory. She is brusque and unkind to the point of obnoxiousness for much of the time but also capable of great generosity.
Kelly Marcel's screenplay delves deep into the author's childhood. The biggest surprise is that this tweedy, very English woman living in Chelsea turns out to be an Australian. PL Travers isn't even her real name. In flashbacks dotted through the film, we see her as a child (played by Annie Buckley). She is devoted to her bank manager father Travers Robert Goff (Colin Farrell), who shares her gift for storytelling. He is also an alcoholic whose erratic behaviour threatens the family's livelihood. Goff is sent to a new job in some remote town in the outback where he disgraces himself and is only saved from sacking because his boss takes pity on his daughter.
The flashbacks are lyrical and disturbing. They provide a key both to Travers' enigmatic personality and to why she wrote Mary Poppins in the first place. The problem is that they are in a completely different tone to the rest of the film.
Director John Lee Hancock enjoys playing up the differences between uptight British society of the early 1960s and the freewheeling world of Hollywood. When Travers first ventures to LA to meet Disney, she is appalled by everything from the smell of the city ("like chlorine and sweat") to the informality of drivers and junior studio execs.
Disney's staff members, meanwhile, are terrified by this stern, headmistress-like figure who has landed in their world. There are some funny, well-observed scenes in which Travers sits through script meetings. She is appalled at the thought of animation and of penguins creeping into the film adaptation. The wisecracking approach of the Sherman brothers (who wrote the music and lyrics for the film) leaves her baffled.
All this is true to fact. A South Bank Show documentary, The Real Mary Poppins, included shots of the author's annotated copy of the screenplay with "No!" "No! "No!" emblazoned all over it.
Access unlimited streaming of movies and TV shows with Amazon Prime Video Sign up now for a 30-day free trial
Sign up
Even so, from a Disney perspective, deconstructing Mary Poppins must have seemed a fraught endeavour. They can't have wanted to let the audiences to peer too far behind the curtain. The revelation that the author was exorcising childhood demons by writing her Mary Poppins stories is hardly likely to enhance their enjoyment of the original movie. That is presumably why Saving Mr Banks so frequently pulls its punches.
Much of the evidence suggests that Walt Disney and Travers really didn't get on at all. He didn't invite her to the premiere (although she went anyway.) "I never heard her say a good word of it," her adopted son Camillus said of the Disney film. Nonetheless, the film-makers here show this very odd couple sharing cups of tea and even enjoying a day trip to Disneyland together.
There are some notable omissions. The contribution of the brilliant British director Robert Stevenson to the success of the film is entirely overlooked. So is Travers' fraught relationship with Camillus.
It is Emma Thompson's performance that carries the film. Even when PL Travers is behaving at her most imperious, Thompson is able to hint at her vulnerabilities and to keep the audience's sympathy. At the same time she is jousting with Disney, she has an equally attritional relationship with Ralph (Paul Giamatti), her driver in Hollywood. He is genial and deferential. She treats him with contempt. Gradually, though, as she learns more about his family circumstances, she thaws. We are made very aware of her obsession with her own alcoholic father and her belief that she could somehow "save" him through her storytelling.
The film is pulling in two very different directions. On the one hand, Saving Mr Banks (which was developed by BBC Films and has a British producer) is a probing, insightful character study with a very dark undertow. On the other, it is a cheery, upbeat marketing exercise in which the Disney organisation is re-promoting one of its most popular film characters. If the portrayal of Travers was too harsh or Disney himself was shown with too many wrinkles, it would risk damaging the Mary Poppins "brand" – and that is something those top execs in the "Mouse House" would never let happen.
Register for free to continue reading
Registration is a free and easy way to support our truly independent journalism
By registering, you will also enjoy limited access to Premium articles, exclusive newsletters, commenting, and virtual events with our leading journalists
Already have an account? sign in
Join our new commenting forum
Join thought-provoking conversations, follow other Independent readers and see their replies