Sound of Metal review: Riz Ahmed is a jittery ball of tension as a drummer who loses his hearing
Darius Marder's film chases an epiphany, with both compassion and grace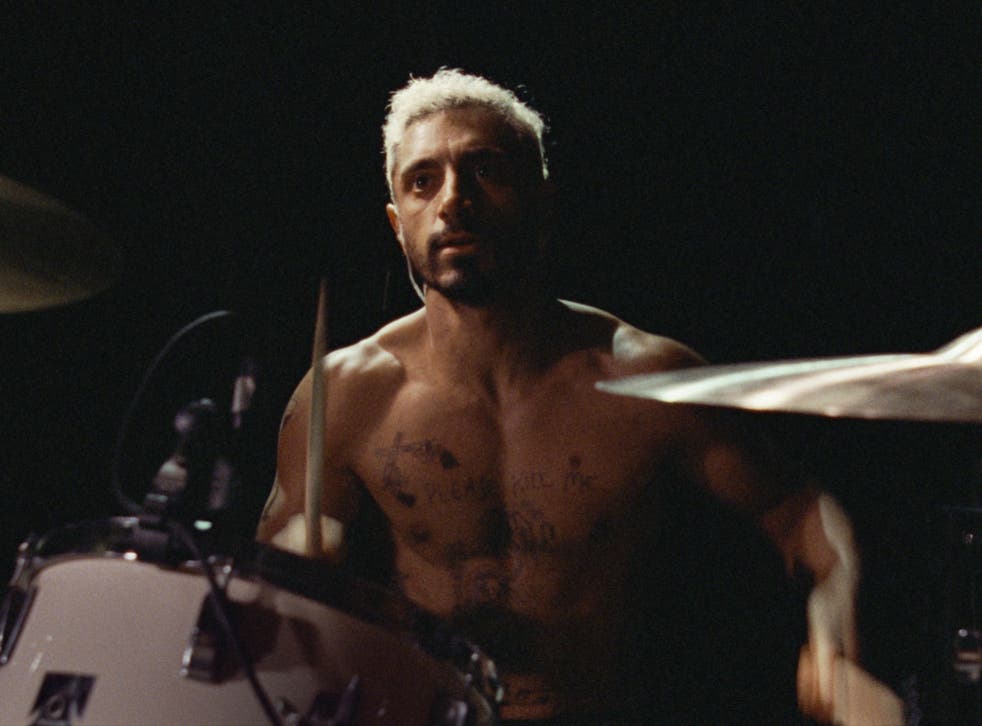 Sound of Metal is a film of great beauty and great purpose. A project that first evolved out of Darius Marder's work as a documentarian, it's a triumphant rebuttal to films that represent disability stories as the stuff of quaint tragedy and saintly patience. Ruben Stone (Riz Ahmed, Oscar-nominated for his role) is the drummer of a noise band who's built his entire life around two things: his music and his girlfriend Lou (Olivia Cooke). The couple travel from gig to gig inside an old Airstream camper van. Life is simple – but brittle, too.
One morning, Ruben wakes up to realise that he's lost the majority of his hearing, as sound designer Nicholas Becker allows the aural world to crumble away and become nothing but a series of inscrutable thuds. Becker's attempt to replicate the experience of deafness is not only technically impressive, but intelligently deployed. He drifts in and out of Ruben's perspective, so that the audience never forgets how profound and sudden his hearing loss is.
Ahmed's performance is a force to be reckoned with. This is an actor who's deeply connected to his surroundings – those large, inquisitive eyes always darting around in order to take in every detail – so he's particularly well-cast here. He's a jittery, desperate, lovesick ball of tension, a wind-up toy about to explode, unable to process what's happened to him. Ruben is so consumed by primal, uncontrolled panic that the only way he can continue is to delude himself. When his doctor mentions cochlear implants, he interprets this to mean that his situation is only a temporary one, an obstacle to overcome before he can return to his old life.
Lou, who has known him for four years of sobriety, instantly recognises that this is an addict's mindset – a denial of body and reality. She takes him to a shelter for deaf recovering addicts, run by Joe (Paul Raci), who lost his hearing during the Vietnam War but long ago made peace with it. The community he fosters is one where deafness is not something to be fixed, but merely a different way to move through the world.
Raci, the hearing son of deaf parents, is at ease in this world and allows that comfort to manifest as wisdom. Joe anchors himself like the roots of a tree, with those he helps becoming the leaves straining upwards towards the sun. It's in these sequences that Sound of Metal is at its most nuanced – while the sound design may help immerse hearing audiences, the film is hardcoded with subtitles and the sequences in which characters speak ASL are left uncaptioned. It's a small but meaningful decision that allows Marder to depict the deaf community while also centring them as the primary audience for his work. He also uses the opportunity to showcase the talents of deaf actors like Lauren Ridloff, set to star in Marvel's upcoming, Chloé Zhao-directed Eternals.
In this place, Ruben is finally given the opportunity to slow down, be still, and reexamine his life. And Sound of Metal becomes a story about what change means for a person. Ruben has spent so long clinging to a certain life and certain habits – his music, Lou, his life on the road – that he fails to realise that these are not the things that ultimately define him. Marder's film chases that epiphany, with both compassion and grace.
Register for free to continue reading
Registration is a free and easy way to support our truly independent journalism
By registering, you will also enjoy limited access to Premium articles, exclusive newsletters, commenting, and virtual events with our leading journalists
Already have an account? sign in
Register for free to continue reading
Registration is a free and easy way to support our truly independent journalism
By registering, you will also enjoy limited access to Premium articles, exclusive newsletters, commenting, and virtual events with our leading journalists
Already have an account? sign in
Join our new commenting forum
Join thought-provoking conversations, follow other Independent readers and see their replies