Star Trek Discovery season 1 episode 14 'The War Without, The War Within' review and recap: One of the stranger HR decisions in TV history
Andrew Lowry
Tuesday 06 February 2018 10:45 Comments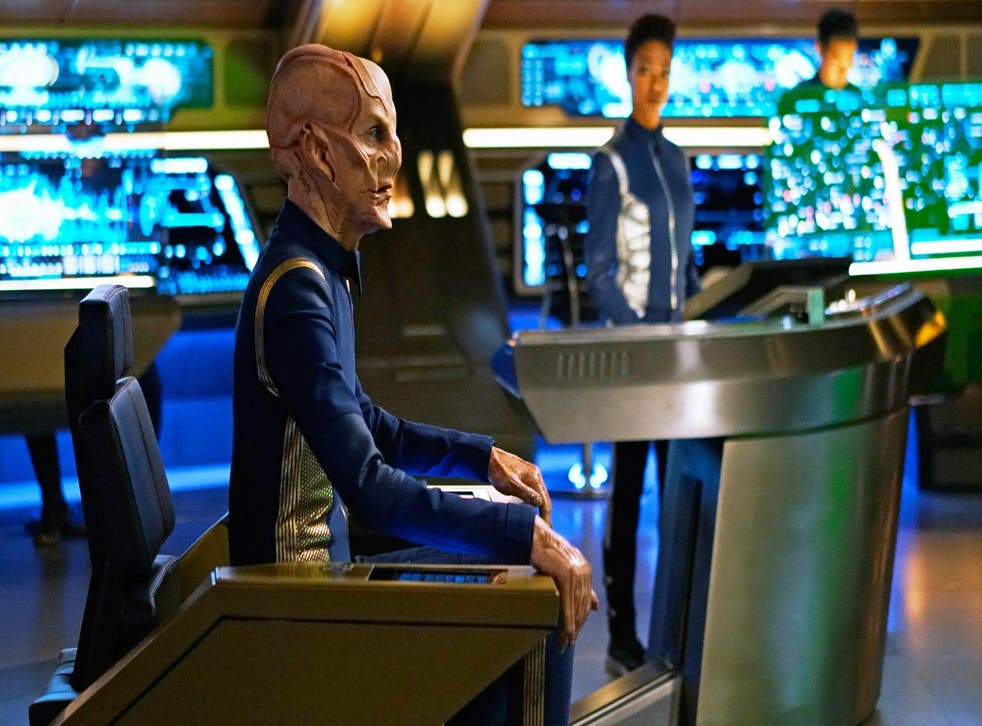 After the dramatics of last week, Star Trek: Discovery spends this season's penultimate episode getting its pieces in position for next week's finale. It's telling how much this show has on its plate at this point that the death last week of a major character and our heroes' escape from a hellish parallel universe barely register this week – although plenty is set up for what seems likely to be a showstopper of a finale, and we address at least some of the pile-on of yet more trauma for Burnham in recent weeks.
We'll get to her reckoning with Tyler/Voq later, because STD first wants to underline just how badly the Federations' war with the Klingons has been going in the Discovery's absence. Admiral Cornwell conveniently appears to take charge of the situation, but promptly shows herself to be not quite the level head in a crisis that a brutal war of survival might end. She directs the Discovery to make its way to the imaginatively-named Starbase One, only to discover that it and the 80,000 souls on board have been destroyed by the Klingons.
Cornwell – who's been a fine warrior previously in the show – promptly freezes, forcing Saru to give the order to warp out of danger. Saru's arc this season has been relatively non-underlined, but his growing authority and stature amid the increasingly outlandish adventures has been deeply satisfying. As well as an interrogation of the Federation's hopey-idealism stylings, STD has been very interested in what makes a good captain: no other Trek show has been as captain-heavy, from the compassionate, enlightened Georgiou prime to her more bloodthirsty Mirror Universe counterpart to, of course, Lorca, and let's not forget the various leaders we've seen on the Klingon side. With all the dramatics from both humans and Klingons, Saru has been an oasis of calm competence, and that's been landing mostly thanks to the dignified, detailed performance from Doug Jones. He's also in Guillermo Del Toro's forthcoming The Shape of Water, which is well worth your time.
While Saru is, as always, calmly taking care of business, a plan comes together to mount an attack on the Klingon homeworld of Qo'nos. The rights and wrongs are complicated here, not least because the strategy's most enthusiastic proponent is Mirror Georgiou, who might just have her own agenda. She's certainly not too impressed at the squeamishness of our universe compared to hers and wastes little time adjusting to her new reality before she's issuing just as many orders as she did in her home world, if not more.
Still, how to get to the Qo'nos, given the spore drive is out of space fungi? You'll remember that not long ago a shortage of spores was one of the major obstacles to the Discovery escaping the Mirror Universe, but Stamets comes up with a stunning workaround in double-fast time here – just grow some more!
It's all highly convenient, of course, but who cares – no sane person need follow the technobabble anyway. This fan of the show would have been happy if Stamets had simply magicked the ship around on a golden unicorn, but the rather beautiful sequence where the crew terraforms a whole planet to grow spores is an even better solution. Unusually for Trek, they are content to just show us the crew doing it, rather than messing about with ten minutes of impenetrable exposition: after fifty years, it's pretty lovely to have a Trek sequence content to play out lyrically rather than explain everything to death.
It's a moving moment in an unusually emotional episode, placing the clearing of the air between Tyler and Burnham as its centerpiece. In true Trek fashion, Tyler is – largely – forgiven for the killing of Cutler by his Klingon evil twin – he's gradually accepted back into the ship's community, even if it's unlikely he'll ever hold rank again. Stamets is naturally a little put out, but it all feels oddly consequence-free. I'm not sure that if my repressed personality from another species murdered one of my colleagues that I'd a be allowed to wonder the office at relative liberty, so why can Tyler walk the corridors and mess halls of a working starship at will — and at a time of war?
Anyway, the meat this episode is really in Tyler and Burnham's encounter. How do you act when your new lover turns out to be a bizarre hybrid with a warlike, feudalistic alien race with a murderous alter ego who you last saw as he tried to kill you?
Burnham's answer is… surprisingly dignified. The scene amounts to a breakup, beautifully written and delicately performed. STD has copped some flak for being a tad bloodthirsty, but there's also been some elegant writing for scenes like this, and Sonequa Martin-Green and Shazad Latif both step up to the occasion with aplomb. Where Tyler carries his mark of Cain is anyone's guess, but don't bet against a heroic and redemptive sacrifice in the season's final episode.
Access unlimited streaming of movies and TV shows with Amazon Prime Video Sign up now for a 30-day free trial
Sign up
Empress Georgiou seems set to give him the opportunity, being placed in command of the Discovery at the end of the episode on one of the stranger HR decisions in TV history. Come on, Saru's right there!
Register for free to continue reading
Registration is a free and easy way to support our truly independent journalism
By registering, you will also enjoy limited access to Premium articles, exclusive newsletters, commenting, and virtual events with our leading journalists
Already have an account? sign in
Join our new commenting forum
Join thought-provoking conversations, follow other Independent readers and see their replies