Tabu, Miguel Gomes, 118 mins (15)
Past and present merge in this tale of love, memory and a melancholy crocodile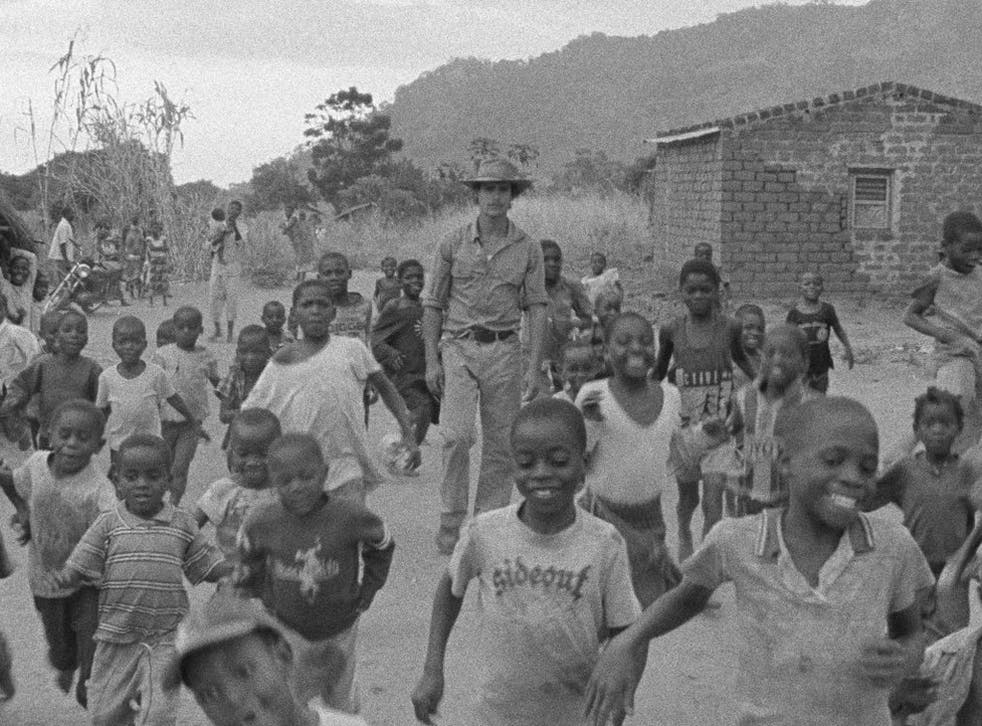 Until recently, there was no doubt about the top positions in my list of Greatest Animals in Art Cinema – the anarchic goats in Le Quattro Volte, and the "deranged penguin" encountered in the Antarctic by Werner Herzog. Now there's a serious challenger for Best of Bestiary: the "sad and melancholy crocodile" from the wonderfully strange Portuguese film Tabu.
This baleful creature first makes its appearance in the prologue, an eerie anecdote about a depressed European explorer in Africa. But the tale, narrated in lugubrious voice-over, turns out to be part of an old black and white film watched in a Lisbon cinema by a middle-aged woman named Pilar (Teresa Madruga). What follows, still in gorgeously shot black and white, is Pilar's story – until it takes a left turn and becomes something else again.
Tabu premiered in this year's Berlin Film Festival, where critics emerged with smiles of rapturous bewilderment. At the risk of spoiling the surprise, I'd have to describe Tabu as a diptych: two quite different stories with a unifying aesthetic and sense of humour. The first 50 minutes tell the downbeat story of Pilar, who lives alone but has a close friend, and seemingly unrequited suitor, in an elderly artist whose abstract canvases she hangs on her walls out of consideration for him – although her own taste is for cosy rural panoramas. She's politically motivated, attending rallies and scanning human rights abuses online. And she's solicitous towards her elderly neighbour Aurora (Laura Soveral), a rather grand lady developing dementia and proving the despair of her maid Santa (Isabel Cardoso). In one extraordinary scene, Aurora explains at length why she's gambled her money away at a casino: because of a bizarre dream about monkeys.
Pilar's story is recounted in a lyrical, hangdog manner: in two very funny, but also rather sad scenes, Pilar meets a young Polish nun who's supposed to be staying with her, but who proves totally unreliable (and who's clearly no nun, either).
Then comes another story altogether, about Aurora's youth, narrated in voice-over by a dapper old gent who was once her lover. It's set in the early 1960s, somewhere in Africa, on the slopes, we're told, of Mount Tabu. Imagine Anna Karenina rewritten à la Ernest Hemingway as the tale of a plantation owner's spoilt wife (Ana Moreira as the young Aurora) and a dashing adventurer, their torrid affair sparked by the incident of an escaped crocodile.
The romance of Aurora and Ventura (Carloto Cotta) could be another ancient movie melodrama, like the one that opens the film – or perhaps this is just how film-lover Pilar imagines the story as it's narrated to her. But Tabu isn't a straight pastiche of silent cinema. For one thing, Miguel Gomes plays fast and loose with his soundtrack, erasing people's voices (their lips move, but we never hear them), while being selective about background sounds. In one scene, people dive into a swimming pool, but we never hear a splash, although we do hear birdsong.
Then there's the music. Improbably, Ventura moonlights as a drummer in the beat group led by his sidekick Mario (Manuel Mesquita), a student priest turned crooner; at a pool party, they're seen miming to the Phil Spector classic "Baby I Love You" – only it's the 1980 cover by the Ramones (complete with a string section that's certainly nowhere to be seen).
The African story, with crocodiles slithering enigmatically in and out, has a tragic outcome, and it's a rare feat on Gomes's part that he persuades us to take it seriously, for all the surrounding eccentricity.
Tabu's overall meaning may be elusive, but there's clearly a political subtext at work. While the Europeans in the love story are stock figures, the Africans – though the narrative keeps them purely as background figures – are clearly real Africans, living in the 21st century. Among the beautiful landscape shots are scenes of village life and rural work that have a documentary texture. And the upshot of Aurora's romance is that it sparks an uprising.
You can read Tabu as a story about love, memory and melancholy; as a rueful contemplation of Portugal's colonial history; or as a delirious celebration of story and the cinematic imagination. It is all of these, and in its delicate, even rather shy way, it's the most joyously odd and surprising film of the year. It would take a truly reptilian soul not to love it.
Join our new commenting forum
Join thought-provoking conversations, follow other Independent readers and see their replies