Warcraft: The Beginning review: 'Spectacular visuals can't save this all-too serious fantasy misstep'
Lacking performances and convoluted plot lead to a frustrating game adaptation
Jack Shepherd
Thursday 26 May 2016 14:41 Comments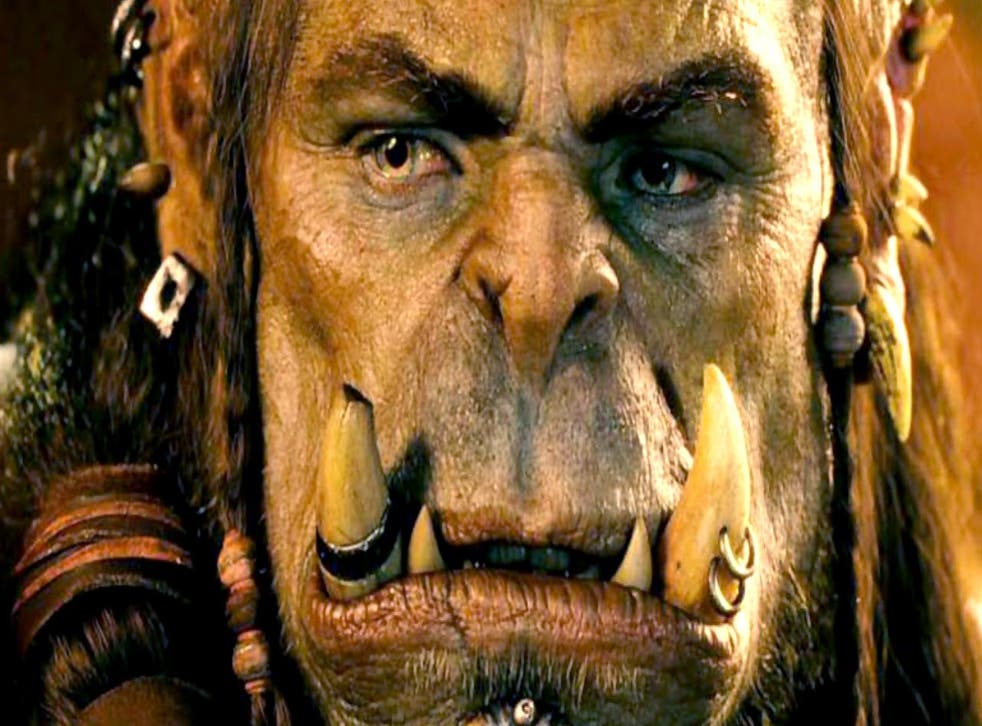 With millions of people having played Warcraft, there is likely a wealth of nostalgia-seeking players looking to relive their teenage adventures. Yet, it's not just this select audience Universal are appealing to; Warcraft: The Beginning has a $160 million budget, suggesting the studio hopes families and other fantasy fans will venture out to see the film.
Unfortunately, Warcraft will do little to ensnare those not already enamoured by Azeroth's long and complicated history. While visually spectacular - the CGI is phenomenal - attempting to understand this world and relate to these characters is something of a challenge.
First, an admission. At its peak, World of Warcraft had over 12 million online players. I was one of them. For six months, I was a Night Elf, killing boars, completing fetch quests, and admiring the beautifully rendered world Blizzard had created. Yet, even with this experience under my belt, attempting to follow Duncan Jones' adaptation was a struggle.
The film opens with members of the Orcish Horde, led by the evil Gul'Dan (Daniel Wu), travelling through a large green portal to the aforementioned world of Azeroth. Soon after, a young mage named Khadgar (Ben Schnetzer) incidentally discovers that a dark magic has manifested itself in the world, and with the help of a reluctant Anduin Lothar (Travis Fimmel) informs King Llane Wrynn (Dominic Cooper).
Eventually, we are introduced to Medivh (Ben Foster), the Guardian of Azeroth, who teams up with Anduin and Khadgar; their plan is to capture one of the monsters and find out where 'the Horde' came from. On their journey, the trio - along with some other canon fodder warriors - are quickly ambushed by Orcs in a wonderful set piece, eventually capturing the half-Orc, half-human, Garona (Paula Patton).
Warcraft: The Beginning Clip - Lothar And Soldiers Attack
She persuades the humans to meet Durotan (Toby Kebbell), the lead orc protagonist, who has hatched a plan to defeat Gul'Dan and usher in peace between humans and Orcs.
Of course, things don't go as planned; characters die, two CGI battle takes place, and the audience is left wondering "Wait, who is that again? Was their name Luther or Aragon?"
This is the main overarching plot, yet, somehow - in amongst the boardroom meetings and battles - a dire romantic subplot takes place, Medivh's intentions are questioned, and Khadgar becoming the next "Guardian of the Realm" is hinted at countless times.
It becomes almost impossible to keep up, not helped by the lack of individual character development. A quick example, concerning our lead human protagonist, Anduin. Both his relationship with his plot-device son and with Garona are rushed, underdeveloped, lacking nearly all emotional oomph (his apparent longstanding friendship with Medivh is non-existent).
Access unlimited streaming of movies and TV shows with Amazon Prime Video Sign up now for a 30-day free trial
Sign up
Even with conversations attempting to give the film some emotional gravitas, there's constantly a lack of personal conviction, leading to further stale meetings concerning unpronounceable locations and war strategies.
This isn't helped by some lacking performances; many of the actors portraying humans are phoning it in. Conversely, it is those underneath the CGI who are most enjoyable; Kebbell's Durotan expresses fantastic amounts of emotion through his Orc's face while Wu's Gul'Dan is genuinely menacing.
Warcraft: The Beginning Clip - King Ilane Asks Garona To Help
Undoubtedly, comparisons will be made to Peter Jackson's Lord of the Rings trilogy, three films that gloriously show off a fantasy land (Middle Earth/New Zealand) while developing loving relationships between characters. What makes my heart sink is that Warcraft could do this - instead of wide shots of Shire-like locations, Warcraft is forever trapped inside castles, only giving the viewer glimpses of this magnificent world.
This is particularly evident when we travel to Dalaran, a city floating in the sky, inhabited by the great magi. It's a fun, fantastical moment that contrasts with the serious tone of the film. Meanwhile, at a different meeting, we are briefly introduced to some Night Elves, who look both ridiculous and fun.
It's these fantastical elements that are the highlights, yet they are fleeting and bogged down by the film's more serious elements; it's easy to forget Elves were such an integral part of the video game. Perhaps, with someone like Guillermo del Toro, we would have seen more of these creatures, but as it stands they are sidelined for the central conflict.
After all the plot building, it's frustrating the film ends with no real conclusion. Warcraft so obviously wants a sequel (thus The Beginning tagline), you can't help but feel a little shortchanged. After two brilliant films (Moon, Source Code), it feels like the fanboy within Duncan Jones got carried away with Azeroth's minute mythology, leading to a film filled with tonnes of references to the wider world but no real soul of its own.
Register for free to continue reading
Registration is a free and easy way to support our truly independent journalism
By registering, you will also enjoy limited access to Premium articles, exclusive newsletters, commenting, and virtual events with our leading journalists
Already have an account? sign in
Join our new commenting forum
Join thought-provoking conversations, follow other Independent readers and see their replies