Zootropolis, film review: Disney with a touch of The Godfather
(PG) Byron Howard, Rich Moore, Jared Bush, 108 mins. Voiced by: Ginnifer Goodwin, Jason Bateman, Shakira, Idris Elba, J.K. Simmons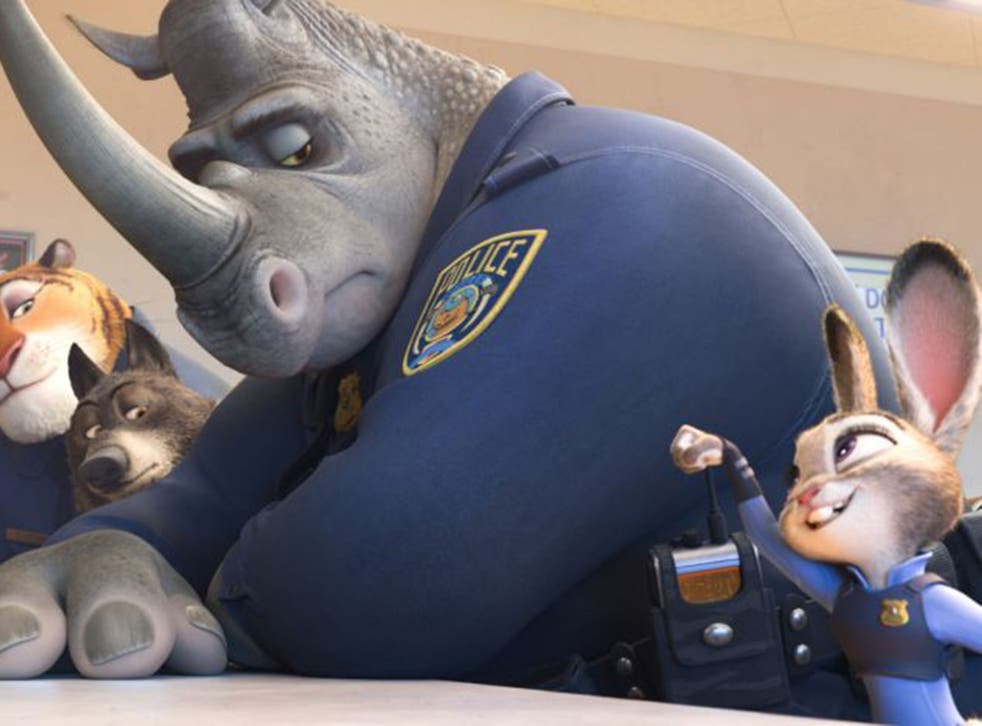 Zootropolis stands as both an affirmation of old Disney values – and as a corrective to them. Shot in iridescent colour, full of cute-looking animals, it looks at first glance as if it is yet another sickly sweet animated feature, indulging in shameless anthropomorphism. The film appears to be celebrating Uncle Walt's vision of a small, small world in which "anyone can be anything" and everyone is included… just as long as they conform, of course.
The genius of the film lies in its combination of traditional Disney characters and situations with a very subversive storytelling style. This is a movie that kids will relish but that will also induce a sense of wonder in many adults at just how barbed its storytelling style often becomes. Few live action dramas have scripts as sharp and satirical as this. The film, directed by Byron Howard and Rich Moore, has a small army of writers. That is often a sign of a production in trouble. Zootropolis, however, knows exactly where it is going.
33 Superhero films set for release between 2016 and 2020

Show all 34
"It's great to have dreams," and "Just as long as you don't believe in them too much," is how two characters respond to the ambition that the film's heroine, Judy Hopps (voiced by Ginnifer Goodwin), has to become a police officer in the bustling metropolis of Zootopia. She is a pretty little rabbit from the rural, carrot-farming community of Bunnyburrow. Judy is very aware of the anti-bunny prejudice against her. She bristles whenever anyone has the temerity to call her "cute" but her indignation only makes her look all the cuter. She has known from her earliest youth that foxes are not altogether to be trusted.
In their own subtle way, the film-makers are dealing with sexism, racism and political correctness. Thanks to affirmative action initiatives like the Mammal Inclusion Programme championed by the woolly minded, self-effacing assistant mayor Bellwether, a docile-looking sheep, Judy gets her chance to join the ZDP (the Zootopia Police Department). Chief Bogo (voiced by Idris Elba), the very gruff buffalo who runs the department, isn't at all amused to have a rabbit in the ranks. Although the city has been rocked by a series of missing animals cases, the new recruit ends up assigned to traffic warden duty.
Judy has barely started working in the city than she is "hustled" into buying a gigantic ice lolly by Nick Wilde (voiced in world-weary cynical style by Jason Bateman), a fox who, true to his nature, is a very accomplished con artist. A few tweaks of the plot later and Judy and Nick join forces to solve the very slippery case of a missing otter. She is given 48 hours. If she doesn't crack the mystery by then, she will be sent straight back to Bunnyburrow with her cotton tail between legs.
Intolerance and corruption turn out to be rife in Zootopia. All kinds of animals live side by side but there are very strict hierarchies. The animals are all defined by their backgrounds and breeds. Just as rabbits are considered timorous and harmless, elephants are supposed to have exhaustive memories and sloths are expected to be slow in the extreme. Some animals defy heir stereotypes. Others live up to them. One inspired sequence shows the sloths in charge of the clerical work at the Department of Motor Vehicles. Their lethargic expression and movement leaves customers in a state of exasperated despair.
Zootropolis borrows freely from film noir and gangster movies. The homages aren't difficult to spot. In one of the film's funniest scenes, we are introduced to a tiny mobster boss who sounds exactly like Vito Corleone in The Godfather. There are nods in the direction of Scarface and of Chinatown. In its more surreal moments, we could almost be in the realm of Paul Thomas Anderson. Judy is very good at writing parking tickets but she doesn't look much like Sam Spade or Philip Marlowe. Nonetheless, once she and the Fox begin their investigations in earnest, they are drawn into the city's darker side. They discover that 10 per cent of the animal population are predators. Someone has come up with a nefarious scheme to demonise them by unleashing their aggression.
Zootropolis (which was released in the US as Zootopia and has unaccountably been renamed for its UK release) attempts to reconcile very different approaches in recent animation. It is not as self-consciously satirical or knowing as TV's South Park or The Simpsons. Its tone is gentle. The animals here all look very cuddly, even the more villainous ones. Nor is this a brooding, adult-oriented, character-driven affair like Anomalisa. The film was exec-produced by John Lasseter but is very different from a Pixar movie. The animators have gone to exhaustive lengths to depict the animals all individually, whether the tiniest vole or the long-limbed gazelle voiced by Shakira. Their movements and behaviour are as closely observed as those of animals in natural history documentaries.
There is sometimes a sense that the film-makers are trying to please too many constituencies – that they're throwing in plenty of sentimentality and sweet-natured slapstick for the kids while tipping a wink to adult audiences who enjoy shows like Breaking Bad and The Wire. The animation itself is so bright and shiny that it risks appearing bland. What makes the film special is the quality of the writing and the voice-work. It helps that the narrative tempo is so quick (at least in scenes not involving sloths) that there is never time to dwell on the in-jokes and puns or to worry about the underlying mawkishness. Walt Disney himself would probably have approved… just as long as he didn't notice how feral the film's instincts really are.
Register for free to continue reading
Registration is a free and easy way to support our truly independent journalism
By registering, you will also enjoy limited access to Premium articles, exclusive newsletters, commenting, and virtual events with our leading journalists
Already have an account? sign in
Register for free to continue reading
Registration is a free and easy way to support our truly independent journalism
By registering, you will also enjoy limited access to Premium articles, exclusive newsletters, commenting, and virtual events with our leading journalists
Already have an account? sign in
Join our new commenting forum
Join thought-provoking conversations, follow other Independent readers and see their replies