Martin Scorsese doesn't have the answer to life's meaning, but he needed to ask the question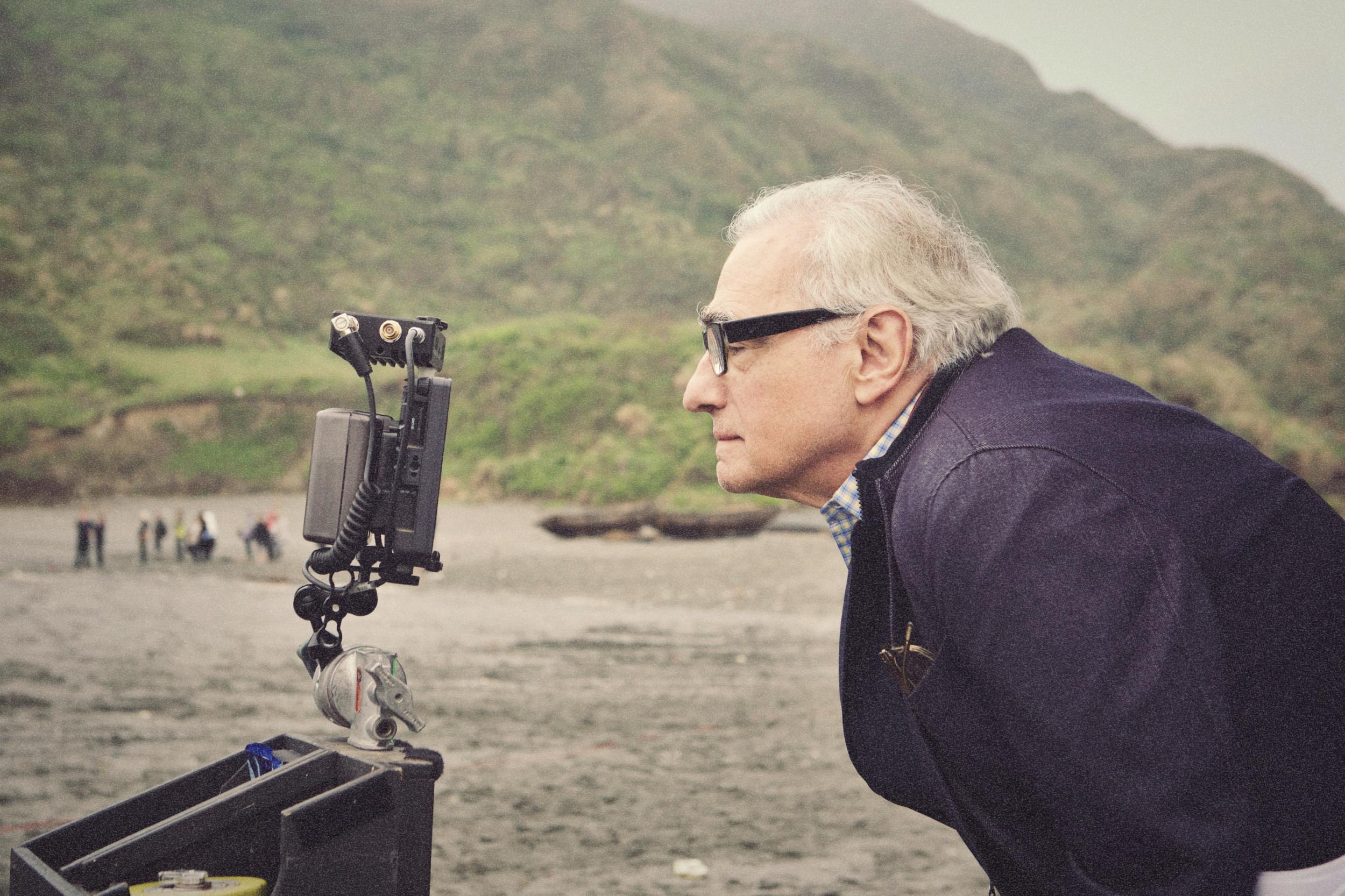 It's telling, perhaps damning, that a Martin Scorsese film now feels like an audacity. With tentpole movies reliably and surgically extracting billions from the box office, funding a drama by arguably Hollywood's biggest director is now something to worriedly scratch chins and underline scripts over.* His most recent film, Silence, eventually came into existence after 26 years of toil on Scorsese's behalf, during which, he tells me, he was even implored to give up on the project by his agents.
A "passion project" is how it will always be referred to – perhaps the ultimate one – but I can't help but feel that as a director that term might be irksome, a cliché verging on pejorative in how it implies that the film in question is an act of self-indulgence and that the rest of a filmography was not motivated by passion.
"You're right, it is a kind of meaningless phrase," he tells me in his bristly but genial New York accent. "I guess it's more about them positioning a film in the marketplace.
"One has to have passion for every project one does and, if it isn't there, you find out immediately. I've done projects that weren't generated by me or people that I necessarily trusted on an aesthetic level, and I found that I had to make it a passion, otherwise I really couldn't get through the process."
An obsession project might be closer to the mark when it comes to Silence, a filmic feat Scorsese pulled off after years of legal problems, financial issues and noncommittal producers. The director and his leading cast took a pay cut to make it happen, but he got there in the end. "I just never gave up on it. I never gave up on me."
It begs the question: now that's he made the film that's been tapping at his brain while he's been immersed in other projects for so many years, now he's in a sense exorcised that idea, does he feel gratified? Has he achieved what he was hoping to?
"There were moments when there was some gratification, there's no doubt," he says, "in the process of making the film, the actual shooting, and in the editing too". Chatting about it though, it becomes clear that Scorsese doesn't regard the film so much as a defined, finished entity, an IMDb entry he's put behind him, but an ongoing expression of his faith.
"It's alive. It's my life. It's not something that you suddenly finish and then move onto something else, it's a constant work in progress in my mind, and in my daily life too.
"So it was a matter of, I think, approaching it finally, feeling comfortable with it, trying to create something and then having to leave it at that point in time; just leave it. It's still there, I'm with it every day, but I had to leave the film alone after a point, I guess it's somehow completed, but in my mind it's not."
Fellow director Shinya Tsukamoto, who I spoke to earlier in the year and who gave an astonishing performance in Silence, described Scorsese as "very tenacious" during production. He explained that the auteur didn't sight-see or really relax on location in Taiwan, instead maintaining a kind of stoicism. Co-star Andrew Garfield, with whom Tsukamoto shared many scenes, previously said Scorsese insists on silence on set, and there are also decades-old stories of him asking crew members to remove their wristwatches. It's as though Scorsese wants his set to exist outside of time and space, a vacuum but for creativity, which is allowed to bounce uninhibited. I love this, tell him so, and we share our appreciation for silence not just as a means to allow work but as a concept.
"Maybe part of it is because I grew up in a very noisy area†; once you realise that you don't have to live that way for the rest of your life, that silence is a part of reflection, that it is reflection, ultimately you accept it and you're not so afraid of being alone, not afraid of the silence. You welcome it."
Scorsese may not be on Twitter eking out trivia and trading witticisms with other directors, but he's sadly not untouched by the din, both physical and psychic, of modern society, as evidenced by the volume of adjectives he uses to describe it, telling me we are "embroiled in a claustrophobic, crazy, noise-ridden, jammed world".
"It gets to a point where things get distracting, it's as simple as that," he continues. "Rodrigo Prieto‡ told me of another wonderful director, I won't say his name, that is overly sensitive to light and has to wear dark glasses on set; I have become very sensitive to noise.
"Silence is something to protect. It really is."
A demonstrably conflicted but committed Catholic, Scorsese had the honour of screening Silence in the Vatican and being granted an audience with the Pope, an encounter he said was initially a little awkward, what with the complex protocols involved in meeting a pontiff, but "very informal and pleasant" once he entered the room. Scorsese presented a couple of gifts to him (one an image of the "Madonna of the Snows"§) talked about how the film was made, amused him with stories of Andrew Garfield's 36-day silent Jesuit retreat in preparation for the movie, and had the Pope bless his family. The meeting came before the Pope had seen the film, but Scorsese learned through priests whom he later met again in Taipei that he apparently "liked it very much", something the director says he was "very pleased" (and presumably incredibly relieved) about.
The films of Martin Scorsese probe at the big topics in life, but if they don't feel didactic or like they have a clear moral stance it is probably because, aside from that being an artistic race to the bottom‖, he doesn't claim to have all the answers.
"I would say that I've tried, in my work, to find out how to live life – tried to explore what our existence really is and the meaning of it," he previously told The New York Times, implying that this is a search which never really ends.
Ontological experiments don't really come much more elaborate and demanding than making a feature film, so you have to believe Scorsese is serious about his quest and his desire to be better. I suggest that no-one finds a definitive answer when it comes to how one establishes meaning in life, but that there is catharsis and emotional education in the mere pursuit.
"I think that's it," Scorsese says. "It's been 35 to 40 years of doing what I really wanted to do ... I don't expect an answer, but it's just about the process of going deeper, finding out what else is there in you as a person, and what you can develop in terms of benefiting others around you."
Just as time can imperceptibly warp wood, it can alter our outlook as we age, and it's no coincidence that, after years of wrestling with the script for Silence with co-writer Jay Cocks, Scorsese, now 74, only recently got it to click.
"Absolutely. Yeah, there's no doubt," he says of age being a factor. "The changes in my personal life, your parents dying off and you taking their place so to speak, children, relationships – all these things - the dynamics of the work you're doing, changes in the industry, being on the outside and then having to come back two or three times somehow...somehow the films feed into these rather than the other way around.
"I just want to stay with what interests me and where I think I might be able to grow as a person and the filmmaking's tied to that. I don't say I've succeeded, I just needed to do it."
He talks about this interest as sometimes being "contraire to the style of movies that are made today" (often "very loud and very fast", though he admits to not keeping up with a lot of the newer ones), but his next picture, The Irishman, sounds more like vintage Scorsese and definitely has mainstream appeal. An adaptation of Charles Brandt's non-fiction book I Heard You Paint Houses, it will tell the story of Mafia-tied 50s hitman Frank Sheeran, be released through Netflix and star an irresistible trio of Robert De Niro, Al Pacino and Joe Pesci. The element of Sheeran's story that jumps out to me as ripe for cinema is his service in the Second World War, during which he committed numerous war crimes – often on instruction from commanders – and subsequently became desensitised to death and therefore a willing, successful hired gun.
"Well that, and what makes a person this way, what makes them become a professional killer," Scorsese says of his attraction to the project. "It's about love, betrayal, remorse and the sadness and tragedy, ultimately, of a life led that way. And it's about mercy too, I don't know if there'll be any of that in the picture yet, there might be."
This is familiar ground for Scorsese, and I ask him if The Irishman is tonally going to be in the vein of Goodfellas et al.
"I think this is different, I think it is," he insists. "I admit that there are – you know, Goodfellas and Casino have a certain style that I created for them – it's on the page in the script actually. Putting Goodfellas together was almost like an afterthought, at times I was kind of rushing, I felt I'd already done it because I'd played it all out in terms of the camera moves and the editing and that sort of thing. The style of the picture, the cuts, the freeze-frames, all of this was planned way in advance, but here it's a little different.
"The people are also older in The Irishman, it's certainly more about looking back, a retrospective of a man's life and the choices that he's had to make."
-------------------------------------------
* At least when he's making films about faith set in 17th century Japan; Netflix's recent $100M commitment before production to his next film, The Irishman, suggests a total confidence when he is back whacking mobsters.
† Queens, New York, before moving into Little Italy in Manhattan.
‡ Director of Photography on both Silence and The Wolf of Wall Street.
§ An image very special to "Japanese Christians" that featured in Silence.
‖ The Wolf of Wall Street was infamously vilified by some for failing to flash up 'BTW THESE ARE BAD PEOPLE' in big letters throughout the film.
Silence is available to own on Digital Download, Blu-ray and DVD now
Join our commenting forum
Join thought-provoking conversations, follow other Independent readers and see their replies