Kelis' sea bass ceviche brings all the boys to the yard
Hot jams, slamming arepas
Christopher Hooton
Monday 04 July 2016 15:06 Comments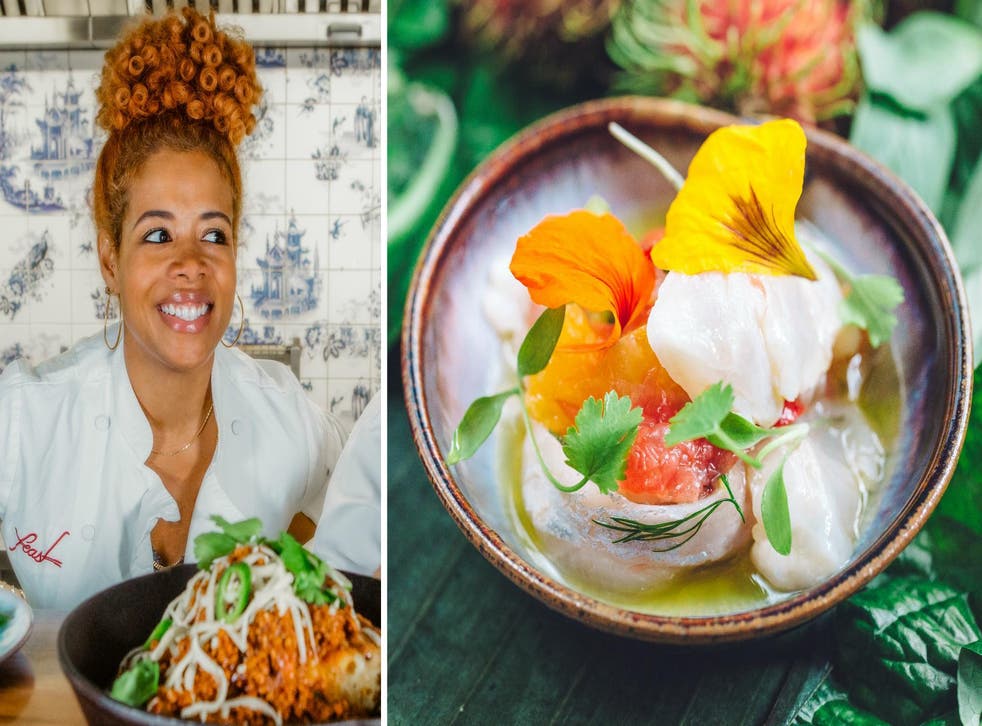 In addition to being responsible for the best song of all time (I'll hear no arguments to the contrary), Kelis is a Le Cordon Bleu-trained chef.
She ran a food truck at SXSW in Austin, Texas a couple of years back, has released sauces and cookbooks, and now is bringing her cuisine to London with a pop-up that sees her collaborate with Le Bun.
Given the burger purveyors already offer a French-American hybrid menu, does it work when you throw Kelis' South American flavours in the mix too? Absolutely, but first let's address the obvious - will there be milkshakes? There was at the launch of the collab in London's Chinatown, and they were damn fine. Both serving to pre-empt the inevitable jokes and put to bed the scurrilous rumours that she can't actually make a milkshake, her cachaça-based shake was a delightful aperitif, swiftly followed up with a beautifully citrusy sea bass ceviche served in shell-like bowl.
I can't tell you how happy it made me watching Kelis work away tirelessly behind the bar, completely in her element. Pop stars typically venture into self-aggrandising industries like fashion and filmmaking, so it's refreshing seeing one delight in simply serving people food they're passionate about.
"Here you go, honey" she says at one point, setting down a delightful Colombian fruit amuse bouche in front of me.
The menu is extensive, daring and tantalysing, including yucca oxtail poutine with aged gruyere and and shredded flank steak with wild cherry espresso BBQ sauce. Wild cherry espresso BBQ sauce.
The highlights were actually the sides though, her charred corn on the cob with truffle aioli, parmesan and fires roasted child being to die for and the cornbread candied ginger, bacon chilli and avocado sour cream being 'let out a low groan' good.
"I've been looking forward to bringing my cooking to London for years," Kelis said. "This July I'm over for lots of festivals and it's the perfect time to finally make this pop-up restaurant dream a reality. The Le Bun guys are the perfect partners and I can't wait for everyone to have a taste".
The KELIS x LE BUN London pop-up will be open July 6, 7, 13, 14, 15 16 and 17 from 5.30pm til late at Leicester House, 1 Leicester Street WC2H 7BL, and then follow her to Standon Calling Festival at the end of July.
Register for free to continue reading
Registration is a free and easy way to support our truly independent journalism
By registering, you will also enjoy limited access to Premium articles, exclusive newsletters, commenting, and virtual events with our leading journalists
Already have an account? sign in
Join our new commenting forum
Join thought-provoking conversations, follow other Independent readers and see their replies