2000Trees – The essential bands of this year's festival
2000Trees Festival is renowned for shining a spotlight on the brightest contemporary bands the underground has to offer. With the 11th edition of the festival just around the corner, we take a look at the 15 essential bands not to miss over the weekend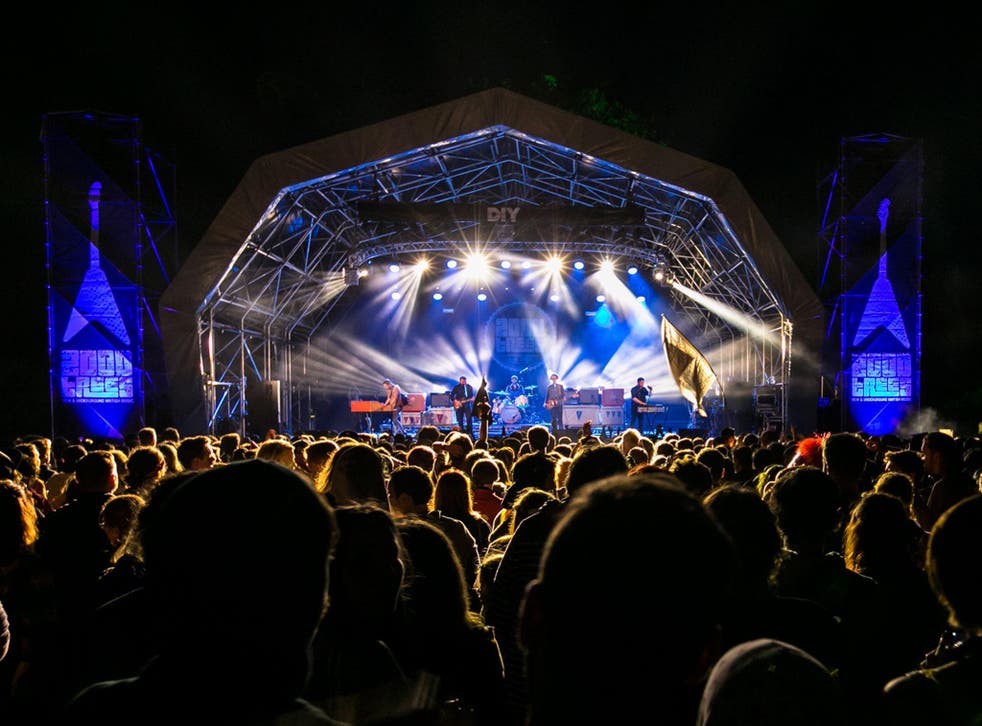 Now that the bourgeoisie playground known the world over as Glastonbury Festival is out the way for another year, we can start to concentrate on festivals that are adored and frequented by people who genuinely adore music as opposed to flag-waving philistines who think that Royal Blood are the pinnacle of what rock music has to offer in 2017.
2000Trees's focus on burgeoning acts and tomorrow's headliners gives young bands the chance to prove their mettle before a crowd of 4,000 or so patrons, making it an essential festival for those wanting to keep their ear close to the rumblings of the underground. As such, it's garnered a reputation as one of the most exciting events of the UK festival calendar year. The 2017 edition is no exception, with a plethora of extraordinary acts playing over 3 days. To help you sort the wheat from the chaff, we've put together a list of the 15 essential bands from this year's line-up.
Bellevue Days
With intelligent emo vibes that re-call Brand New and the irreplaceable Sunny Day Real Estate, Bellevue Days are easily one of the most under-rated bands in the country right now. The South London quartet's songs flow with a natural grace and fluidity that makes a mockery of the song writing prowess of many veteran bands in the scene.
Describing their sound as 'sludge pop', the band perfectly interweave deadbeat melodicism with a jagged buzzsaw guitar edge; Bellevue Days masterfully showcase the beauty in melancholy in wistful anthems that will be the soundtrack to many people's lives long after summer has ended. Their new EP Rosehill is released just 2 days before they're due to open 2000Trees's Axiom stage and hopefully their set will consist of cerebral slacker gems from it such as "Jack and I", "Faith" and "Black Sheep Baby".
Puppy
Puppy have been making waves in the underground with their amalgamation of Metallica sized riffs with Weezer shaped hooks. The three-piece have mastered the art of taking seemingly disparate elements and fusing them together to create something authentically their own.
Having released two excellent EPs in the shape of 2015's self-titled debut and Vol.2, the band have already amassed a fistful of excellent tunes that have won the hearts and minds of a dedicated following. Recently signed to Spinefarm Records, those fans are eagerly awaiting the trio's debut album but until then, the likes of "Arabella", "The Great Beyond" and the implacable "Entombed" will be more than enough to endear Puppy to those with an ear tuned to the authentic alternative.
Black Foxxes
Running the gamut between fuzzed up anthems and delicate, introspective angst, Black Foxxes's 2016 debut album I'm Not Well was easily one of the most emotionally charged records of the year. Frontman Mark Holley exorcises his personal demons through taut, fluid song-writing, utilising hooks that will lodge themselves in your auditory cortex long after the festival is over.
The urgency and vigour with which these sublime yet haunting songs are performed live is profoundly intense and startlingly dynamic; the most powerful moments emerge when Holley holds the crowd in the palm of his hand solo, showcasing a fragility rarely seen in the macho-posturing rock world, before the band crash in around him. "River", "Pines" and "Whatever Lets You Cope" all demonstrate a staggering delicacy that hits so much harder than when the amplifiers are dialled up to 11.
Employed To Serve
By far one of the most savage bands on this year's 2000Trees bill, Woking's Employed To Serve are sure to provide an unholy racket once they hit 2000Trees's heavy spiritual home, The Cave. With their recent sophomore album The Warmth of a Dying Sun, the band have injected a sadistic cocktail of sludge and doom-weighted riffs to the unrelenting frenetic cacophony of feral math riffs that made up their 2015 debut Greyer Than You Remember. As a result, Employed To Serve are easier to digest without having to resort to a diminished strength in sonic power.
Enjoy unlimited access to 70 million ad-free songs and podcasts with Amazon Music Sign up now for a 30-day free trial
Sign up
Tracks such as "I Spend my Days (Wishing Them Away)" and "Good For Nothing" join the likes of "Watching Films to Forget I Exist" and "Bury Yourself (Deep)" in providing ammunition to make the grass die around the fields of Upcote Farm when they hit the stage on Saturday afternoon.
Black Peaks
Black Peaks have had an extraordinary 15 months since the release of their outstanding debut album Statues in April last year, having played support to the likes of Deftones, System of a Down, The Dillinger Escape Plan and Mastodon. Somehow, the band's amalgamation of complex riff-wizardry and intricate prog structures managed to resonate with the big-wigs at daytime BBC Radio 1, with "Glass Built Castles" becoming a bona fide modern rock anthem.
This performance on the main stage of 2000Trees will mark the last in support of that astonishing debut before the band take a temporary hiatus from performing live to concentrate on writing and recording their eagerly awaited second album, songs from which they've already been road-testing live to positive responses.
The Dirty Nil
Canadian garage punks The Dirty Nil are an atom bomb of noise that detonates a sonic mushroom cloud drenched in feedback and soaked in distortion. With a similar drive, grit and intelligence to their fellow Ontario natives Pup, The Dirty Nil manage to merge elements of indie, pop-punk, alt-rock and grunge to create a combustible combination shot through with a raw, unadulterated attitude.
Their debut album, 2016's Higher Power is a 27-minute, 11-track masterclass in scuzzy licks, howled choruses and wild-eyed showmanship; it's little wonder that the band have just picked up a Juno award for Breakthrough Group of the Year 2017. If the deranged hooks of "No Weaknesses" and "Zombie-Eyed" don't go round your head for days post-festival, your ears are shot.
Jamie Lenman
2000Trees has become a sort of spiritual home for Mr. Jamie Lenman. Reuben, his previous band, were due to headline the festival in its second year, until the band unceremoniously broke up and had to cancel. Since then Camp Reuben, a fan-led area of the site has sprung up to showcase a wealth of secret sets that pay homage to the perennially under-rated kings of early 21st century British rock music.
Since Jamie's returned from his post-Reuben musical hiatus, he's played the festival twice; once in 2014 accompanied by his Heavy Mellow band and again in 2016 stripping his songs back to just one man and an acoustic guitar. Changing the set up once again, Jamie Lenman will perform as a two-piece (with former Heavy Mellow drummer Dan Kavanagh) charging through a cavalcade of classics from Reuben, his 2013 double disc solo effort Muscle Memory and a handful of new songs that, with any luck, will form the basis for Jamie Lenman Album No.2. If it's merely half as good as his performance at the Scala earlier this year, this threatens to be one of the best sets of the weekend.
Frank Carter & The Rattlesnakes
It's crazy now to think that when the former-Gallows hellraiser disclosed he was fronting a new band, Frank Carter & The Rattlesnakes, the announcement was broadly received with a collective shrug. Upon hearing 2015's scorching debut album Blossom, the apathy quickly changed to accolades, as the opening riff to Juggernaut steamrollered all in its path with the ferocity that the title would suggest.
Second album Modern Ruin has so far proved to be one of the most successful rock albums of the year, peaking at number 7 on the UK Official Charts. Released just 20 months after its predecessor, Modern Ruin is a completely different beast to the one-two-KO of Blossom. Songs such as "Lullaby", "Snake Eyes" and "Thunder" expertly explore hitherto unfamiliar territory for the sharp-suited instigator of bedlam, plumbing subtler depths to create still utterly devastating results.
If Frank Carter's performance at the aforementioned haven of the bourgeoisie Glastonbury is anything to go by, the main stage at 2000Trees is going to be obliterated in the hour Carter and his Rattlesnakes have to raze the stage.
Beach Slang
Dealing in fuzzed up heart-on-sleeve anthems seen through the eyes of a hopeless romanticist, Beach Slang frontman James Alex is forever destined to be a gutter kid staring wistfully at the stars. Some might balk at the mawkish sentimentality prevalent in the band's music and lyrics, but it's these exact qualities that endear them to a devoted and enthusiastic audience, all of whom are happy to be in the gutter when the soundtrack is the blissful majesty of songs such as "Noisy Heaven", Dirty Lights" and "American Girls and French Kisses".
Beach Slang's songs have so much heart each has its own pulse; the music is shot through with so much urgency and James Alex's wide-eyed, optimistic lyrics will only fail to soften the hardest of hearts.
Bad Sign
Bad Sign have a t-shirt that consists simply of the band's moniker and a stark musical intention; "Pure F**king Riff." If there's another piece of merchandise that encapsulates a band more succinctly than this, we've yet to see it. But whilst the riffs do hit the cranium with all the force of a ten ton hammer, their forthcoming debut album Live & Learn, released 14th July through Basick Records, captures a side of the band that will surprise those only familiar with 2015's Destroy EP.
Whilst this Croydon three-piece have hardly gone soft, there are slivers of sentimentality that peer through the stormy clouds of Bad Sign's bludgeoning riff attack on tracks such as "October" and "Paramnesia". But for the most part, this will be a glorious tent full of synchronised early afternoon head-bangers.
Milk Teeth
Milk Teeth have already released one of the songs set to dominate summer 2017 in the shape of "Owning Your Okayness". Their 2016 debut album Vile Child went down an absolute storm with critics who lapped up its snarling youthful teenage exuberance fed a strict diet of Smashing Pumpkins and Sonic Youth.
With the band recently signing to Roadrunner Records and all set to release a new EP Be Nice on 28th July, 2000Trees should prove to be a home-coming for these 90s nostalgia dream-pop Gloucestershire punks.
Petrol Girls
Exploding like a chimerical burst of indignation and vitriol, Petrol Girls are dedicated to challenging and ridiculing sexism, whilst also exploring wider political themes such as alienation, mental health and the current anti-austerity movement. Often bands tackle issues such as capitalism, greed and ignorance, but few do it with an anarchic rallying cry as potent as the band's 2016 debut Talk of Violence.
But there's intelligence and historical context behind the antagonism and spite. The band's name for example, is derived from the myth of Pétroleuses, a group of women from the Paris Commune who allegedly set fire to private property with Molotov cocktails made out of milk bottles in a deliberate act of spite against the government. Songs such as "Fang", "Harpy" and "Treading Water" explore mental health, sexual politics and the European migrant crisis respectively, but in 3 minute bursts of righteous fury; they're bound to decimate their half-hour slot on The Neu Stage on Saturday.
Rolo Tomassi
One of the country's most consistently impressive and progressive heavy bands, Rolo Tomassi are masters in a genre of one. Many have tried to put the Nottinghamshire five-piece into a genre box, but no-one quite manages to succinctly sum up all the intricate and unique parts that make up this astonishing band.
Their last album, 2015's Grievances, is the most perfect distillation yet of the many facets that make up Rolo Tomassi; jazz, funk, soul, hardcore, math, Nintendocore ... need I go on. They'll hit the Cave stage at 2000Trees having just finished work on their forthcoming fifth album, so fingers crossed they'll be in the mood to showcase some new material.
The Menzingers
These Pennsylvanian punks are taking up the mantle left by The Gaslight Anthem by writing intelligent, blue-collar anthems for Generation Z. Most bands don't have a solitary decent lyricist amongst their ranks but The Menzingers are spoilt with two; Greg Barnett and Tom May are both blessed with an innate ability to draw a listener in to the sights, sounds and smells of any given story. Their latest full-length After The Party is jam-packed with songs chronicling the live fast, die old thesis of a punk band about to hit their 30s.
It would be no exaggeration to say that The Menzingers have taken residence as the kings of working-class punk-rock. Any songs from breakthrough-album On The Impossible Past or 2014's more sombre follow-up Rented World are bound to elicit mass sing-alongs that'll reverberate loudly around the hills of The Cotswolds.
Oathbreaker
It's safe to say that with Rheia, the Belgian post-hardcore black metal band's third album, Oathbreaker produced a seminal piece of work that will resonate in the extreme metal world for years to come. By blending fragile, haunting post-rock textures with ferocious surges of black metal brutality, Rheia weaves an intricate and dynamic sonic foundation for the band to experiment and push the boundaries of what is 'acceptable' in extreme music.
The real star of the show is vocalist Caro Tangue; her tortured voice echoing a vast array of musical inspirations, from Kate Bush to Chino Moreno to Dani Filth. With such an expansive sonic canvas, it's difficult to say exactly where Oathbreaker will go next, but only a fool would bet against them becoming major players in the underground black metal scene.
2000Trees takes place between 6th - 8th July at Upcote Farm in Cheltenham. Two day and Three day tickets are still available.
Join our new commenting forum
Join thought-provoking conversations, follow other Independent readers and see their replies