Jamie Lenman, Scala, gig review: One of the greatest songwriters of his generation leaves London astounded
Ex-Reuben frontman reinvents himself once again with style and aplomb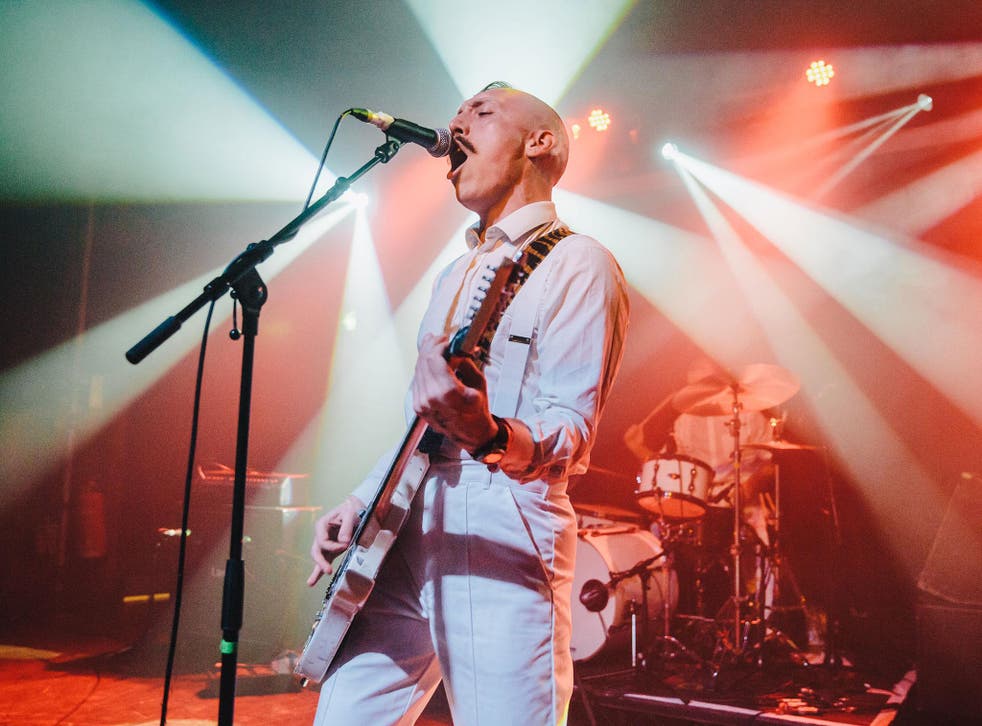 The ability to craft songs of a consistently high quality that stir the emotions of a listener and resonate with an audience of thousands in a way that is distinct and personal is a skill well beyond the reach of most songwriters. Sure, anyone can string three chords together and write vague, universal lyrics about having a broken heart or overthrowing an oppressive regime or throwing your hands in the air and having the sheer audacity to simply not care. But communicating thoughts, ideas and feelings and provoking a reaction that goes beyond mere white-noise background distraction is a skill that sadly the majority of musicians sorely lack.
Since 1998, Jamie Lenman has been making the art of writing songs in his own singular, distinctive style look diabolically easy. He's touched on practically every facet of the human condition, all the while constantly re-inventing himself and mastering a gamut of genres whilst lacing them with his own individual charisma and flair. For 10 years as the chief songwriter in perennially under-rated three-piece Reuben and more recently with his varied and eclectic solo work, Lenman's unique personality has shone through in a way that most would be too afraid to commit to record. Countless bands will cite him as a major influence and yet none are able to truly replicate the song-writing nous and nuances that are so intrinsic to Lenman's songwriting.
Live appearances have been scattershot at best these days but when new material began to emerge at the beginning of 2017, it looked like the four year dearth of new material since his last record, the heavy / mellow double disc majesty that was Muscle Memory, was about to end. This incarnation sees Lenman play as part of a two-piece, a reflection of the collaborative dynamic that has been so crucial to the recording of these new songs.
Keeping a theme running throughout this tour, Lenman has opted to take out two-piece bands with him in support for the whole run and it's a move that pays off in dividends. Frauds trade fat chunky riffs with driving propulsive beats alongside shared maniacal vocals shot through with a strain of acerbic wit that calls to mind sadly defunct sasscore quartet Falls. Their between song patter is extraordinarily engaging, sometimes reaching Monty Python-esque levels of sheer lunacy, but to dismiss the Croydon-based post-hardcore power duo as a mere comedy act would be superficial. Like every band on the bill this evening, they make a quite considerable amount of noise and they serve as a great appetiser.
The secret that HCBP (Haggard Cat Bothday Present, in case you were wondering) are in fact half of Nottingham-based noisy oiks Heck is by now surely out of the bag. As a duo, guitarist / vocalist Matt Reynolds and drummer Tom Marsh ride a less chaotic line than their more familial hardcore band. Imagine Robert Johnson's blues licks interlaced with Black Sabbath's guitar tone meeting at a delta city crossroads and making a pact with the devil. Add a pinch of wild banshee soulful vocals, frenzied Bonzo-style drumming, stir, bake on gas mark 5, leave to cool for 20 minutes and voila ... indulge in HCBP. Songs such as American Graffiti and The Patriot are instantly gratifying cuts from their forthcoming second album, which the majority of this evening's set is culled from. But there are a couple of tracks thrown in from their 2013 debut Charger, an album recorded live over one night 'by accident'. This approach of playing just for the sheer damn hell of it encapsulates HCBP perfectly and it's impossible not to be swept up by the sheer exuberance of two musicians cutting loose and having fun.
Playing as part of a two-piece is a challenge that Lenman has yet to attempt, but like most everything he turns his hands too, he pulls it off with style and aplomb. It's an exercise in minimalism; that Lenman is able to hold a crowd of 1,000 in the palm of his hand with just a battered old guitar, a couple of effects pedals and an extremely proficient drummer (his old heavy/mellow band accomplice Dan Kavanagh) is a testament to his affable charm. It would be wrong to assume that this is a quiet affair however; songs such as Fizzy Blood and No News is Good News, both taken from the first 'heavy' disc of his magnificent 2013 double album opus Muscle Memory, sound as ferocious and uncompromising as their recorded counterparts.
Even stripped of bass, second guitar and the distinctive apoplectic saxophone, tonight's rendition of All the Things You Hate About Me, I Hate Them Too sounds like it could level this old 1920's-built cinema to the ground. In fact, none of the songs suffer from having just two musicians at the helm, save perhaps for the industrial stomp of new song Mississippi, which doesn't quite have the guttural impact it has on record. Such comments are facetious however when we are treated to stunning renditions from the mellow end of the Lenman spectrum, such as the foot-stomping, toe-tapping If You Have to Ask You'll Never Know or the gorgeous, lilting fragility that courses through It's Hard To Be a Gentleman.
Lenman's affable and honest stage presence is one of his strongest assets; there's no whiff of pretence, no boisterous posturing or demanding the audience 'jump da f**k up' or any other such preposterous nonsense spouted by identikit frontmen the world over. What you see is what you get; a genuine, down-to-earth, intelligent and genuinely funny presence, who interacts with his audience as human beings rather than one seething mass; it just so happens that this affable English gent has written some of the best alternative rock songs of the past 20 years.
Even as a solo artist, Lenman is perfectly content to pull out a selection of songs from his much beloved old band Reuben, without feeling the need to rely on them or play that band's 'hits'. It's testament to his consummate skill as a songwriter that an obscure rarity can illicit as much response as any other song in the set. Blitzkrieg, with its irresistible simple sweet chorus refrain that says more in the two words 'you are' than most bands manage in an entire career, is utterly glorious; it leaves one's head shaking in wonder as to how such a perfectly constructed song could be consigned to the b-sides bin.
Lenman finishes on a high with an utterly devastating run through of The Six Fingered Hand followed by an at once scathing and beautiful rendition of Cities on Fire, the first track from Reuben's criminally under-rated third and final album In Nothing We Trust. In a little over an hour, Mr. Lenman has led a 1,000 strong crowd through a whole cavalcade of emotions; it's exhausting but beautifully so. As the crowd begin to slowly file out, dumb struck by what they've just seen, a lyric from Reuben belter Return of the Jedi, Lenman's bitter riposte to those who consider band-life easy, springs to mind; 'Guitarist and songwriter, that's what I thought I was'. Mr. Lenman sir, you are not only a consummate guitarist and songwriter, you are one of this country's very finest.
Join our new commenting forum
Join thought-provoking conversations, follow other Independent readers and see their replies