Adam Levine: 'I don't know what the f*** Maroon 5 are anymore... we occupy a weird space'
Exclusive: Frontman of the US pop-rock band talks the 'Girls Like You' video, Maroon 5's longevity, and why he doesn't mind that Noel Gallagher called him a 'f***wit'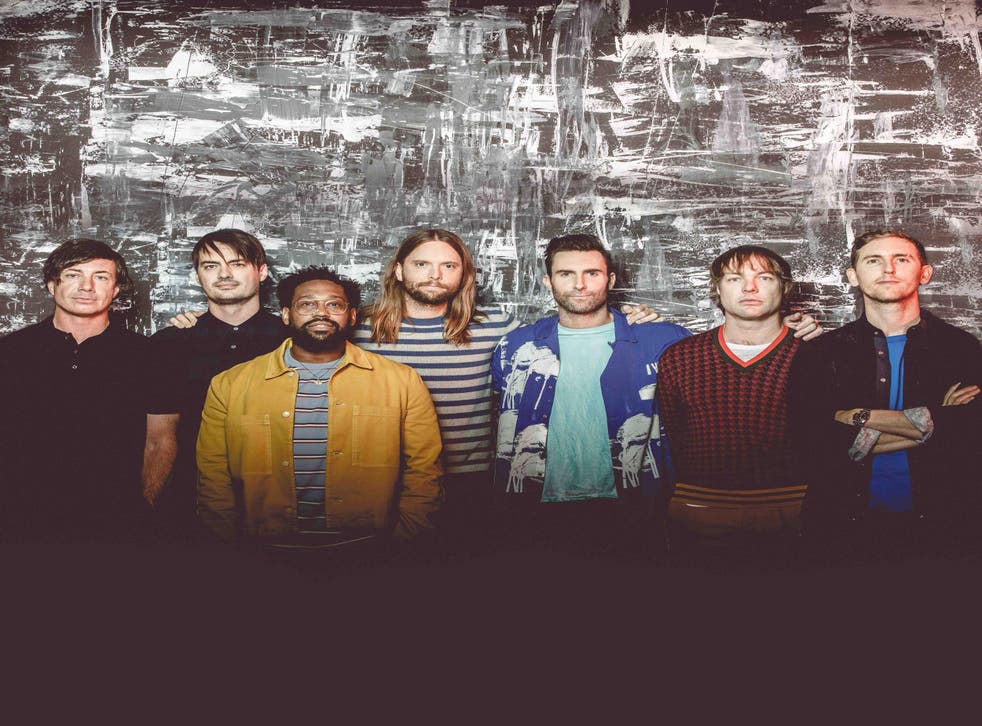 It's only taken one rescheduled phone call to get Adam Levine – Maroon 5 frontman and judge on US TV singing contest The Voice – on the other end of the line, apparently full of beans as he drives back from an appointment in LA. He's almost alarmingly chatty – for someone who does so few interviews it seemed like a given that he'd be a little guarded, or flat-out refuse to talk about certain subjects. But there's little that seems to be off the table.
Levine has led Maroon 5 through lineup changes, dramatic shifts in sound and millions of record sales; making it to No 2 on the US Billboard 200 with their sixth album Red Pill Blues ("Always number 2!" Levine says, pretend-sulking. "[Foiled by] your British Sam Smith. I think he's fantastic," he adds). It boasted a wealth of collaborations from the likes of SZA ("What Lovers Do") and A$AP Rocky ("Whiskey") and continued the band's reign as one of the most successful pop/rock acts of all time.
Case and point: their music video for "Girls", the song of which features rapper Cardi B, is currently still at the top on the US YouTube Music Video's chart. Much of its appeal is down to the host of inspirational women Levine asked to make an appearance, a total of 25, including the likes of renowned chat show host, comedian and LGBT+ activist Ellen DeGeneres; US gymnast Aly Raisman; snowboarder Chloe Kim, who – at 17 – became the youngest woman to win an Olympic snowboarding medal; trans actress Trace Lysette; Girls Trip star Tiffany Haddish, and immigration activist Angy Rivera.
"I love that video," Levine says. "I put more into making that video with [director] David Dobkin than pretty much any other one we've made. We sat and listened to the song, like, 150 times and tried to work out what it was for – how to enhance the song's meaning. Because 'Girls Like You' is this cute, quite simple song, but when you add the video it gives it it a whole other level.
"The world is so heavy right now, and there's so much going on, so I kind of love the fact that the song and the video are a bit lighter," he continues. "I've grown up, I've been through a lot, done everything wrong, but the main mission behind the video is helping people to realise that we have to have each other's backs. People definitely make mistakes, there's no human on this planet that hasn't done that, but if we don't support one another, we're f***ed."
In the video, the rotating camera is used to convey a message of men having women's backs too, in a slightly more modern interpretation of the "behind every man is a strong woman" cliché. Rather, it's about men and women supporting one another as allies.
"Yes, I love that!" Levine says. "I'm not for isolating an entire gender, so yes, as much as it is empowering for women, it's also intended to speak to a very confused group of men who don't know what to do. It's like, open up your ears and shut your mouth. Connect, communicate. That's the most important thing, because we couldn't possibly understand what it is to be a woman. We have to evolve and step it up a bit. And a big part of that is through listening."
It was a big undertaking, Levine says, to ask such a long list of prominent women to take part in the video, much of which involved him going around Hollywood and begging. A lot.
"I remember when we started talking about who and how, and we made this huge wishlist of people," he says. "Everybody is too sensitive now, and we wanted to make sure that it never felt like we were trying to check too many boxes or make it too specifically one thing.
Enjoy unlimited access to 70 million ad-free songs and podcasts with Amazon Music Sign up now for a 30-day free trial
Sign up
"I did a lot of begging. But I knew I could vouch for what the video was going to be, that it would speak to people. It wasn't just for selfish reasons – it was because I thought people would genuinely love being involved. And everyone understood."
Another band might have been accused of performatism, but Levine has a long history of supporting LGBT+ rights, women's charities, Elton John's Aids Foundation, and cancer research. "Girls Like You" feels more like an extension of that work, rather than an attempt to stay relevant in the wake of campaigns such as #MeToo and Time's Up.
"At first, like everyone else I was kind of scared," he admits. "It took a lot for me not to operate out of fear. There are so many opinions out there now, so much criticism and hypersensitivity to so many issues. I thought I needed to make it clear with the video that my heart was in the right place and my intentions were pure. But the video's been out for a while and I haven't heard one complaint or caught wind of one article slamming it, and I think that's because we were really careful and respectful of the people we were talking to.
"It's not really a statement, it's more a celebration, and hope that we can be more like this in the future. When Childish Gambino released 'This Is America' just before our video I was like, 'OK, we made the second best video of the year'. And I feel like we got to be part of a great year where people were making statements through their visuals, and not just making these fluff videos."
It's a far cry from the reaction Maroon 5's video for "Animal" received back in 2014, where critics were outraged by Levine's appearance as a self-styled weirdo working in an butcher's and obsessing over a woman (portrayed by his wife, supermodel Behati Prinsloo) who he fantasises about in several blood-soaked scenes of a sexual nature. Styled like an Eighties slasher horror film, it's ludicrous, of course – but it's supposed to be, and Levine doesn't attempt to hide that during his performance.
"That was f***ing ridiculous," he says of the uproar, sounding more amused than annoyed. "It was the last video I would have expected to receive any criticism on that front. It was supposed to be creepy! I play the role of the creep, it's literally a character out of a movie. And the song is about animalistic tendencies, I'm talking about eating someone alive. Use your f***ing imagination.
"It's like watching a horror film and notifying the people who made it to tell them you think they're disgusting," he says, exasperated. "People are sometimes too rooted in reality and they can't differentiate. They take everything too personally."
You can almost hear him shudder at the mention of Trump's recent visit to the UK: "Oh god, I can't touch that. That's like a three-hour conversation," he says. "I'm not even gonna talk about Trump. It's much more to me about being sad because people are so angry, and maybe it's a good thing for us to purge all this anger, but really I just hope that we can prevail.
"I think we're being put to the ultimate test, the strength of our democracy is being challenged. I'm much more aware of what's happening in the world because I'm much more concerned. This could be the spark that ignites a lot more awareness that wasn't there before." He pauses. "I do think we talk about him too much though."
Great music documentaries to watch now

Show all 6
Critics have showed little favour towards Maroon 5 since their sleeper hit of a debut album Songs About Jane. Released in 2002, it eventually topped the charts in the UK, Australia, France and New Zealand, making it to No 6 on the Billboard 200 by the end of 2004 and earning them their first Grammy win for Best New Artist. A 2017 article in Stereogum described their music as "hard to get excited about, but just as difficult to hate with any severe conviction ... they make musical wallpaper, annoying at worst and pleasingly inconsequential at best".
"Trust me, it's a dance," Levine says of the band's changing sound. "It's really interesting, we've been around forever, been criticised by everybody. But I think after a certain point if you're playing the game and have your eye on the ball, you become less concerned about what people think and just do what you feel is right for the band.
"For all the people who want us to make an album that sounds like the first one, if we did it again, they'd be asking why we can't move on from that scene. The one thing I tell every new band is, 'you won't make your fans happy, so don't even try'."
"Even when I was a punk kid growing up in the Nineties I was still like, 'No! This is so stupid'," he continues. "If you love a band, why wouldn't you wish them the most success? No band belongs to anybody. That's the dumbest thing I ever heard in my life. It's so hard to make it as a musician. I have no time for people who have that mentality."
In an interview which took place a few years ago, Levine suggested the most innovation was taking place in electronic music; now he leans more towards hip hop, although he's quick to acknowledge that innovation has "always been there".
"After the Nineties and into the early 2000, hip hop took this rad left turn, it was so avant garde," he says. "Even today, so many hip hop artists are doing out-there s***. The whole approach is constantly evolving.
"England is going hate me for saying this, but we need to let go of thinking rock and roll is still alive," he adds as an afterthought. "It's nostalgically alive. I grew up with rock and roll music, I have a great appreciation of it. But come on. Those artists who were on the cover of Rolling Stone, who were in the culture, in the zeitgeist, they're not anymore."
He wonders if rock music is more alive "in your neck of the woods" – meaning the UK. He loves Arctic Monkeys. But there's still a prevalence in rock music for artists to put themselves into a corner "intentionally", he says, reaffirming a dated mentality to being in a rock band.
"I don't even know what the f*** Maroon 5 are anymore, we occupy a weird space," he says. "But I'm so tired of 'you shouldn't do this, you shouldn't do that'. I wish a band would come out and be genuinely in pursuit in the biggest amount of fame.
"Led Zeppelin, The Who – those bands wanted to be famous. They sought fame. It was rock and roll to want everyone to hear your record. I don't know when, maybe like 1991, it stopped being cool to want to be successful, and I just think that's the stupidest thing I ever heard."
Levine turns 40 next year, and laughs when he's reminded of a moment 10 years ago where he suggested he didn't expect to be in the same band when he reached that age.
"That might have been me feeling it wouldn't be happening at this point," he says. "I still believe that! You know what it is? I think I have good friends, and maybe one day a really good friend of mine will one day be like, 'you look ridiculous'. But that moment hasn't come yet."
He feels relatively comfortable about where the band stands in pop culture. Better than he did at the beginning. He recalls how the band have drawn the ire of the Gallagher brothers on more than one occasion (they have an unrequited love of Oasis) – Noel branded them "f***wits" in a 2015 interview, despite apparently attending a house party at bassist Mickey Madden's house in 2008, and Liam reportedly claimed they "sucked".
"But I wouldn't have it any other way," Levine declares. "I feel like the only way to combat the hate is sticking around for so long is that people just get used to you. The coolest thing about our band is that we will never be associated with a time. Maybe an album will be. Loads of people will say Songs About Jane was amazing and the rest of our albums suck (f*** you). But I don't think people say we remind them of, like, 2003 or whatever. That doesn't happen."
He agrees that doing other projects likely keeps him willing to return time and time again to the band, rather than feeling an urge to branch out as a solo artist (plenty of music writers have pointed out he could probably do this quite easily).
"The Voice helped let the air out of the tyres a little bit," he says. "It's good to have distractions along the way. I think if we'd been touring in that time, or making more albums, we wouldn't have lasted this long. Strangely enough, doing that television show somehow managed to enhance our credibility? I couldn't tell you how. But I think the way The Voice exists in America compared to the UK is that it's heartwarming, people are entertained by it. And just to be able to help anybody with their craft is a nice thing."
We call time on the chat, and he jokingly wonders if he "f***ed up – did I say anything that's gonna get me in trouble?" he asks. "No? Woohoo!"
'Girls Like You', the new single from Maroon 5, is out now
Join our new commenting forum
Join thought-provoking conversations, follow other Independent readers and see their replies