Ady Suleiman: 'I spent f**king ages on this album'
Singer-songwriter on his relationship with the music industry, leaving a major label, and releasing a debut album that's been years in the making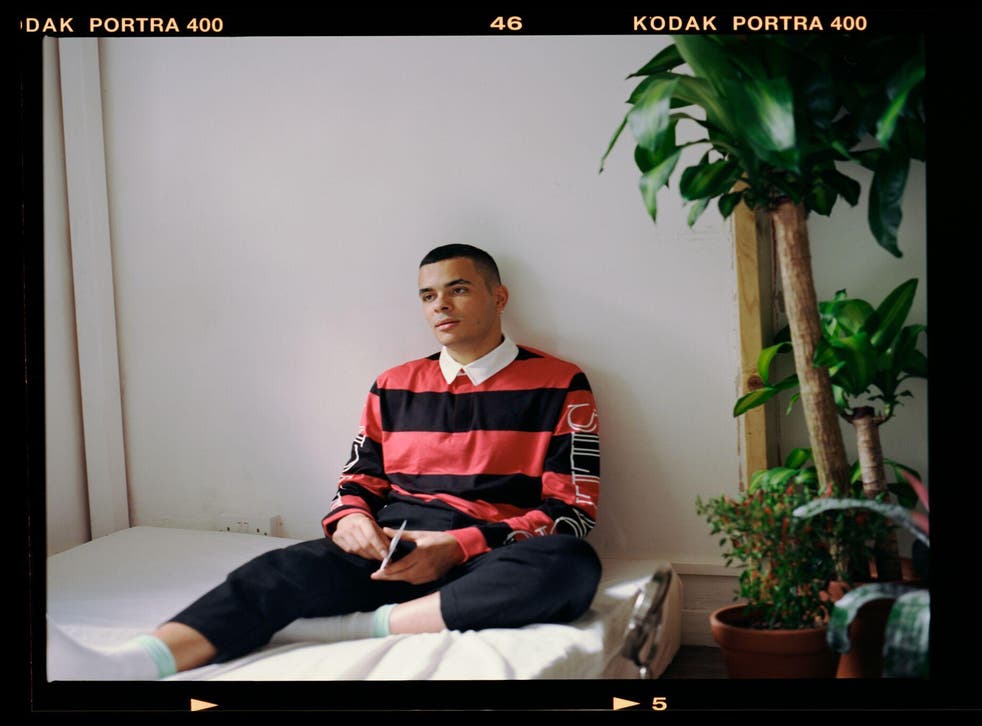 Ady Suleiman's debut album has been a long time coming. The longest time, it seems, for an artist who was being hailed as one to watch as far back as 2013, backed by everyone from Chance the Rapper to Joey Bada$$ and Michael Kiwanuka, and booked for support slots for the likes of Laura Mvula and Lianne Le Havas.
Born on the outskirts of Nottingham, the 24-year-old singer-songwriter was snapped up by Simon Cowell's label Syco – part of Sony Music and home to artists including Little Mix and Labrinth – in 2016, but left last year after realising it didn't quite fit.
Now it feels as though Suleiman is starting over with Memories, the name of his debut record, which is a richly woven collection of R&B, jazz, neo-soul and funk, all tied together with his sweetly-husky vocals and matter-of-fact delivery.
"I spent f**king ages on the album," he says over a burger and chips at a pub in Kensington. "Some people don't care about it, but for me the album's feeling – it being cohesive – is so important. And also because I was worried the album wouldn't be that, because it was made over so many years.
"It's been f**king ages, man," he repeats, shaking his head. "I feel like I came on the scene in 2012, signed in 2013, so the latest you'd expect an album from me would be 2015. That was three years ago. It's been a really frustrating time for me. So I'm so happy to finally be releasing a record. Something that almost ties up those years of my life."
Music Box #13: Ady Suleiman
His girlfriend was beginning to get annoyed with him, he says with a grin, because he'd started obsessing over the order of each track: "You wanna take someone on a journey. I feel like each song on the record has equal importance, so there isn't a stand-out single."
As he's speaking, "Red House" by Jimi Hendrix starts to play on the speakers and he stops. "Man, this was the first song I ever learned. My first live performance, when I was 13, was this song."
Picking up on the album again, he adds that he hasn't listened to it since it was finished. Memories is being distributed by Kartel, and he explains that part of the reason behind its delay was working out his departure from Syco.
"It took a lot of time," he says. "I decided I wanted to leave probably a bit before my last tour, and once I finished I just said 'I'm leaving'. The only thing was they spent a lot of money on me, so they came up with lots of ways they could be involved. But this is no disrespect to them – I just didn't want to.
"I always think of it as like being in a relationship. You can be with someone for ages and not want to break up, because you think you have stuff in common. But once you're out there you're like, 's**t, that was a really toxic relationship'. So it took a long time, but I was really glad to finish it by myself."
In 2017, Suleiman began to speak openly about how he had been dealing with issues of mental health – penning a piece for The Independent about his work with the London-based charity CALM (Campaign Against Living Miserably) which helped him through a series of difficult issues, both personal and professional.
He noticed the toll the music industry can take on an artist after experiencing a serious panic attack before a TV interview, and realised just how much stress he had been feeling. There are references to these struggles on the album, but they're subtle, on tracks like the punchy "So Lost", or the achingly beautiful "Not Giving Up".
"As I'm getting older I realise I'm probably quite a sensitive guy," Suleiman says with a laugh. "But all guys have these emotions. I think sometimes it might not be 'cool' to talk about certain things. It's actually a lot easier to be open about them."
He's setting out on a headline tour this month, which will include dates at KOKO in London, Gorilla in Manchester, and the O2 Institute in Birmingham, and will also join rising pop star Anne-Marie on tour in Europe.
"I've played KOKO a couple of times but not as a headliner, so it's definitely gonna be a moment," he says. "I used to hammer stuff down people's throats, and now I want the music to do the talking. See what the record does or doesn't do then go off the back of that. Because I don't know when I'll do another headline tour."
In an industry grappling with constant change, and with its own way of doing things that may not always suit an individual, Suleiman admires artists who stand up for themselves and their music. He praises Loyle Carner in particular, who refused to perform a BBC Live Lounge session after being told the covers he picked "weren't big enough".
"That's why it's sick he's getting recognition," Suleiman says. "You've got the Mercury Prize nomination, the Brits... That album [Yesterday's Gone] could have easily gone under the radar. Also it was so cool he didn't do that session. It's so ballsy, I rate it. And then it turned out in his favour – people supported him. He's got his head screwed on.
"I find the industry quite fake a lot of the time. That's why I like Ben [Loyle Carner] so much, he sticks out like a sore thumb, in a good way. I would never have done that with the BBC, I know how difficult it is. You want the session. So yeah I just rate him."
After the album drops he reckons it's a "free for all" as to what happens next. "I'm really enjoying just writing, being creative. I've got f**king loads of material," he says cheerfully. "I've got a couple of ideas in my head about where I wanna go next, so I think I'm gonna continue having this free, lucid state of mind, and see what happens after that."
What works so brilliantly about Memories is that it could lead Suleiman into going in any direction afterwards, whether it's more of a modern pop sound, or focusing on R&B, or moving over to something that falls more on the side of hip hop. But he laughs when asked if he'd do any rap.
"Obviously I love rap, but I'm not naturally good at that kind of thing, I'm not so good with words. When I was younger I used to get battered all the time, I was like something out of Kidulthood. When that film came out, those characters were my age, so I was like 'that's me!'
"In those moments I'd rap with this guy down the road and we'd have a spliff and start beatboxing. I always had that feeling that I could be all right. But I got to university and kept doing it for fun, and then I got f**king hammered at this party with these MCs.
"I rocked up, took the mic off one of them and started to spit some nonsense. I completely forgot about it, but I went into uni the next day and everyone was like 'haaaaaa!' And I've never rapped since then."
Maybe not a rap album follow-up, then. But even on Memories, Suleiman sings in a kind of freestyle.
"I don't like to differentiate too much, because when I rap it's melodic," he says. "I absorb music and specific sounds – so when I hear rapping, I hear American or London accents, and I mimic that, but I'm not from either place. That's why I sing: it feels more like me."
Memories, the debut album by Ady Suleiman, is out via Kartel records on 9 March
Join our new commenting forum
Join thought-provoking conversations, follow other Independent readers and see their replies