Ballad days: Michael Bolton, the most reviled man in pop
Michael Bolton has sold 60 million records and won a shelf-full of Grammys. So why is he still regarded as the most reviled man in pop? Guy Adams asks him
Monday 28 September 2009 00:00 BST
Comments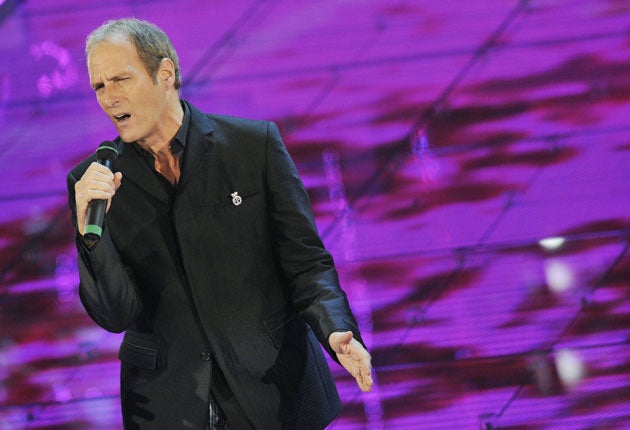 A manly tuft of chest hair pokes out of Michael Bolton's T-shirt as he settles down for cocktail hour at the smart Beverly Hills hotel that, when visiting Los Angeles, he calls home. It compensates for the absence of the famous poodle perm and/or mullet that was for years his trademark, but got abandoned in the late 1990s when he decided to undergo a long overdue image makeover.
Hair is important to Michael Bolton. Not because he particularly cares about it (his own barnet is these days unremarkable: short, blonde-ish, and slightly curly) but because, over the years, it has become a globally recognised symbol of everything that's supposedly wrong with both him, and the power-ballads he inflicts on the record-buying public. Hair is a stick the media uses to beat him.
No matter that Bolton has performed with people like Pavarotti and Ray Charles, and B B King. No matter that he has written songs for Barbra Streisand, and Kiss, and Bob freaking Dylan. No matter, even, that he was recently sampled by Kanye West and Jay-Z. To a sneering cross-section of the pop commentariat, he will always be Michael Bolton: two-bit crooner with a very bad haircut.
This is so unfair that I don't know where to start. Bolton has, after all, sold between 50 and 60 million records. He's won multiple Grammy awards. At 56, he still packs out between 50 and 100 venues a year (in November, he'll play the Royal Albert Hall). His gazillions of fans are decent, loyal people. And they deserve a bit of respect.
It's not even like there's anything wrong with his music. It's rather brilliant. Who hasn't played air guitar to "How Am I Supposed to Live Without You"? Or closed their eyes and mouthed the immortal words "How can we be lovers if we can't be friends?" Who didn't, perhaps during a vulnerable moment, nearly cry at the chorus to "Just One Love"?
Yet in a celebrity career spanning just over two decades, Bolton has encountered unspeakable hostility. Rolling Stone now calls him "one of the most reviled figures in mainstream pop". Blender magazine ranks him third in its list of "the 50 worst artists in music history". In the cult film Office Space he was famously dubbed as a "no-talent ass-clown."
So not long after we've met, and exchanged small talk (he's inquisitive and charming, by the by), we discuss the big question: what has Michael Bolton done to deserve his public image? And does he think it's fair?
His answer is a measure in decorum. "Look," he smiles. "You can't stop people calling you a crooner. There's nothing you can do to stop it. If people only knew my roots, and realised that I once opened for Ozzy Osbourne, or knew about Kanye West, and Jay-Z, they might think differently... But I'm not going to let it affect me, or get me down. And I'm not going to apologise for singing ballads."
Today, Bolton's reputation may receive a richly deserved shot in the arm. He's released a new album. It's his 18th, and includes collaborations with a series of extremely fashionable young artists. There are duets with the glamorous Lady GaGa and Ne-Yo. Several tracks were produced by P. Diddy's influential right-hand man, Mr Shannon "Slam" Roberts.

Enjoy unlimited access to 70 million ad-free songs and podcasts with Amazon Music
Sign up now for a 30-day free trial
Sign up

Enjoy unlimited access to 70 million ad-free songs and podcasts with Amazon Music
Sign up now for a 30-day free trial
Sign up
The record, One World, One Love, is his first batch of new material since 2005, and marks something of a return to form. Among the highlights within the 12 tracks are a delightful, reggae-ish number called "Can You Feel Me" and a cute love song titled "Hope it's Too Late". He's also covered what is surely the most underated record of the 1980s: Terence Trent D'Arby's "Sign Your Name".
Bolton wrote much of the album on his Iphone, while charging between his home in Connecticut and the luxury hotels where he lives when touring. Most of the producers who worked on it are in their twenties – a young line-up chosen because he wanted the album to represent an optimistic musical antidote to the downtrodden mood of the times.
"There's so much negativity out there," he notes. "Throw the economy in as a problem in anyone's life, and everything else they're working on and hoping on is threatened. Your entire belief system is threatened... Music makes people feel good, and they need this, so our mantra with this record was 'no heartbreak songs'. People need their endorphins releasing."
Of course, "heartbreak" songs epitomised Bolton's golden era, and allowed his honey-soaked voice to capture a generation of female hearts. Their absence from One World, One Love is doubly surprising, since last August Bolton suffered his own heartbreak: somewhat publicly, he split from his fiancée, Nicolette Sheridan, the Desperate Housewives actress.
If one were to psychoanalyse the record, one might wonder why it's full of songs about falling in love – when Bolton wrote it when he was spectacularly falling out of love. "I never, ever let my personal life dictate the next ten songs I create," is Bolton's explanation. "My private thoughts don't have to always be what I'm expressing to the masses through music."
Maybe not. Yet a portion of Bolton's appeal has always been the sincerity with which he belts out lyrics. And, as it happens, his "personal life" has certainly had an impact on his appearance: since separating from Sheridan, he has been pursuing a rigorous fitness regime.
"I've been getting in shape. I've lost ten pounds in the last ten months through training, running, weightlifting," he informs me. "The cardio-vascular stuff's the most important. It makes you vital. Gets blood to everywhere it's supposed to." He does, indeed, look splendidly buff.
But back to the album. It has already stolen headlines thanks to the involvement of Lady GaGa. Pop's woman of the moment teamed up with Bolton last year, when she was a little-known record producer and the record label thought they might make a good songwriting match. The result was a track called "Murder My Heart".
"I'd listened to some of her stuff, and thought it was great. So we hooked up," recalls Bolton. "I walked into the studio and saw this creature in provocative clothes, with cups, and a short dress and boots. She looked like she was ready to go on stage. She looked like a star. With big glasses."
"We hit it off immediately and wrote the song overnight. One of the first things I said when we met was, 'you know, if you and I are going to write a song, it's going to have to slay people'. She replied 'you murder my heart!' That became the title."
When news of the collaboration broke last month, it got a mixed reaction. The Hollywood blogger Perez Hilton wondered what she was doing with a man he has dubbed a "douche". Bolton wasn't upset – "Welcome to my life!" he says – and hopes the track may entice teenagers discover his work.
As it happens, Bolton has been criss-crossing genres for years. Brought up in Connecticut, he learned his trade after his parents bought him a cheap guitar at the age of 12 (he's self-taught and remains unable to read music). For much of the 1970s he played in a hard-rock outfit called Blackjack, who once supported Ozzy Osborne.
He joined Columbia Records as a solo artist in the early 1980s, where, to earn a crust while churning out "hard rock, wall of sound stuff," he began writing love songs for other artists. It was in that capacity that he wrote "How Am I Supposed to Live Without You", which became a hit for Laura Branigan.
By his mid-thirties he'd produced two terribly unsuccessful solo albums. "After the second one bombed, the president of Columbia said 'we need a meeting'." It was 1986. "I thought I was being fired. But instead, he said: 'these songwriting demos floating around my office... the secretaries love them and they love your voice. From now on, that's what you should be about."
Following this advice, Bolton hit the big time the following year with The Hunger, which became a quintessential "bedroom" album of the late 1980s. "People often ask 'how do you feel that people are being conceived to your music?'" he notes. "Well, I feel good about it. Naturally."
Since then, he's released a steady stream of original material, interspersed with more derivative projects (his last record was an album of Sinatra covers). In future, he has plans to make at least one blues album. But his main priority is to stay on the road, performing and touring "as long as I live".
"I worked with Pavarotti and saw what he did to keep his voice in shape. So I understand that you can't have a career that long without living a certain way. You must become a life support system for your voice... I now don't hang out with the band after the show. I don't go partying. I'm too much of a workaholic."
Bolton, then, is the very epitome of a contented pop star in his tea-time years. The only time the veneer of happiness slips is at the moment when I ask, as we get up to leave, if he has any of the workaholic's usual regrets. After all, his only marriage, to Maureen McGuire, mother of his three daughters, never worked out (they divorced in 1990); two relationships with Sheridan (they were together for several years in the 1990s) both ran their course.
"The river of regret... let's go down that one," he says, suddenly turning serious. "Anybody in the arts, anybody I know in music, film, painting, any authors, composers... They try to do the best they can, to raise their family in a way that they'll be present and felt as present. But the reality, as we know, is that they are artists. And their heart is only really pounding in that recording studio. And I've tried, really I have."
So that's Michael Bolton... An artist who after all these years is loved by many, loathed by a few, respected in the music industry, and – just about – at peace with himself.
'One World, One Love' is out now
Join our commenting forum
Join thought-provoking conversations, follow other Independent readers and see their replies