The 40 best albums of 2020, from Bob Dylan's Rough and Rowdy Ways to Taylor Swift's Folklore
Despite the music industry being one of the worst-affected sectors during the pandemic, artists have gone above and beyond with albums to help us get through it. The Independent picks its 40 favourites
Friday 18 December 2020 15:27 GMT
Comments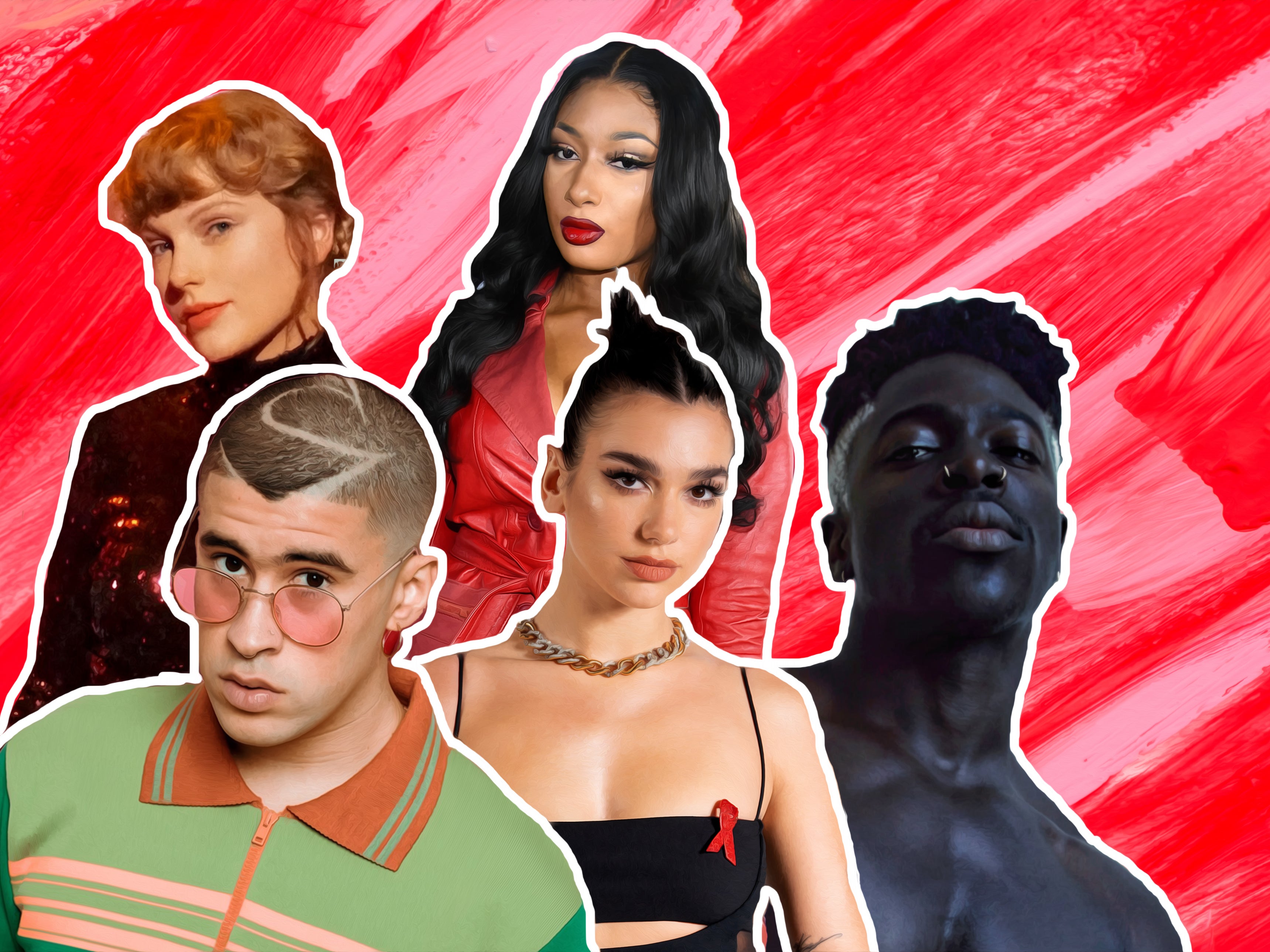 Leer en Español
The word "unprecedented" was thrown around a lot in 2020. And in many ways, yes, it was a year of firsts. We went through summer without trying to second-guess the weather for festival season. Clubs and music venues were shut down all at once. Taylor Swift, who once planned her release campaigns like a military general, dropped not one but two surprise albums.
In other ways, though, it was a year of returning. People found themselves reconnecting with old friends, family, and with nature. Artists explored this in myriad ways on the albums that have helped keep us sane throughout the pandemic – from the maximalist dance-pop that turned kitchens into nightclubs, to the introspective records that asked what we're left with when the familiar is taken away.  
It's been a particularly strong year for female artists. Rapper Megan Thee Stallion showed strength of character in her defiant, brilliant debut Good News, while Welsh electronic artist Kelly Lee Owens made a convincing case for solitude. Lady Gaga, Dua Lipa, Georgia, Jessie Ware and Róisín Murphy gave us music to dance to, as Phoebe Bridgers, Charli XCX, Adrianne Lenker, Hayley Williams and Fiona Apple refused to oversimplify their complicated emotions.  
There were some fantastic band offerings, from Fontaines DC to Code Orange and Everything Everything. For rap, too, it was a good year for artists who chose to defy dominating trends and take risks instead. Musicians Moses Sumney, Perfume Genius and Bad Bunny undid the trappings of toxic masculinity, while veterans such as Bruce Springsteen and Bob Dylan, each in their own way, found ways to provide comfort.  
From Latin trap to industrial metal, country and disco to all-out pop, here are The Independent's albums of the year 2020.  
Reviews by: Helen Brown, Roisin O'Connor, Alexandra Pollard, Mark Beaumont, Elisa Bray, Adam White, Brittny Pierre and Bessie Yiull
40) Soccer Mommy – Color Theory
On Color Theory, Sophie Allison ruminates on childhood, mental health and family issues with a newly refined sound. Over nostalgic, jangly guitars, she describes how she "can't erase the hue" of her terminally ill mother's eyes – an image anyone who's had to deal with the death of a loved one will find haunting. Her choruses are catchy, always, and appear like rays of early morning sunlight on an album that isn't afraid to toy with the dark. BY
39) Victoria Monet – JAGUAR
With just eight tracks, JAGUAR makes for a short yet thrillingly sexy listening experience, incorporating glittery disco and mellow funk. Often, she adopts what would be described as a traditionally masculine gaze: confident, brash, assertive. Monet knows what she wants and exactly how to get it. Certain songs are so explicit – delivered in silky, honeyed vocals – that they're likely to make Monet's audience blush. JAGUAR is a seductive debut that marks her as a driving force among the new R&B generation. BP
38) Hayley Williams – Petals For Armor
Insular and sparse, with a distorted funk that feels deliberately disorienting, Petals for Armor is far from the foot-stomping stadium anthems of early Paramore. On songs like "Cinnamon" and "Sugar on the Rim", there's an uncomfortable edge to Williams's melodies. Just like Fiona Apple or St Vincent, she refuses to put an easy score to her own complicated emotions. AP

Enjoy unlimited access to 70 million ad-free songs and podcasts with Amazon Music
Sign up now for a 30-day free trial
Sign up

Enjoy unlimited access to 70 million ad-free songs and podcasts with Amazon Music
Sign up now for a 30-day free trial
Sign up
37) Code Orange – Underneath
Code Orange's Grammy-nominated 2017 album Forever was a blistering hellscape, which makes 2020's Underneath a glitchy, industrial wasteland. A number of tracks are loaded with distorted, often indecipherable vocals, but the US band have chosen to leave other areas clean, with more melody and greater calm between the maelstroms. At its core, Underneath is about peeling back the layers and discovering what's beneath the surface – whether you like what you find, or not. ROC
36) Nadine Shah – Kitchen Sink
Kitchen Sink serves up the keen social observations heard on Shah's 2017's Mercury-nominated Holiday Destination, which delivered brooding post-punk about the refugee crisis. And while Shah's never been afraid to speak her mind, Kitchen Sink manages to make the most intimate details of everyday life seem expansive and profound. It's a strong cocktail, garnished with a lemon twist of her signature wry humour. ROC
35) Charli XCX – How I'm Feeling Now
Over the past 10 years, Charli XCX has developed a sort of "one for me, one of them" attitude to popstardom, dancing on the edge of mainstream one moment and plunging underground the next. How I'm Feeling Now falls into the latter camp: brash, uninhibited, adventurous. Just like lockdown itself, How I'm Feeling Now can be overwhelming – panic-inducing, even – when taken as a whole. It's a real achievement. AP
34) Lianne La Havas – Lianne La Havas
While most pop stars went maximalist for a year that emptied out every club, bar and music venue, Lianne La Havas stripped it all back. Her dreamy, self-titled third album – inspired by a whirlwind romance and consequent breakup – places La Havas's soulful, crooning voice at the heart of it, while adding gorgeous textures to the instrumentation. Throughout, she lays herself bare; the vulnerability on this record makes for an incredibly powerful listen. ROC
33) Georgia – Seeking Thrills
On Georgia's second album, she pays homage to the intoxicating freedom of the dancefloor. Drawing heavily on the Chicago house and Detroit techno of the Eighties, Seeking Thrills is a heady dose of sonic nostalgia. "Honey Dripping Sky" is the comedown after the party atmosphere of the preceding tracks. Georgia splices the beat and twists the synths into an eerie doomscape, yet it's strangely comforting – her reminder that while this night may have ended, there's always tomorrow. ROC
32) The Big Moon – Walking Like We Do
Where the London four-piece's accomplished debut shrouded its pop sensibility in fuzzy guitars and drum fills, Walking Like We Do is less ramshackle. Those wry lyrics and sugar-rush melodies are still there, but the guitars are more muted, the production a little crisper. Folding in worldly worries – about politics, class and the climate crisis – with the quotidian niggles that come with being a person in your late twenties, it's an album to be proud of. AP
31) Chris Stapleton – Starting Over
The country music star successfully reconciles his more rebellious side with his salt-of-the-earth, homebody character. As ever, Stapleton's songwriting is economical, and he tackles favoured themes with a weathered sensitivity; production from his long-time collaborator Dave Cobb, another of Nashville's finest, is never over-embellished. Even among the country music gems already released this year, Stapleton's feels like a small miracle. ROC
30) Bob Dylan – Rough and Rowdy Ways
Dylan's first new material since 2012's Tempest is a folksy recitation of literary and pop references sprawling over long, ramshackle songs. Its minimal (mostly acoustic) melodies sway back and forth like curtains in a light breeze. Quotes from Homer, Shakespeare and Blake are shuffled with winks at Stevie Nicks and Patsy Cline. It's a soothing fit for the lockdown mood in which time and meaning feel strangely stretched and untethered. HB
29) Kelly Lee Owens – Inner Song
On her second self-produced album, Inner Song, the Welsh artist explores what remains if humans are taken out of the equation. The electronic pulses and rhythms that drive the record are far from artificial: they mimic – occasionally even sample – the sounds of a nature that is alternatively thriving or at risk. Throughout is a sense of wonderment at being alone. Perhaps solitude is an underrated pursuit, but with Inner Song, Owens makes a highly convincing case for it. ROC
28) Lady Gaga – Chromatica
Musically speaking, Chromatica is a return to the kind of big, brazen pop that Gaga has barely touched since 2013 (with the possible exception of "Perfect Illusion", the weak outlier of Joanne). Rejecting the sparse, passive-aggressive thumps that have proliferated pop's mainstream while Gaga's been away from it, the album has beats that wallop you round the head. For 16 tracks, it barely takes a breath. AP
27) Jessie Ware – What's Your Pleasure?
As the title would suggest, Jessie Ware's What's Your Pleasure? is not a shy album – although it might send you a coy wink before asking for your number. The London-born singer's fourth record is a shimmering paean to the hedonistic abandon of funk, and brings together a team of musicians who share her love of a good groove. What's Your Pleasure? reveals the magic that happens when an artist feels truly free. ROC
26) Everything Everything – Re-Animator
On their fifth and best record, Re-Animator, Everything Everything turn away from their past political diatribes, and explore the human mind instead. The celestial "Planets" builds towards the tender "Birdsong", a moment of clarity on an album that rarely sits still. Re-Animator packs global anxiety and paranoia – but also the beauty in nature – into exquisitely crafted songs. A superb album. ROC
25) Rina Sawayama – Sawayama
Sawayama takes the music Rina Sawayama listened to while growing up in north London and reformats it through an eclectic modern-day prism. The album makes its daring clear from the start with the arresting "Dynasty" – a live favourite among her loyal "Pixels" (her followers) – which splices Evanescence-style nu-metal and a pop sheen. The guitars are still more abrasive in the aggressive "STFU!", a riposte to racism that delivers its most stinging lyrics in sugar-coated vocals. Sawayama stakes the 29-year-old's claim as one of the boldest voices in pop today. EB
24) Thundercat – It Is What It Is
"Dance away the pain," Thundercat sings on "Miguel's Happy Dance". "It's gonna be alright… just do the f***ing dance." Despite its complex structures and zigzagging rhythms, this music is entirely human, veering from an almost claustrophobic sense of grief into a deeper contemplation of mortality. The artist born Stephen Bruner acknowledges he cannot change things, but at the same time legitimises his own struggle to accept that. Not all things are meant to be understood. ROC
23) Empress Of – I'm Your Empress Of
I'm Your Empress Of is a bold statement of Lorely Rodriguez's individuality, nodding to her Honduran heritage but also her clear love of electronic music and Chicago house. Whether from the background chatter on "U Give It Up", or the euphoria that rushes through her agile vocals on closer "Awful" – this is an album that bristles with life. ROC
22) Bruce Springsteen – Letter to You
Springsteen intended to tour right after this album was released. The plug has obviously been pulled on those plans for now. But for those missing the electricity of live music, the seasoned connectivity Letter to You delivers something very close. He offers the communion of music as a way to rise above and beyond material misery. "Brother and sister wherever you are," he sings, in a way that makes you feel his hand clapped to your shoulder. HB
21) Phoebe Bridgers – Punisher
Punisher is both poetic and prosaic, like a dusty drive along a dirt road. Collaborating on EPs with Julien Baker, Lucy Dacus and Conor Oberst has both sharpened and broadened Bridgers's songwriting. There is room to breathe, but never any empty space in her songs, on which the aforementioned artists all appear. The album ends with a thunderstorm of manic, discordant brass and drums and a pained scream, the physical culmination of the undercurrent of doom that has lurked throughout. But you emerge feeling not deflated but purged. Punisher has the effect of a particularly pummelling massage. AP
20) Megan Thee Stallion – Good News
Megan Thee Stallion was still recovering from a gunshot wound when she dropped Good News, a surprise debut that reasserted everything fans already knew her to be. Confident, brash and frequently triumphant, Good News melds the Houston rapper's irrepressible nature with her inherent musicality. She addresses the shooting, allegedly by Tory Lanez, then swiftly moves on, all the while steadfastly refusing to cater to hip hop's 2020 trends. This is an album that will stand the test of time. ROC
19) Fontaines DC – A Hero's Death
Fontaines DC are a band very much aware of how good they are, but also wary of the damage hype does to artists aspiring for longevity. This transpires on their second album, A Hero's Death, written immediately after the Dublin-formed five-piece's Mercury Prize-nominated debut, Dogrel, was completed. On the feedback-flecked "Living in America", frontman Grian Chatten makes clear his distrust of fawning critics, while "You Said" lays the band's vulnerabilities out on the mortuary slab. It's a relief to find that – despite Fontaines DC's own misgivings – they still have plenty more of note to say. ROC
18) The Avalanches – We Will Always Love You
Well versed in giving dead artists new life through the resurrective power of sampling, Robbie Chater and Tony Di Blasi have forged We Will Always Love You as a mature exploration of their concept of "forever voices". They've tempered their youthful party vibe to contemplate themes of the afterlife and cosmic profundity. The result is a 70-minute journey into the great sonic beyond. MB
17) J Hus – Big Conspiracy
Where Hus's 2017 debut, Common Sense, was imbued with a charming sense of carefreeness, Big Conspiracy is brooding and weary. You picture him looking over his shoulder on the silky "Helicopter"; his low murmur mingles with guest artist iceè tgm's hypnotic lilt, as a sullen bass hook skulks beneath them. Falling victim to an album leak didn't strip Big Conspiracy of its potency. "I know my skin looks fresh but I come from the mud," Hus preaches on the uplifting closer "Deeper than Rap", which addresses his own flaws as well as society's. Big Conspiracy is Hus's second chance – an album that proves he's just as essential a part of UK music today as he was three years ago. ROC
16) Róisín Murphy – Róisín Machine
There's a delicious tension that runs through Róisín Murphy's shuffling, sweaty solo album, Róisín Machine. "Simulation", the proto-house epic of an opener, is a career-best built on pumping beats; "Kingdom of Ends" is a tribute to late cultural theorist Mark Fisher, who once described Murphy as pop's "exiled princess of glam". Here, she fulfils Fisher's vision of her, as that rarest of artists able to balance the intelligent with the superficial. She revels in it, insatiable on "Something More" then infatuated on "Game Changer". As ever, Murphy is always one step ahead. ROC
15) Grimes – Miss Anthropocene
Grimes has succinctly described her third major-label album, Miss Anthropocene, as the tale of "the anthropomorphic goddess of climate change", who is a "psychedelic, space-dwelling demon/beauty-queen who relishes the end of the world". In execution, it's nowhere near as exhausting. It sees Grimes pull from many of the sounds that have made her one of pop's most inventive artists, her voice elastic and fibrous over industrial-rock synths, acoustic guitar and bubblegum squeaks and gurgles. In its chaos is its own sense of odd cohesion. AW
14) Bill Callahan – Gold Record
Bill Callahan has been easing into a warmer and more open relationship with the world since 2007, releasing the lush, romantic album Dream River in 2013, wedding filmmaker-turned-therapist Hanly Banks in 2014 and becoming the father to a boy he christened "Bass" shortly afterwards. Songs such as "Cowboy", on which Callahan sings soporifically of a simple life that only requires "whisky, water, tortillas and beans", give a sense of him looking back indulgently at a younger version of himself. His voice remains steady and patient against a sleepy hoof-swaying guitar, whistle, and spaghetti western trumpet. It's a deftly woven and cosily feathered little nest of songs. Settle in. HB
13) Run the Jewels – RTJ4
RTJ4 is the culmination of the hip-hop duo's near-30 years of experience, during which time they have observed, listened and reacted. Their anger, hurt, elation and love – along with their near-psychic ability to read and riff off one another's thoughts – build to the radioactive "A Few Words for the Firing Squad (Radiation)", the album's astounding apex. Out of the menacing strings and pounding, thrash-influenced drums comes the piercing squalls of a saxophone, a salute to the blues that fades then flips to a juddering refrain. "There's a grenade," gospel legend Mavis Staples howls. Run the Jewels have pulled the pin. ROC
12) Mac Miller – Circles
Like 2018's critically acclaimed Swimming, Circles is drenched in languorous grooves and buzzy synths – only here, the late Pittsburgh rapper Mac Miller seems more at peace with himself. It opens on the sun-dappled title track, electric guitar thrumming on a see-saw hook. There's plenty of whimsy on "Complicated", as Miller sings of cloudy skies over synths loaded with psychedelic fuzz; on the cheerfully glum "Good News", meanwhile, he sharpens his teeth to recall the mordant bite of Randy Newman. On Swimming he was adrift, searching for a lighthouse beam that would bring him back to "a place of comfort". On the posthumously released Circles, it sounds as though – if only for the briefest of moments – he found it. ROC
11) Bad Bunny – YHLQMDLG
Puerto Rican artist Bad Bunny asserts himself as a pioneer of Latin pop by delving into its past on his second, superb solo album. Opening with a track that samples Antônio Carlos Jobim's "The Girl from Ipanema", the rapper and singer goes on to enlist reggaetón figureheads like Daddy Yankee and Ñengo Flow. Where other Latin stars have stuck to old stereotypes, Bad Bunny flips them, addressing double standards on "Yo Perreo Sola", about a woman who wants to dance on her own without being harassed. And the production is outstanding, allowing the record's melange of influences to create a party atmosphere without losing its cohesion. ROC
10) Taylor Swift – Folklore
Taylor Swift's 2019 album, Lover, was a return of sorts to her lush, romantic compositions of old. Those songs were visions of spring in pastel pink and purple, following the winter storms raging on Reputation. Folklore, then, is the hot ache of late summer, where infatuation and nostalgia thrive; the scent of woodsmoke and red wine hangs in the air. Written and recorded in isolation, it includes collaborations with Swift's "musical heroes" – The National's Aaron Dessner, Bon Iver, and her frequent songwriting partner and co-producer Jack Antonoff. There are no pop bangers here, just exquisite, piano-based poetry. ROC
9) Adrianne Lenker – songs
Both songs and instrumentals, Lenker's two 2020 solo albums, had her so close to nature that she would lie in the dirt while recording. On "come", the sound of rain pattering on the cabin roof they recorded in precedes the cold-water shock of Lenker's eerie vocals, delivering stark lyrics like last rites. "Zombie girl" has windchimes and bird song, as Lenker evokes the gorgeous phrasings of Bonnie Raitt. Songs was created because Lenker was, as she puts it, "on a whole new level of heartsick". It's excruciating in its honesty – even for Lenker, who's hardly known for shying away from her feelings. Now she bares her pain with complete abandon. It's quite extraordinary. ROC
8) Sufjan Stevens – The Ascension
Sufjan Stevens was forced to leave much of his equipment in storage when a rat infestation forced him to move from his New York studio to the Catskills, where he noted the locals embraced a "stay positive/get the job done" philosophy. So lovers of Stevens's quirky, literate lyrics will notice many songs on The Ascension orbit around cliches. The opening track is called "Make Me an Offer I Can't Refuse". Others are called "Die Happy" and "Run Away with Me". As a huge fan of Stevens's exquisitely personal and musically detailed 2015 album, Carrie & Lowell, I wasn't sure I'd love the trippy new Macro sound. But I was rendered wonderfully weightless by a journey that delivers whole galaxies of nuance in a universal context. Trust me: the force is strong in this one. HB
7) HAIM – Women in Music Pt III
Best known for their sunny, classic-rock-indebted sound, the Californian Haim sisters have travelled a dark road to make their third album. So you might expect Women in Music Pt III to be a more difficult brew than the bubbling, amber festival beer of the band's first two releases. But, while incorporating refreshing new sounds, it turns out to possess a surprisingly easy-going effervescent sound – reflecting the fearless fun the sisters were surprised to experience on releasing those uncomfortable feelings. This works best on depression-tackling tracks like "Now I'm In It" and the standout "I Know Alone", whose murky glitches and neon pulses have the night-driving noir of The Weeknd in the rear-view mirror. Haim take us through a dark place and they do it frankly. But they never let the momentum dip. And they never lose sight of the light at the end of the tunnel. HB
6) Perfume Genius – Set My Heart on Fire Immediately
Over the years, Perfume Genius has honed a decadent and sensuous style of pop-rock. With trusted producer Blake Mills (Fiona Apple, Laura Marling), the artist born Mike Hadreas ensures that each and every note on his new album, Set My Heart on Fire Immediately, lands with devastating precision. These 13 tracks are finely wrought works of art that draw as much influence from Purcell and Mozart as they do scuzzy Nineties post-punk. On "Jason", against the genteel camp of a clavichord, he adopts a motherly tenderness when faced with another's inexperience and self-loathing. There's a silver thread woven into each of these songs; Hadreas pulls and they move like a single breathing thing, just as bodies do when they're pressed against each other, then released. ROC
5) Moses Sumney – Grae
Released in two parts, Grae branches into themes of masculinity, encapsulated by the propulsive "Virile", where a satisfying contrast of textures incorporates a growling drone, soft flute and Sumney's angelic vocals. When the album shifts into its second part, and turns inwards with a slower pace to match its vulnerable introspection, there's no jolt: Sumney's voice ensures that his soundscapes melt together. Flourishes of jazz flute and brass add warmth to "Two Dogs", which showcases the acrobatics of his vocals as they glide effortlessly from falsetto vibrato to rich baritone. And the euphoric dreaminess of "Bless Me" – could there be a more heavenly gospel-cloaked crescendo on which to wrap up this astonishing feat? EB
4) Laura Marling – Songs for Our Daughter
Laura Marling's previous albums have been grounded in evocative storytelling, her airy meditations on love, age and experience set against pastoral guitar landscapes. Not for nothing was she hailed, on more than one occasion, the voice of a generation. Subtler than her previous works, the music of Songs for Our Daughter is as fragmented and beautiful as stained glass. 
By now fans are more than familiar with Marling's virtuosic guitar playing and the way she can skip from twangy, Seventies Americana to the deft finger-picking of trad-English folk. "Lately, I've been thinking about our daughter growing old/ All of the bulls*** that she might be told," she sings, as violins courtesy of Rob Moose (The National, Bon Iver) make this in part an elegy for her own experiences. What a marvel this album is. ROC
3) Waxahatchee – Saint Cloud
There's always something tempering the beauty of Waxahatchee's music. I mean that as a compliment: on the American singer-songwriter's fifth album, Saint Cloud, luscious melodies are undercut by a lingering unease, sentimentality by steeliness.
The glorious "Fire", which starts with plaintive keyboard strains, might have been described as "lovely" were it sung down an octave. As it is, with Waxahatchee (real name Katie Crutchfield) stretching to the upper limits of her range, her voice sounds like a match being struck. Her lolloping delivery on "Lilacs" – "and the lilacs drank the water/ and the lilacs die/ and the lilacs drank the water/ marking the slow, slow, slow passing of time" – is Bob Dylan by way of Lucinda Williams. On "The Eye", which sounds like the sun rising, Crutchfield professes, "I have a gift, I've been told, for seeing what's there." For singing about it, too. AP
2) Dua Lipa – Future Nostalgia
Dua Lipa's sensational second album Future Nostalgia channels the zingy, electro-ambitions of the 1980s with remarkable freshness, given that the decade's revival has now lasted about twice as long as the original period. Her nods to Madonna, Olivia Newton John, Prince, Debbie Harry and Nile Rodgers are direct and unblinking – mercifully free from the raised eyebrow of irony so often used to give retro sounds a modern topspin.
She keeps a leather-driving-gloved command over the wonky synths of "Levitating" and "Hallucinating" and the spacey spangle glitter gel noises of "Cool" – on which she sings of "burning up on you/ In control of what I do/ And I love the way you move." It's invigorating to hear her use samples like barbells – lifting and flexing with them, not dancing around them like ornamental handbags. But I also love her use of the sexy-stuttering riff from INXS's booty-call classic "Need You Tonight" on "Break My Heart". You can picture whole families dancing to this together as kids' and parents' musical coordinates intersect. HB
1) Fiona Apple – Fetch the Bolt Cutters
Fiona Apple's fifth album, Fetch the Bolt Cutters, is about "women", she says, and "not being afraid to speak". She never has been. Since she broke out with her debut album Tidal in 1996 – swiftly rejecting the industry's sleazy embrace in the form of a scathing speech at the MTV Video Music Awards – Apple has made music that's as fierce and mighty as a branding iron on fresh, white linen. Her songs have the sinister drama of a Sondheim musical, the technique of a classical symphony played backwards, and the titanic power of a pop song.
Named after a line uttered by Gillian Anderson in the BBC drama The Fall, Fetch the Bolt Cutters is no different. Manic descants, discordant pianos and abrupt changes in time signature at once complement and compete with each other in a carefully crafted clatter.
This is an album laced with defiance. Perhaps never more so than on "Under the Table", on which she warns, "Don't you, don't you, don't you push me". "Kick me under the table all you want," she smirks on the refrain. "I won't shut up." Good. AP
Join our commenting forum
Join thought-provoking conversations, follow other Independent readers and see their replies