The top 20 rock & metal albums of 2017
2017 has been an extraordinary year for rock, metal and alternative music. Here we count down our favourite albums of the past 12 months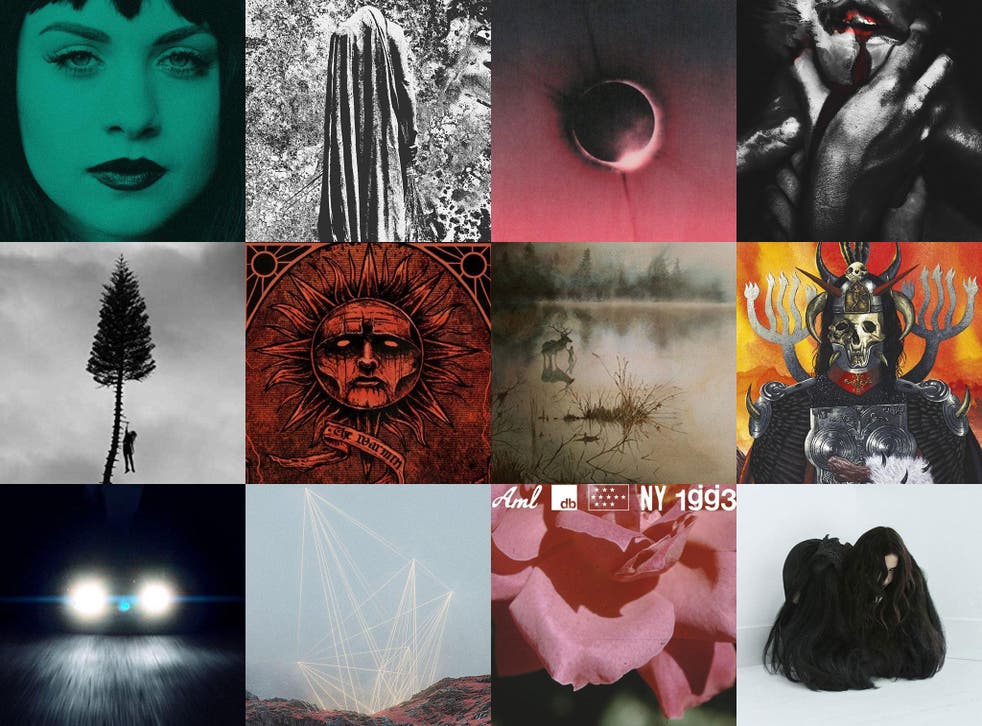 The past 12 months have been a fertile period in rock music, with some incredibly impressive, new bands bringing fresh ideas to the table as well as veteran acts continuing to evolve and cover unexplored ground. The following list represents some of the very best releases of the year, whether they be math, punk, doom, post-rock, metal, hardcore, sludge, psychedelia or prog.
Regardless of categorisation, one thing is becoming abundantly clear; as genre boundaries continue to increasingly blur, alternative music is becoming an ever-advancing experimental playing field that continues to break the rules and innovate.
20# Quicksand – Interiors
It's hardly ever a good idea for bands to write new material after a lengthy hiatus; the resulting reunion tour might bring in a hearty cash injection but the results of a new album after such a protracted absence will most likely fail to recapture the magic and you run the risk of tarnishing the legacy of your twilight years. The members of New York post-hardcore legends Quicksand were perfectly aware of the trials inherent in making their first album since 1995's Manic Compression. And yet, despite the odds being dead set against them, they're third album and first after 22-years not only leaves their legacy intact, but adds to it.
There's a youthful vigour and exuberance on tracks such as 'Under The Screw' and 'Illuminant' that belies the fact that the members of Quicksand are fast approaching their 50s. Crucially, Interiors doesn't attempt to recreate the past; the time frontman Walter Schreifels has served in a whole cavalcade of other projects (Rival Schools, Vanishing Life and Walking Concert to name but a few) has clearly influenced the direction this new material takes. Similarly, bassist Sergio Vega's stint in Sacramento alt-metal legends Deftones might explain Quicksand's newly discovered sense of dreamy, reverb-drenched ambience that permeates across many of these tracks, achieved most expertly on the wonderful, shoegaze daze of 'Cosmonauts', a song that is immediately propelled to one of the finest in the band's catalogue.
19# Anathema – The Optimist
Anathema have long shed their gothic doom metal roots and become something far more compelling as time has gone on. Each album has shown a gradual progression and thankfully, this shows no signs of stopping on their 11th full-length The Optimist. Taking the experimental electronic flourishes from the latter half of their previous album Distant Satellites and running with them, The Optimist picks up on a story the band left behind 16 years ago on their critically acclaimed sixth album A Fine Day to Exit.
At its best, the band's latest album evokes the same melancholic beauty of Radiohead, such as on the driving Can't Let Go or the mournful piano jazz swing of Close Your Eyes, but like most of their albums, The Optimist is best enjoyed as a whole rather than as separate tracks. One of the hallmarks that makes it stand out in the band's vast back catalogue is the core Cavanagh brothers, Vincent and Daniel, taking a step back from vocal duties in order to bring the dazzling talents of Lee Douglas to the fore. Her other-worldly vocals on 'Endless Ways', 'Ghosts' and 'Springfield' add a celestial frailty that fits Anathema's delicate elegance perfectly.
18# Pallbearer – Heartless
Little Rock doom metal merchants Pallbearer have already garnered high praise for 2012's Sorrow and Extinction and 2014's particularly lauded Foundations of Burden. With Heartless, they've managed to at once expand and refine the prog elements that make them one of the most beloved new acts in metal. Not one of the album's 7 songs is below 5 minutes in length, with two coming in comfortably over the 10-minute mark, but the songs feel epic as opposed to long. This distinction is important; whilst gloriously grandiose, Heartless never feels meandering or laborious, particularly once the stoner ambience draws you in and puts you under its spell.
Heartless was recorded entirely to analog tape and it shows in a tasteful, warm production that instantly evokes the classic metal tones of the 70s. This familiar, inviting quality and the lack of any screamed vocals what-so-ever gives Heartless one of its greatest strengths; there's nothing on here that will scare away fans of traditional heavy metal and yet, the quality of song writing and composition elevates this far above any sort of throw-away, nostalgia trip. Pallbearer have been wowing the underground for at least half a decade now and hopefully Heartless will provide the slap in the face the mainstream needs to tune their ears in to their spellbinding grooves.
17# The Physics House Band – Mercury Fountain
It took four years for Brighton's experimental math-prog-rock-architects The Physics House Band to follow up their debut release Horizons / Rapture, a record that garnered them so much praise, they were instantly recognised as one of the brightest beacons in the underground UK math scene, this despite the fact that their first record was a mere 25 minutes. Mercury Fountain only ups the minute count by 5, but the sheer amount of ideas and concepts it crams into its psychedelic half hour is more than some bands achieve in an entire career.
Enjoy unlimited access to 70 million ad-free songs and podcasts with Amazon Music Sign up now for a 30-day free trial
Sign up
The mind-bending riffs that warp in, out and around 'Surrogate Head' require a doctorate to fully comprehend whilst 'Obidant' is the three piece at their most angular and unhinged, a wild cacophony or sax, guitar, bass, drums and electronics that makes The Mars Volta seem almost pedestrian.
All three members of the band are enormously proficient at their respective instruments but special mention has to go to drummer Dave Morgan, who assaults his kit as if it just insulted his mother. The Physics House Band are not for everyone; many will see their erratic widdling as self-indulgent and pretentious. If you seek music that deviates from traditional structures and sonics however, they might become your new favourite band.
16# '68 – Two Parts Viper
Possibly the most atypical, avant-garde duo in rock music today, '68 are constantly throwing inventive original ideas into the mix that often astound and confound in equal measure. It's hardly surprising when you consider that Josh Scogin was once frontman with confrontational, individualistic metalcore heroes The Chariot and this second album from his latest project allows him even more space to experiment with his deranged, crackpot ideas.
'68 pull off feats that would seem preposterous and foolish in most other bands hands; few vocalists could pull off the soliloquy that stops No Apologies in its tracks with as much style and aplomb as Scogin does. When they're not choosing to beguile and confound, '68 can write a hell of a tune as well; Without Any Words (Only Crying and Laughter) evokes Bleach-era Nirvana, particularly the tender lament of Cobain's About A Girl, whilst album closer What More Can I Say finds a startling melancholic beauty in backwards guitars and a frenzied maniacal vocal delivery that borders on heart-breaking.
On the undeniable ass-shaker that is Whether Terrified or Unafraid, Scogin, backed up by a melodious choir screams I could have been anyone from anywhere but I chose to be me. Considering his status as one of the most unique, creative and refreshing people in music, it's a blessing that he chose to be himself.
15# Employed To Serve – The Warmth of a Dying Sun
Less frenetic than its predecessor 2015's Greyer Than You Remember, The Warmth of a Dying Sun is still deliriously heavy, spewing forth riffs that hit with unrelenting precision and worm their way into your subconscious. Music this heavy is rarely able to be catchy whilst remaining uncompromisingly brutal, but Employed to Serve have taken the groove elements of greats such as Pantera and Sepultura and mixed in their own unhinged frenzied savagery to create a turbulent ferocious cocktail of riffs, screams and beats.
It's a huge progression for the one of the UK's most promising progenitors of nasty, feral hardcore; songs such as The Warmth of a Dying Sun, Lethargy and in particular, the outstanding, exposed and honest album closer Apple Tree hint at the elements that push the Woking quintet above and beyond their peers. Further exploration of these aspects will no doubt cement them as one of the best hardcore bands the UK has ever seen.
14# Blood Command – Cult Drugs
Norway's Blood Command have been mixing hardcore, pop-punk, disco, dance, funk and mariachi into an explosive cocktail since 2008 (incidentally, the band's ringleader Yngve Andersen simply refers to their heady blend as 'deathpop', which isn't a bad succinct moniker). Whilst the formula was fairly robust to begin with, they've made incremental improvements with each successive release, gradually honing and refining their distinctive style into something truly special.
It's been five years since the band's last album, the spectacular Funeral Beach, and half a decade would be enough time to put most bands on ice. Not so Blood Command, who have retained a sense of loyalty from creating one of the most unmistakable sounds in...whatever genre they choose to turn their hand to. In many ways, Cult Drugs isn't wildly different from its predecessor, but it takes the formula and fine-tunes it to near perfection. Blood Command are masters of building up to the unexpected; just as you think they're going to explode into a hysterical riff frenzy, they instead take a left-turn into pop-punk melodicism.
New vocalist Karina Ljone is a perfect fit for the band's idiosyncratic style and whilst the music herein is erratic, don't assume there aren't any hooks however; you'll be singing refrains from 'Nervous Laughter' and 'Gang Signs' for days, even if you may not be sure exactly how they wormed their way into your brain.
13# Can't Swim – Fail You Again
New Jersey's Can't Swim orchestrate emotionally-charged melodic rock with a pulsating dark heartbeat at its propulsive core. It's emo with bite and none of the self-indulgent whimpering that plagues most bands saddled with that oft-dreaded descriptor. Recorded in the band's respective living rooms, the songs are shot through with a buzzsaw guitar tone that never allows them to wander aimlessly or become too po-faced.
Chris LoPorto's scornful diatribes of loss and failure are laced with bitter resentment and delivered in a gruff vocal style that calls to mind a severely pissed off Bert from pre-school puppet bonanza Sesame Street (a peculiar analogy although it is meant as a compliment). On paper, lyrics such as The streets I knew went down the drain, I've lost a friend I used to know and You're searching for truth and it will fail you again appear to be dreary and despondent but these words are wrapped up in fist-punching anthemic melodies that demand to be sung back in full voice with a belly-full of cheap gut-rot and with unwavering resilient conviction. Fail You Again is the band's debut album and if the quality of songs remains this strong or are even improved upon across future releases, Can't Swim will be a very exciting band indeed.
12# Chelsea Wolfe – Hiss Spun
Chelsea Wolfe has carved out a pretty individualistic niche for herself, a singer-songwriter that incorporates gothic doom elements and down-tempo dirges to create a bewitching, mesmeric brew. Though not quite as oppressively bleak as her previous album Abyss, Hiss Spun confronts various mental health, familial and personal issues that have plagued Wolfe, sound tracking her anxieties against a morbid hybridisation of sludge metal, industrial pulses and dark electronica. At one moment, Hiss Spun can sound like Depeche Mode, whilst at the next, it could sound like Cult of Luna, before segueing into a melancholy acoustic thrum the calls to mind Emma Ruth Rundle. Whilst disparate, all these elements are realised expertly, with the seamless amalgamation being the key Chelsea Wolfe characteristic.
The production is monumental, courtesy of long-time collaborator Ben Chisholm (who also provides a wealth of extra instrumentation) adroitly providing the Jekyll and Hyde dynamics needed to get the best out of Wolfe's song writing, most ably achieved on 'Twin Fawn' and the utterly captivating '16 Psyche'. Whilst talk of guitar tones is a generally dry topic usually reserved for specialist publications, one can't fail to notice the absolutely cataclysmic sounds captured on the aforementioned '16 Psyche' and 'Vex'. The latter benefits greatly from a guest vocal from Aaron Turner, formally of post-metal luminaries Isis, whilst Queens of the Stone Age guitarist Troy Van Leeuwen and Converge six-stringer Kurt Ballou leave their indelible mark across the album.
11# Glassjaw – Material Control
It's been 15 years since New York post-hardcore heroes Glassjaw dropped a full length album (that's one year longer than it took Guns N' Roses to release their spectacularly delayed Chinese Democracy). It was perhaps inevitable that they would choose to announce Material Control just one week prior to its eventual release and predictably, an unsuspecting public went absolutely nuts for a new set of tunes from one of the most distinct voices in heavy music.
Glassjaw have many attributes that mark them out against their contemporaries; guitarist Justin Beck is a one-of-a-kind player, approaching the instrument with utterly beguiling effects and ideas that are completely alien to 99% of people who have ever picked up a six string. Daryl Palumbo's vocal delivery is as soaring and soulful as it's ever been and further cements his reputation as the best vocalist in hardcore whilst The Dillinger Escape Plan drummer Billy Rymer tastefully takes a step back from his frenetic style to imbue the songs with the gravitas and weight they require.
Material Control opens tenaciously with 'New White Extremity', one of the purist distillations of Glassjaw's unique properties to date, before detonating into the sublime 'Shira', the closest this album gets to recreating the guttural angst of their seminal debut album Everything You Ever Wanted To Know About Silence. All eras of Glassjaw are covered however, with the unconventional 'Pretty Hell' re-calling the laid-back Coloring Book EP, whilst 'Golgotha' could have conceivably appeared on the career-best Worship & Tribute.
It's an abrasive and purposefully esoteric listen; Glassjaw aren't seeking validation from anyone on Material Control, nor do they need to. It might not be quite as definitive a statement as either Everything You Ever Wanted to Know About Silence or Worship & Tribute but bar California's letlive. (who sadly split up earlier this year), no one has even come close to re-creating the chaotic hysteria that Glassjaw so expertly create.
10# Jamie Lenman – Devolver
Jamie Lenman is an artist not known for repeating himself. His debut solo album, the 2013 double album Muscle Memory contained one disc of ferocious hardcore savagery, whilst t'other was chockfull of dancehall swing, sax-infused jazz and sorrowful folk and was described eloquently by the man himself as 'a f**ktasm'. Incredibly, Devolver is even more eclectic, wrapping up Lenman's singular style and vision in a sludgy industrial electronic dirge that adds another string to his already extravagantly eclectic bow.
Unorthodox methods were used in the studio, such as using pots and pans as percussion on 'Waterloo Teeth' or recording the sound of clanking chains on 'Mississippi' but despite the bell and whistles, every song stands up when performed without accoutrements, as proved by Lenman choosing to tour the album as a two-piece alongside powerhouse drummer Dan Kavanagh. It's testament to his songwriting prowess that these songs are more than capable of standing on their own without the ornamental studio flourishes.
On the spine-tingling, ascendant title track, Lenman jubilantly sings I'm irrelevant over an awe-inspiring choir of synths. Devolver proves (if any proof were needed) that he is most defiantly not.
9# Mogwai – Every Country's Sun
Glasgow's Mogwai have long held a reputation for being not only the loudest band in the world but also the quietest. Whilst the former platitude is the one that is most regularly trotted out, it's their relationship with the latter that holds the secret to Mogwai's enduring 22 year appeal. Every Country's Sun, their ninth full-length album, is at once familiar and distinct from their previous work. Loud, distorted masterworks such as 'Old Poisons' co-exist with the muted, graceful likes of 'Brain Sweeties'.
In many ways, Every Country's Sun is far subtler than the band's previous works but that's not to say they're resting on their laurels in any way shape or form. Rather, they are exploring sonic templates and boundaries in a far more intricate and advanced way than the quiet-loud dynamics that typified their earliest work. Keyboards and guitars interweave in and amongst one another in sophisticated ways that can only be achieved by a band who are as congruous a unit as Mogwai.
The inviting, warm sonics of 'Coolverine' are sublime, whilst 'Party in the Dark' further pushes the band's shoegaze credentials and accentuates the confidence that Stuart Braithwaite has only recently found in his all-too-rare vocals. Every Country's Sun continues Mogwai's stunning run of adventurous, transcendent albums. The title-track is one of the most sublime pieces of music Mogwai have ever committed to tape and is proof, if any were needed, that Mogwai are as vital as they ever were.
8# Myrkur – Mareridt
2015's M, the debut album from Danish musician and actor Amalie Bruun's alter-ego Myrkur, was an interesting curio that flitted between black metal and folk which, for the most part, provoked strong feelings of either admiration or disgust in the metal community. In truth, it was an interesting exploration of the two styles that never quite managed to fuse them together with all that much style or panache.
The genius of Maredit, and the primary reason why it's a much more accomplished follow-up than its predecessor, is the seamless melding of the two genres. The album opens with the ominous calm-before-storm lament of the title track before a tortured wail and a deluge of blastbeats ushers in the sublime 'Måneblôt'. This assault on the senses quickly dissipates to make way for a beautiful folk violin interlude that could appear on a Mumford & Sons album if it weren't written so expertly. Brunn's icy, ethereal voice is exquisite and captivating, and single-handedly lifts this project above the majority of her contemporaries.
Another key element to the album's success is the quality of the folk herein, something that is often considered a secondary afterthought when part of a composite such as this. The magisterial 'Crown' or the beautifully evocative 'De Tre Piker' are not mere palette cleansers but exquisitely written vital components to the album as a whole.
There are some extraordinarily minor quibbles; some of the more theatrical aspects might come across as cheesy to some and the possessed little girl voiceover on final track 'Børnehjem' misses the mark spectacularly but overall, this is one of the most accomplished amalgamates of black and folk metal today. Mareridt marks Myrkur out as a serious contender.
7# Wear Your Wounds - WYW
Converge frontman Jacob Bannon's solo material was long-awaited, with a gestation period that dates back to the Boston, Massachusetts monumental 2001 opus Jane Doe. With an artist of Bannon's standing, it was difficult to predict exactly what Wear Your Wounds would sound like upon release but despite a decade and a half of speculation, even fewer guessed that one of the most ferocious frontmen in music would conceive of an album of such stark frailty and beauty.
WYW is a raw, uncompromising album of tinkling pianos and startling frailties that is by far and away the most exposed album Bannon has ever put his name to. Its ten tracks demand to be listened to by moonlight rather than daylight, with a nocturnal soul-searching pensive quality that has more in common with Swans or Godspeed You! Black Emperor than anything associated with Bannon's day-job. The songs are hypnotic and elegant in their composition, unafraid to build to an all-encompassing soundscape over one riff or idea over time.
It's an extraordinarily dynamic album, unafraid to languish in a subdued sonic spectrum for prolonged periods. The subtleties make the moments that do hit all the more powerful and it's the songs that employ stark dynamics that are the most successful, notably 'Iron Rose' 'Fog' and 'Breaking Point', although special mention must go to the album's closing track 'Goodbye Old Friend', a 9-minute epic as starkly simple as its title and all the more beautiful for it.
6# Sólstafir – Bedreyminn
Like so many of the greatest bands, atmospheric, Icelandic rock n' roll quartet Sólstafir have undergone subtle, incremental transformations which have transformed them from the band they once were. On Bedreyminn, Sólstafir's sixth album, there's not a hint of their black metal origins, replaced instead with extra instrumentation that expands the band's sound into neo-classical territory. Bedreyminn is chock-full of piano, brass and strings (courtesy of amiina, who recently toured as a part of Sigur Rós).
The album is at its best when the band finds moments of serene calm, which are further heightened by bringing in these additional musicians. 'Ambátt' is a stunning example of these elements coming together and working exquisitely in tandem, whilst the soaring, operatic soprano vocals provided by Margrét Soffía Einarsdóttir on 'Hula' elevates the song to an other-worldly, celestial plane. It's unquestionably one of the most beautiful pieces of music released in 2017.
Perhaps due to its isolated location, music from Iceland is said to be some of the most unique and exceptional in the world, untarnished by outside influences. Undoubtedly, Sólstafir write songs befitting of the vast, desolate landscapes of their native country. Vocalist Aðalbjörn Tryggvason uses the unforgiving terrain as a metaphor for his own personal struggles and in doing so, creates an epic, sprawling canvas to explore and exorcise his inner demons. Bedreyminn is a dark, existential exploration of the soul borne out on an epic scale.
5# Arcane Roots – Melancholia Hymns
Few bands would have the courage to overhaul their sound completely on their sophomore album, particularly a band that has established a devoted and passionate fan base who are obsessed with their debut album. The once post-hardcore, alt-rock stalwarts Arcane Roots are not like most other bands however. For Melancholia Hymns, the follow up that came four years after their extraordinary first full-length album Blood & Chemistry, the three-piece spent months writing, re-writing and then re-writing again to come up with the extraordinary vast electronic canvas that anchors the ten tracks on the album.
Frontman Andrew Groves, a consummate perfectionist, was determined not to fall into the trap that so many rock acts fall into when adding electronic elements to their sound. It was crucial that they became vital elements in the mix as opposed mere window-dressing over a house built from guitar riffs and licks. It was a long arduous process, as the trio, completed by bassist Adam Burton and drummer Jack Wrench, downed familiar tools and attempted to understand the technical nous involved in programming that would allow the band to incorporate electronics without falling flat on their faces.
From the first few transcendent minutes of the lush, cinematic opening track 'Before Me', it becomes apparent that they succeeded admirably. Building with muted grace into an explosive, exuberant climax, the song heralds post-rock sensibilities that recall the remarkable elegance of Sigur Rós and Efterklang. 'Indigo' is a startling track, an unconventional excursion through ethereal synths and beautiful falsetto vocals whilst first single 'Curtains' is a tour de force in building from opulent delicacy to a devastating finale.
The most exciting thing about Melancholia Hymns is it feels as if Arcane Roots can go anywhere and everywhere from here; one hopes they'll continue to defy convention and make inroads into hitherto unexplored terrain for years to come.
4# Converge – The Dusk In Us
Not many bands continue to evolve after 27 years and 9 albums but Massachusetts metalcore titans Converge have never operated in a way that could be considered conventional. The band are mainstays in most end-of-year lists simply because they are better than practically every other heavy band in existence (especially now that The Dillinger Escape Plan have disbanded).
Even when the band are serving up what could laughingly be considered the 'standard' Converge formula, they easily match the peaks of a back catalogue that rarely falters; the masterful riff on 'Arkipov Calm' constantly writhes for control like a slippery fish in an oil slick whilst 'Cannibals' might be one of the most rabid and furious songs the band has ever written. The interplay between Nate Newton's bassline and Kurt Ballou's searing guitar lines on 'Trigger' are a prime example of how this band are singular in their approach to pushing the boundaries in heavy music.
The album's masterful title track recalls the band's focus on their less frenetic material for their Blood Moon shows in 2016, as well as frontman Jacob Bannon's other 2017 musical endeavour Wear Your Wounds (which appears elsewhere on this list). It's territory they've explored before but only fleetingly, and The Dusk in Us is the band's best attempt at the bleak, lumbering, oppressive atmospherics to date. The clarity in Jacob Bannon's vocals is more evident than ever, and his performance on the aforementioned title track and 'Thousands of Miles Between Us' in particular show a vulnerability and grace we've rarely seen from the frontman. Converge have endured trends over almost 30 years by never succumbing to them; not only that, but in The Dusk in Us, they've released an album that is the equal of their greatest works.
3# Mastodon – Emperor of Sand
Mastodon are one of the most distinct voices in metal, despite having flirted with a cavalcade of sub-genres including prog, sludge, groove and stoner. Emperor of Sand, the band's seventh full length album, continues to mark them out as one of the most effortlessly progressive heavy acts of the modern era. It marks a return to the concept album format that served them so well on Blood Mountain, Leviathan and Crack the Skye, by telling an allegorical tale that takes inspiration from the personal hardships the band's family members suffered at the hands of cancer. Mastodon utilise a desert-themed story as the metaphorical crux to exorcise their demons, where the protagonist is delivered a death sentence and left to wander an endless, arid landscape. In this unforgiving world, sand represents time, the sun represents chemotherapy and the titular, skeletal antagonist personifies the disease itself.
In 'Show Yourself', the band have written the most instantaneous song of their career to date. Some old-school fans protested, arguing that it sounded like Queens of the Stone Age (hardly the worst slight in the world) but as a song and a hook, it's undeniable. For those wanting a little more substance beyond memorable melodies, 'Roots Remain' echoes the fantastical prog odyssey of their magisterial Crack the Skye opus whilst 'Andromeda' recalls the brutal histrionics of Leviathan at its most savage.
Emperor Of Sand is the kind of album that can only be made by a band that has bonded together over a number of years, taking several different elements from throughout their career. On 'Steambreather', they manage to mix the sludge riffs of their early output with the melodicism of their latter, an excellent collusion of old and new. Emperor of Sand is a spectacular prog-metal fantasy and is further proof that Mastodon are one of the most singularly distinctive bands in modern heavy metal.
2# Manchester Orchestra – A Black Mile to the Surface
For Manchester Orchestra's fifth album (or sixth if you include Hope, the quartet's 'quieter' re-imagining of their unapologetically driving hard-rock opus Cope) song-writer Andy Hull wanted to take the Atlanta quartet in a different direction. Alongside his brother-in-law and guitarist Robert McDowell, he spent the best part of a year re-establishing and re-defining the sonic palette from which Manchester Orchestra operated. It was broadly an exercise in doing the reverse of whatever came to them naturally, and in doing so, Manchester Orchestra have composed not only their best album to date but a career-defining epic that defies simple categorisation.
A Black Mile to the Surface is an extraordinarily rare breed of album, a deeply rich tapestry that can be enjoyed immensely at a surface level but reveals a whole multitude of deeper intricacies and hidden depths over time. It's an other-worldly, enigmatic record, whilst also being profoundly personal, particularly in the themes that emerge through Hull entering fatherhood. Two such songs bookend the album; 'The Maze' opens proceedings with a post-modern lullaby written from the perspective of Hull's baby daughter in which she goads him into being a decent father, whilst the album concludes with 'The Silence' recounting Hull's deep-rooted fears of passing hereditary habits and vices on to his innocent baby girl.
That's not to mention the unceasing three-song arc of 'The Alien', 'The Sunshine' and 'The Grocery' which provides the album's stunning centrepiece or the conceptual narrative that interweaves throughout Hull's personal story about a real-life neutron-science experiment taking place a mile beneath a town called Lead in South Dakota that is attempting to better understand the nature of matter and the evolution of the universe. There's so much to discover in A Black Mile To The Surface, it will doubtless take years for all its secrets to be revealed and attempting to unravel them is about as engaging and thrilling as music gets.
1# Code Orange – Forever
"When hands are caught in my brother's pocket
I'll burn my gods down."
From the opening ominous, sinister voice that opens this record with the words above to the album's sudden and unexpected ending, Forever proceeds to unsettle and disturb the listener with an intoxicating brew of dark sonic sculptures and horrific twisted imagery. It's a horror film, condensed into 35 minutes and played out entirely through sound, not the kind that attempts to intimidate through gore and jump-scares, but the sort that manipulates the senses and leaves a deep and lasting psychological impact on your psyche.
Code Orange have redefined the boundaries of hardcore, a once limited genre, by incorporating diverse elements of industrial, groove metal, noise, hip-hop, grunge and electronica in a seamless primordial soup. 'Kill The Creator', a snarling, bludgeoning, 2 and a half minute rager, sets the band's stall out early with the simple modus operandi of Out with the old / In with the new, as if the band are purposefully intent on killing their idols and never hearing a well-worn cliché in heavy music ever again. In similar fashion, 'The Mud' sounds as if something utterly terrifying is attempting to tear out of your speakers and eat your soul.
But Forever is not simply a one-dimensional exercise in brutality by any stretch of the imagination; 'Bleeding in the Blur' is a huge dark twisted anthem with an irresistible hook, as if Cannibal Corpse were called on to cover Alice In Chains, whilst 'Hurt Goes On' builds ominously over dark synths and atmospherics before bursting into a cataclysmic end that Trent Reznor would be proud to put his name to.
Forever is a game-changer, a milestone album as important and vital to the progression of heavy music as The Shape of Punk to Come, Slipknot and Calculating Infinity were almost 20 years ago. Records of Forever's magnitude don't come along all that often and it's important to cherish them when they do. Out with the old, in with the new.
Register for free to continue reading
Registration is a free and easy way to support our truly independent journalism
By registering, you will also enjoy limited access to Premium articles, exclusive newsletters, commenting, and virtual events with our leading journalists
Already have an account? sign in
Register for free to continue reading
Registration is a free and easy way to support our truly independent journalism
By registering, you will also enjoy limited access to Premium articles, exclusive newsletters, commenting, and virtual events with our leading journalists
Already have an account? sign in
Join our new commenting forum
Join thought-provoking conversations, follow other Independent readers and see their replies