Beth Ditto - All the Gossip that's fit to print
Her life's as non-stop as her conversation – but Beth Ditto loves it. Only one thing's bothering her, the electro-punk star tells Gillian Orr: can she and her girlfriend pull off a dream wedding?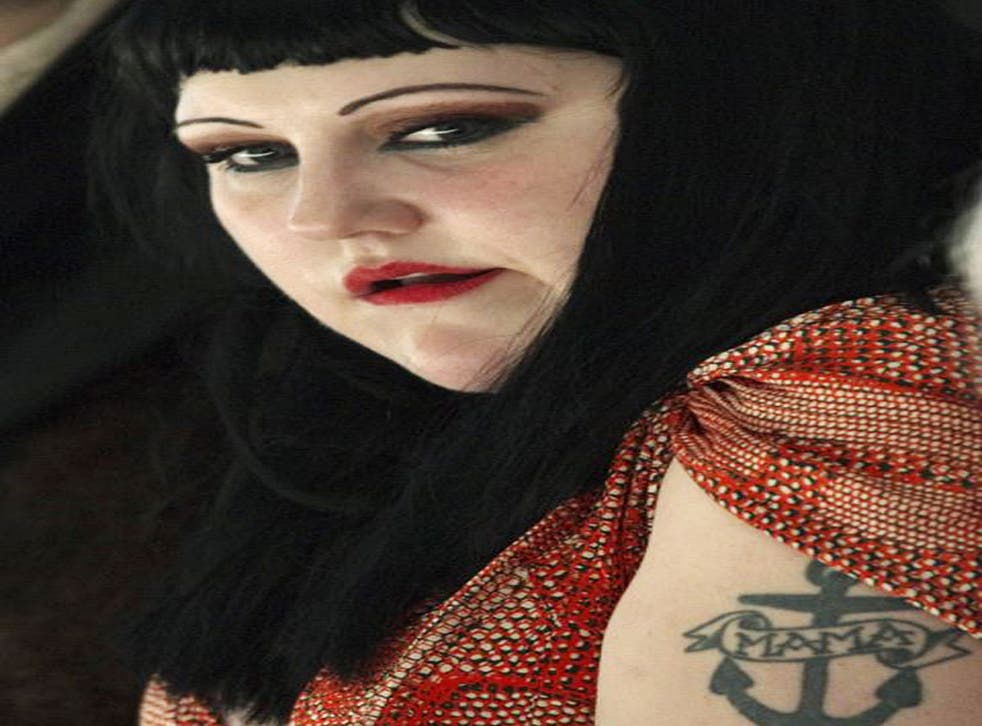 As is often the case when you're sent to interview a pop star, this one's running late. Hanging around backstage before Gossip's show at London's Shepherd's Bush Empire, I'm repeatedly told that Beth Ditto, their formidable frontwoman, won't be long. But this particular delay can't be blamed on the usual interviewee excuses (tantrums, hangovers, a quick nap).
Ditto is actually entertaining some German competition winners in her dressing room. The tour manager tells me that they were just supposed to have a quick photo together. "But Beth obviously insisted they come in and say 'hello'," he sighs, fondly. Earlier I'd spied the large, voluptuous star, who has proudly posed naked on the covers of both NME and Love magazine, further establishing herself as a cult icon on the music scene, arriving at the venue. Despite coming in through a side door, Ditto, clad in a typically eye-catching frock paired with outrageous make-up, was besieged by fans, whom she duly chatted with, hugged, and had more photos with. For someone in her position to be so generous with her time, it's a wonder Gossip ever make it onto the stage at all.
Now, finally shacked up in her dressing room while everyone else parties in the space next door, it's my turn to have the undivided attention of the 31-year-old Arkansas-born singer. "Ask me anything! What have you got?" she blithely exhorts. It feels exhausting just to watch her. "But it's really easy for me to be 'on' all of the time," she insists. "I'm a pretty genuinely happy person. I feel lucky to have my disposition. You know, people will say to me, 'oh, you don't need to do that thing or you don't have to do that interview,' but I'm like: 'What? Talk about myself? Great!' That's all I ever do anyway. Do I have a booger in my nose? You'd tell me, right?"
Gossip – guitarist Brace Paine and drummer Hannah Blilie complete the line-up – are currently on tour throughout Europe, having released their fifth album, A Joyful Noise, back in May. Produced by Brian Higgins of Xenomania fame, it was noted for its move away from electro-punk towards a more house-inflected disco sound. Ditto proudly stated that Abba were one of their biggest influences on the record. To team up with the mastermind behind Girls Aloud and The Saturdays seems a somewhat odd move for a band that have proudly identified with the punk movement, even if the success of their 2006 album Standing in the Way of Control, which announced their arrival to the mainstream, mean that their days of being subversive are probably gone.
Still, they try to cause a bit of trouble where they can. Anyone familiar with A Joyful Noise's cover art, a curious portrait of Ditto with luminous green eyes and a giant hand, will know this. "The label were freaking out about that hand," she howls. "I'm like a child who gets told they can't do something. I just want to do it more."
Their summer schedule also includes playing a ton of festivals dates and they'll be back in the UK next month for V Festival. "Festivals are really hard because you never know what you're going to get; it's a grab bag of people," she says.
In all honesty, Ditto is most excited about getting home to Portland, where she now lives with her girlfriend, Kristen Ogata. The pair plan to marry next June. "There is so much crazy shit to organise for a wedding," she says, eyes wide open. "Oh my god, I just never even thought about it. Like, the weirdest little details. I was told that I need to get pictures made for the announcement, and I was like, 'but I already called everybody'. Then you have to worry about who sits next to who and what napkins you want. It's so much work; I think it's the most adult thing I've ever done."
Being one of the most prominent openly gay performers in music, I wonder what she made of R&B singer-songwriter Frank Ocean's sensitive coming out last week that many heralded as a turning point for the notoriously homophobic world of urban music? "Who's that? Is he related to Billy Ocean?" she jokes. I fill her in and for a quiet moment, she's serious. "Well, obviously that is a really big deal. That's really beautiful."
The conversation quickly turns to gay rights in America. "It's certainly a hot topic. We have Obama who is a really progressive person. But even though I'm someone who really wants to see change, I understand that you have to be really patient," she nods. "You have to pacify this side of people who are afraid of change, not make them feel isolated, not make them feel afraid… The difference between radicals or leftists and Republicans is that the things that Republicans are doing affect my daily life. Whether it be marriage or healthcare; those affect my life. And those things don't affect their daily life at all, it only affects their pocket-book. I always think that's interesting and that makes me sad about the human condition; like, how important money can be."
Enjoy unlimited access to 70 million ad-free songs and podcasts with Amazon Music Sign up now for a 30-day free trial
Sign up
Last year Ditto took time out from Gossip to team up with Simian Mobile Disco for an acclaimed EP; is her future as a solo star? "That's been the question. I don't know," she shrugs. "Right now I'm so concerned with Gossip, it's such a family mentality. I loved working with Simian, but I think what I really would like to do is just song-write and see what happens. All I really hope for is that I can maintain my living. I hope that I have enough money left over to go to beauty school. That's how I approach the future and then if things don't work out I won't be too upset."
Besides, she's a lot more secure since she turned 30 last year. "There's this sense of yourself that you get that is just crazy," she enthuses. "OK, how can I describe it? So, you know that Hole do a song called 'Credit in the Straight World'? But you know that Young Marble Giants wrote it first? So as a 22-year-punk kid who wants to prove something, you tell people that you heard the Young Marble Giants version first, but as a 30-year-old you admit that you heard the Hole version first. You don't care anymore. You don't have to impress anyone. That's the difference." There's a knock at the door. It's the tour manager and, surprise surprise, we've gone over our time slot. "Oh don't you worry about him," she says. "You got everything you need?"
Gossip play the V Festival, 17-19 August (www.gossipyouth.com)
Join our new commenting forum
Join thought-provoking conversations, follow other Independent readers and see their replies