State of the Arts
Britney Spears's supporters don't fit the stereotype of crazed fans
Female music fans have been depicted as obsessive, sexually voracious, even demented, says Fiona Sturges. 'Framing Britney Spears' shows the singer's fans to be measured, caring and an unexpectedly powerful force
Saturday 20 February 2021 06:30
comments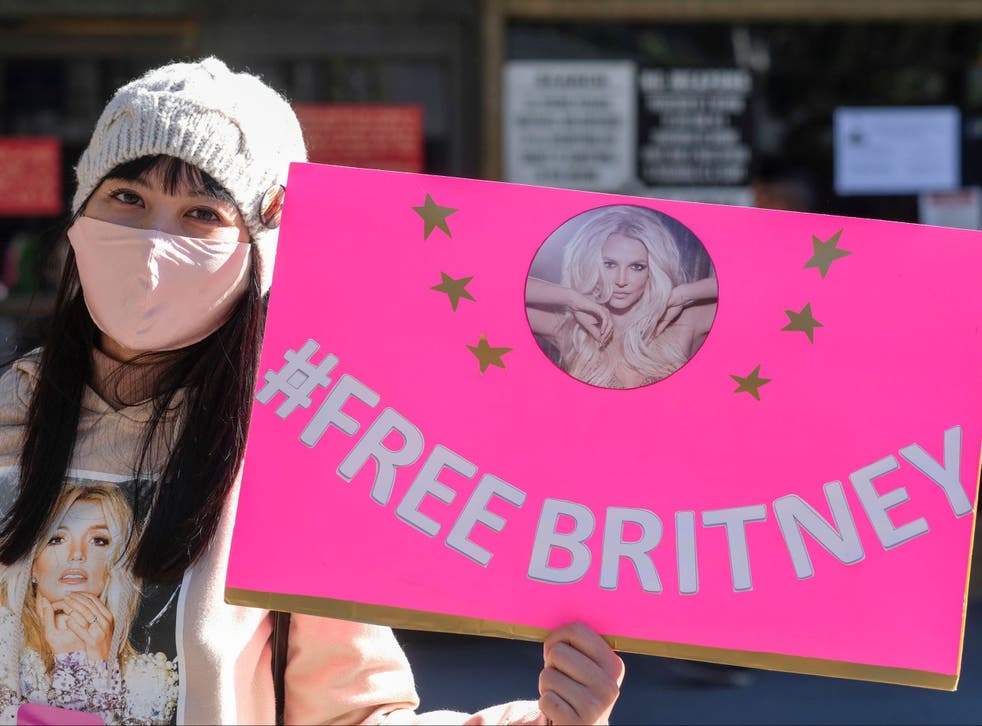 In the opening scenes of The New York Times documentary Framing Britney Spears, we meet the fans who have taken it upon themselves to rescue the singer from her perceived bondage. The film plots Spears's rise in a toxic celebrity culture and examines the legal conservatorship that in 2008 placed control of her affairs with her father, Jamie, owing to concerns about her mental health. We see them gathered outside the Los Angeles courthouse during last year's hearings in which Spears unsuccessfully tried to have her father removed as conservator. There, wearing T-shirts that read "Her loneliness is killing me", they wave pink #freebritney placards and loudly demand her freedom ("What do we want?" "Free Britney!" etc). It's all very touching, if seemingly unhinged. 
But then we meet them again at the end of the film still pleading their idol's case and, after an hour immersed in Spears's misery, their version of events doesn't seem quite so extreme. We learn that the #freebritney campaign, essentially a mobilisation of fans who feel the singer is effectively being held hostage by her own family, now counts Lady Gaga, Miley Cyrus and Sarah Jessica Parker among its supporters, and that Spears has signalled that the support is appreciated. Framing Britney Spears not only offers a sympathetic portrait of the star but also of her fans, who are revealed as an unexpectedly powerful force.
It wasn't always like this. Since the dawn of popular music, fans have been variously depicted as callow, obsessive, sexually voracious, and often demented. Young women, in particular, have long been viewed with suspicion, their enthusiasm for music largely seen as driven by idolatry and lust (this stands in contrast to male fans whose love of music is invariably viewed as serious artistic appreciation). Watch the 2013 documentary Crazy About One Direction, about the lives of 1D superfans, and you see depictions of young girls screaming, crying, closely monitoring the movements of their idols and viciously trolling their girlfriends online (the film provoked a strong backlash from Directioners, who said it focused only on the hardcore fans, rather than the more respectful majority). Search out early footage of The Beatles and it is nearly always accompanied by images of young women screaming themselves silly and literally wetting themselves in excitement.   
In her excellent 2019 book Fangirls: Scenes from Modern Music Culture, the journalist Hannah Ewens paints a warm picture of female fandoms as communities in which friends look out for each other, both in person and online, and traces the camaraderie that comes from musical obsession, helping young people navigate the messiness and confusion of adolescence. Ewens also makes clear the financial weight of fandom – these are the consumers that make up an artist's core constituency, spending money on concert and film tickets, merchandise and meet-and-greets. Nowadays, with artists able to communicate with fans online, a closer relationship exists between stars and their fans, a bond that is often characterised by mutual respect and support.
In the age of social media, however, we have seen a more troubling side to fandom which has less to do with how fans are perceived than how a minority behave in the face of criticism of their beloved stars. Witness the fury unleashed upon the music reviewers who were even vaguely critical of Taylor Swift's Folklore album last year – one Pitchfork writer had personal details leaked online and received ferocious abuse. You might argue surface similarities between the Spears devotees and the fans of Johnny Depp who gathered with placards outside London's High Court during the actor's libel case against The Sun. Depp launched the case after the newspaper called him a "wife-beater", referring to the accusations of abuse from his ex-wife Amber Heard. Depp lost the case but his fans – who deployed the #freejohnnydepp hashtag – have continued to maintain his innocence while unleashing a torrent of abuse at Heard over social media. In the case of Spears, the fans may appear to be on the side of righteousness, but how, you wonder, would they react if she were the villain of the piece rather than the wounded party?
Framing Britney Spears is a deeply partisan film and I have reservations about its depiction of the star's fans as guardian angels whose insider knowledge, largely gleaned from looking for coded messages on her Insta feed, is superior to the legal teams who have spent years going back and forth over the case. Referring both to the singer's medical records, which the judge declined to share with the court, and to the nature of her relationship with her father, Spears's former attorney Adam Streisand baldly reminds us: "We don't know what we don't know." It's also worth noting that the singer's conservatorship was once again upheld in court last week, with responsibilities shared between Jamie Spears and the financial institution, Bessemer Trust.
But, for all the film's flaws as a piece of journalism, there's something refreshing about seeing fans presented not as stereotypical raving lunatics but as measured and caring human beings with legitimate passions. This, along with our shifting perspective on Spears's suffering, would seem like progress. 
Join our new commenting forum
Join thought-provoking conversations, follow other Independent readers and see their replies